Of all the events and activities that ground to a halt amid the greatest public health crisis in the nation's history, the 2020 National Education Association Representative Assembly (RA) wasn't going to be among them. On July 2 and 3, the more than 7,000 delegates gathered remotely (of course) and the agenda was streamlined. But the show - the first all-virtual RA in NEA's history - went on.
"We have masks, social distancing, and disinfectant," NEA President Lily Eskelsen García said, referring to the podium at NEA headquarters she would be sharing only with NEA officers. "Because nothing, absolutely nothing, not even a global pandemic, is going to stop the National Education Association from doing its work."
The RA theme this year was "Our Democracy; Our Responsibility; Our Time." In 2020, the stakes are just too high for educator voices to go silent. The pandemic has bought the country to its knees, triggering an unprecedented economic crisis that is impacting millions of educators and students. The country may finally be confronting the legacy of institutionalized racism. And the destructive DeVos-Trump school privatization agenda continues to undermine our public education system.
As NEA Vice-President Becky Pringle put it in her opening remarks: "Delegates, it's crunch time."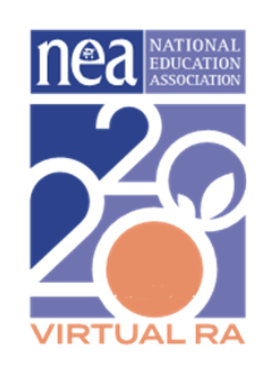 This year, delegates also had to bid farewell to outgoing NEA President Lily Eskelsen García, whose second three-year term ends on August 31. Video tributes to Eskelsen García (and NEA) poured in from everyone from Michelle Obama, Hillary Clinton, Rep. James Clyburn, AFT President Randi Weingarten, and Trevor Noah, host of "The Daily Show."
Eskelsen García is a leader who is "undaunted by naysayers," Pringle said in her introduction of the NEA president. "Unfazed by those who believe something is impossible. You are undeterred by those who think you can't."
In her final RA keynote, Eskelsen García urged educators everywhere to continue doing what they have been doing for decades: to help lead the nation down a more equitable, just, and prosperous path. The nightmare of the past three and a half years must come to an end, she said.
"We are educators and public servants. We are unionists. We are activists. We're patriots…. We are called on to act. So, what will you do? What will you do for your colleagues; your students; the families you love; the communities where you live? What will you do as we face the most dangerous threat to our democracy that we've ever faced?" (Watch the full speech here.)
Stacey Abrams, a former member of the Georgia House of Representatives who started the organization Fair Fight to protect the right to vote after narrowly losing the 2018 Georgia gubernatorial race, addressed the RA to commemorate the 100th anniversary of women's voting rights.
"We're fighting for free and fair elections, and working around the country to ensure that we will elect in 2020 people who see us, who hear us, and who will represent our values," Abrams told the delegates.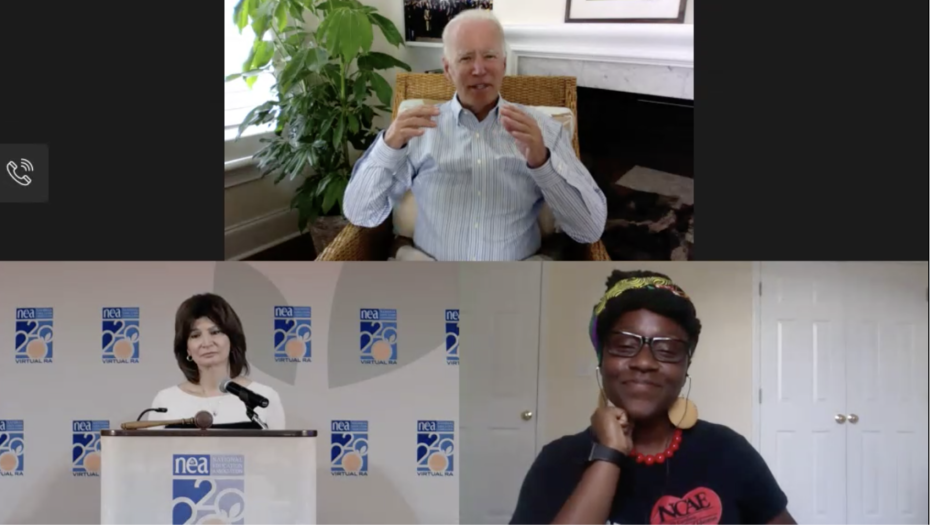 NEA President Lily Eskelsen García (left) listens as Vice President Joe Biden answers a question from RA delegate Turquoise Parker during the 2020 NEA Representative Assembly.
And that includes electing a new U.S. president. On July 3, Vice President Joe Biden took part in a townhall-style conversation with NEA members, where he answered educators' questions about confronting racial inequality, reopening schools during the pandemic, and uniting the nation. After recommending Biden in the Democratic primary in March, NEA's board of directors and PAC Council in May recommended Biden in November's general election. The RA will vote by mail to approve the recommendation.
"You are the most important profession in the United States," Biden told the delegates. "You are the ones that give these kids wings. You give them confidence. You let them believe in themselves. You equip them. And I promise you, you will never find in American history a President who is more teacher centric and more supportive of teachers than me."
Celebrating Educators
In her keynote address to the RA, NEA Executive Director Kim Anderson urged delegates to act today and demand the U.S. Senate help school districts stave off crippling budget cuts caused by economic downturn.
"NEA, we need to shout at the top of our lungs to the U.S. Senate — to Sen. Mitch McConnell. Stop standing in the way of saving lives, of saving family businesses. Stop punishing public workers because state and local revenues have dried up due to the complete and utter lack of a national response from the president and all who stand with him!"
As we pursue racial and social justice we must also pursue economic justice and political justice.

Now is the time. #NEARA2020 pic.twitter.com/R2pZHVFrG1

— NEA (@NEAToday) July 3, 2020
Delegates also heard from three of NEA's most celebrated members: 2020 Education Support Professional of the Year Andrea Beeman, 2020 National Teacher of the Year Tabatha Rosproy, and 2020 NEA Higher Educator of the Year Elizabeth Davenport.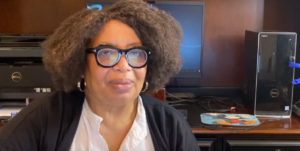 NEA Higher Educator of the Year Elizabeth Davenport
In her remarks, Davenport said she hoped the COVID-19 crisis would force the nation to rethink higher education. "In much the same way that George Floyd's murder has caused the nation to finally address racism and reassess the concept of policing," Davenport said, " the coronavirus may change higher education into the social mobility vehicle it was designed to be....Maybe this virus is forcing us to finally start thinking about how our higher education institutions operate."
Teacher of the Year Tabatha Rosproy, the first early childhood educator to win the honor, urged all educators to "elevate the voices of the unheard" in their union and in their school communities. "We need equitable representation of every voice that has struggled to be heard. It is our responsibility as leaders to create a path for all voices to become a part of the process," she said.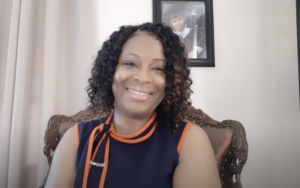 2020 ESP of the Year Andrea Beeman
The pandemic and the murder of George Floyd, ESP of the Year Andrea Beeman told the delegates, has shown all of us how our leaders respond to and lead in a crisis. "We've seen who truly has the backs of America's families and children. We've seen that we can no longer avoid the difficult conversations about the racial and economic disparities of this nation. We must be in the room where decisions are made."
NEA also awarded its highest honor, The Friend of Education Award, to 17-year-old climate change activist Greta Thunberg. "Greta is a rabble rouser, and she's taking on the world for a better tomorrow," Eskelsen García said.
Looking to the Future
Because the RA was held virtually this year, no new business items were introduced at this year's RA. Still, the delegates did approve the NEA's proposed budget and strategic plan for 2021, especially critical as school budgets across the nation are hammered by the severe economic downturn.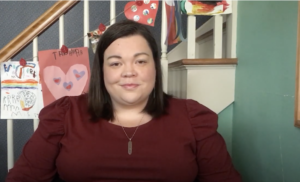 2020 National Teacher of the Year Tabatha Rosproy
The U.S. presidential election isn't the only important vote happening this year. The end of the Lily Eskelsen García era means RA delegates have to elect a new NEA president - and a new vice president and secretary-treasurer, along with new executive committee members. Delegates will also elect an education support professional (ESP) at-large and an alternate ESP at-large. (Click here to learn about the candidates and check out their video campaign statements.)
Ballots are being submitted by mail to ensure equity in participation and the security and integrity of the democratic process. Election results will be announced on August 6, 2020, or on August 31, 2020, if a runoff is required. Check nea.org for results.
Stay Informed We'll come to you
We're here to help you succeed in your career, advocate for public school students, and stay up to date on the latest education news. Sign up to stay informed