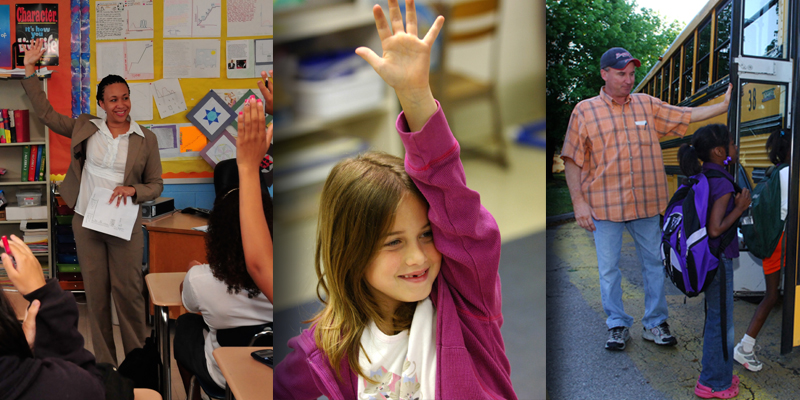 Let's get ready to celebrate NEA's American Education Week (AEW) Nov. 14-18! The week-long celebration will honor students and parents, and will rededicate the community at large to a quality public education for every student. AEW events and activities will elevate and champion the outstanding work and contributions of teachers, bus drivers, paraeducators, school nurses, and custodians—all who work hard on behalf of America's students.
This year marks the 95th anniversary of AEW. It was first celebrated in 1921, with NEA and the American Legion as co-sponsors, and grew out of national concern over illiteracy. After more than nine decades, the original goal of AEW—to generate public awareness and support for education—continues today.
"American Education Week serves as a tribute to the team of people who work with our students, everyone from the classroom teacher and the bus driver to the cafeteria worker and the administration staff—plus countless others," said NEA President Lily Eskelsen García. "This week is a great time to say thank you to school employees who work in and out of the classroom."
Need ideas for what to do? We've got you covered! Browse through our online toolkit of activity ideas. These have been tried and tested by local Associations across the country and range from media activities and school celebrations to honoring school staff and reaching out to the community. There's something for everyone! The ideas are even broken down by day to help make your AEW celebrations flawless!
To help you get started, here's a look at the week ahead on NEA's AEW calendar:
Monday, Nov. 14
AEW Kickoff Day will present all Americans with a wonderful opportunity to celebrate public education and honor individuals who are making a difference in ensuring that every child receives a quality education.
Tuesday, Nov. 15
On Parents Day, schools invite parents into the classroom for a hands-on experience of what the day is like for their child.
NEA Secretary Treasurer Princess Moss will visit TC Williams High School, George Mason Elementary School and Francis C. Hammond Middle in Alexandria, Va.
Wednesday, Nov. 16
Wednesday is a national day of recognition of education support professionals (ESPs) who are integral members of the education team. Education Support Professionals (ESP) Day focuses on the importance of these school employees, who make up 40 percent of the school staff and take care of students every day, making sure they have the tools they need to succeed in school.
President Eskelsen García, along with National ESP of the Year Doreen McGuire Grigg and Council for Education Support President Debby Chandler, will visit Rogers High School in Spokane, Wash. NEA teamed up with the DUDE. be nice Project (www.dudebenice.com) to pull off a series of surprises for the self-proclaimed "lunch bunch" cafeteria workers at the school. The DUDE. be nice project is a platform to inspire people to build a positive community by recognizing a person or group in a fun, creative and meaningful way.
Thursday, Nov. 17
On AEW's Educator for a Day, leaders across the country will be invited to serve as educators in their local public school districts to get a glimpse at a day in the life of a school employee.
Friday, Nov. 18
Substitute Educators Day honors the educators who are called upon to replace regularly employed teachers. In honor of NEA's 95th annual American Education Week, NEA asked educators from across the country to vote for whom they'd like to see substituting for them. Results will be revealed on the 21st.
To find out more about AEW, visit nea.org/aew or contact your local public school. Be sure to follow AEW on Facebook and Twitter with #aew2016.