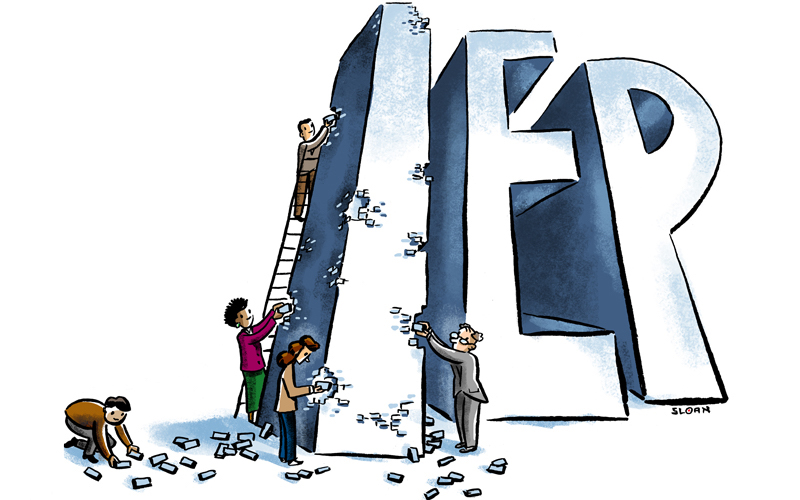 Early this school year, Ed Amundson, a special education teacher in Sacramento, was teaching a work-experience course to his high school students. The class offers students with disabilities job readiness skills, including time management, communication, and positive attitude. Vocational training and help with post-school ideas, career, and life goals—called transition plans—are also provided.
The administration canceled the course and assigned Amundson to co-teach in a geography class that incorporated inclusive practices. The students he previously taught were scattered through different classes. "Inclusive practices are not always preparing kids for post secondary…this is only going to get worse," he says, as he foresees more special education teaching being pulled in various directions.
What's the Big IDEA?!
The U.S. Individuals with Disabilities Education Act (IDEA) requires that students with disabilities have access to a regular education classroom and curriculum, and programs that are offered to "non-disabled peers."
But is this the right approach?
The federal law calls this the "least restrictive environment"—meaning that a student with a disability should be taught alongside non-disabled peers, if it's appropriate. To help meet academic goals, the student should also receive additional supports and services. This is where the rubber meets the road.
If Amundson had his way, he would change the phrase "least restrictive environment" to "most appropriate." For some, a self-contained class is the least restrictive environment if students have the right supports in place or can work in a small group setting. "You put them in a general education class with 35 kids—that's not the least restrictive environment for some students," says the 36-year veteran teacher.
Appropriate inclusion practices means that all students are valued members of age-appropriate general education classrooms who have give-and-take social relationships, actively participate in general education instruction, and receive the supports they need to learn general education content and other skills. The goal is to help all students to be career- and college-ready at graduation.
Many districts don't have the funding to provide additional services, and inclusion has become a way to tackle teacher and funding shortages. "It's become an easy remedy and sometimes the only remedy for some schools," says Katherine Bishop, a National Board Certified Teacher in Exceptional Needs and former instructional coach at Putnam City West High School in west Oklahoma City.
Bishop says inclusion needs to be on a student-by-student basis, honoring the student's Individualized Education Program (IEP). "What it cannot be," says the now vice president of the Oklahoma Education Association, "is an everybody educational plan."
Make the Case
Most of the self-contained classes in Amundson's school, for example, have been eliminated. No new staff has been added, either.
"We've kept a few self-contained classes for some of the basics, but next year when we move into Common Core and a third year of math, we're going to need more staff to go out and cover those inclusive classes."
No new staff and more work while keeping up with existing assignments—such as meetings with the other teachers to work on lesson plans, managing IEPs, and holding IEP meetings—is "impossible," he says.
The NEA's IDEA Special Education Resource Cadre has developed a framework, called Special Education Workload Analysis Model, to help make the case for best meeting students' needs: more staff, reassigned personnel, enhanced or reallocated resources, or a combination thereof.
Typically, service providers to students with disabilities talk in terms of the number of students on their caseloads, which are based on the number of students with IEPs assigned to the educator without consideration for the intensity of services needed by the student or the amount of time needed to provide those services.
Since more schools are moving toward inclusionary practices, such as co-teaching and supported instruction in the general education setting, NEA's IDEA Resource Cadre, which developed the workload analysis framework suggests to think in terms of "workload" to more accurately address the service demands of special education teachers, paraeducators, and specialized instructional support personnel (SISP), which includes counselors, nurses, psychologists, social workers, occupational therapists, physical therapists, art therapists, and speech-language pathologists.
The framework looks at several factors, including how much time educators are spending on direct instruction or inclusive instruction, preparing IEPs, and monitoring students. Given the answers, the workload may be too heavy or it may be just right.
For example, if an educator spends 1,000 minutes out of 2,150 a week on these activities, there is extra time to accomplish assignments and tasks. If an educator needs 3,000 minutes to complete the responsibilities, the need for additional resources is clear.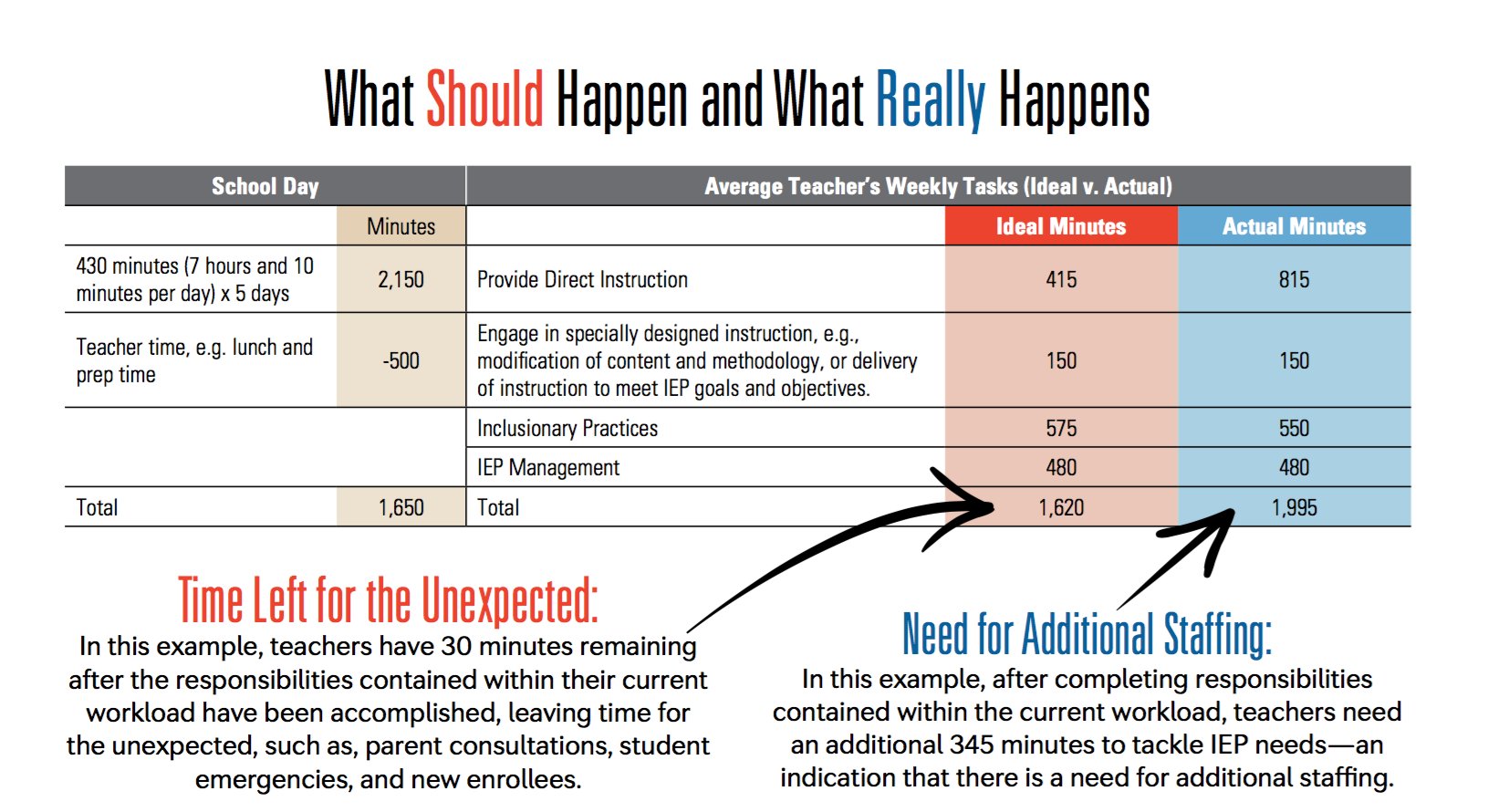 Fund IDEA
Funding for IDEA has been short for a long time. Late last year, President Barack Obama signed into law a bill (Consolidated Appropriations Act of 2016) that among other things included targeted funding for IDEA state grants to the tune of $415 million.
More money would help, says Amundson, but for inclusive practices to work, schools would still need to offer a full continuum of placement options.
This means "educators would have self contained classes, as well as co-taught classes. They would have inclusionary practices that were organically grown, where teachers would decide to work together. Administrators would provide the necessary staff and support for co-teaching to be successful—and that's going to cost more money," says Amundson.
The funds approved by Congress in December offer much-needed and timely investments in education programs aimed at creating more opportunity for all students. But more needs to be done to adequately fund special education services. Schools must be able to use methods that are customized to fit each student, and based upon the recommendations of IEP teams.
Stay Informed We'll come to you
We're here to help you succeed in your career, advocate for public school students, and stay up to date on the latest education news. Sign up to stay informed