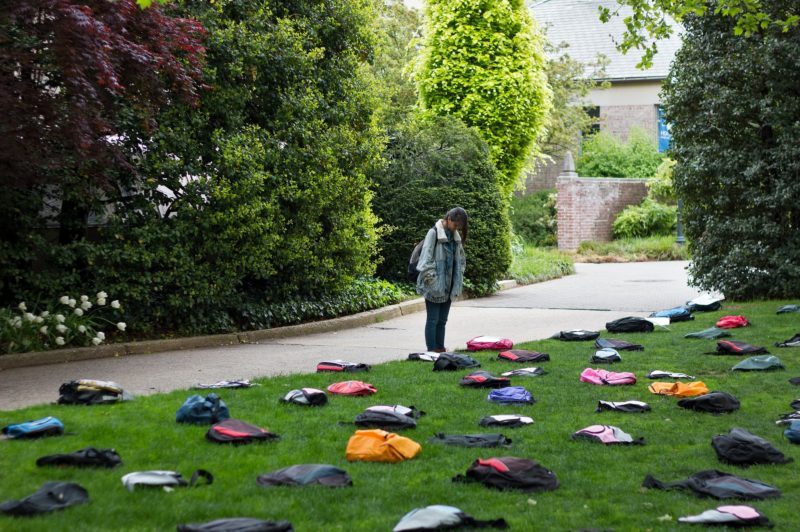 The non-profit organization Active Minds, which raises awareness of mental health, offers a traveling exhibit of 1,100 empty backpacks to college campuses. The exhibit, called "Send Silence Packing," illustrates the 1,100 college students who die by suicide each year. (Photo: ActiveMinds.org)
[This article has been updated, Aug. 20.]
In June, two days after campus administrators unexpectedly eliminated the job of the only mental-health counselor at Florida Polytechnic University, professor Christina Drake drove to the state's higher education board meeting and warned them.
"The termination was so abrupt," she told board members, "there was no time or ability for the counselor to put into place a continuity of care for her patients, including those for which there is a concern for suicide."
Six weeks later, a 21-year-old Florida Poly engineering student who enjoyed hiking, cooking, and tinkering with computers sat down on a campus bench and shot himself. In the wake of his death by suicide, unnamed university employees confirmed to the Tampa Bay Times that the student had been a client of the laid-off counselor, prompting the newspaper's editors to declare: "A student suicide and a question: Could it have been prevented?"
"There's no way to tell if that student would have reached out," said Casey Fox, the former counselor, to the Times. "There's no way to know because there was no one there. There was no one on campus to be that person."
Florida Poly isn't the only campus in the U.S. struggling with skyrocketing numbers of students with depression. It's also not the only one to cut counselors or privatize their services. Those are life-threatening trends on campuses across the nation.
But those issues are made more dangerous by another development: increasing administrative and legislative attacks on faculty and staff's ability to speak up. Counselor Fox and other Florida Poly employees who were terminated this spring, including the university's only librarian, were union members who openly advocated for students. By openly targeting them, administrators may have hoped to silence complaints around administrative pay raises, a "toxic" campus culture, and growing concerns around mental health issues.
But faculty and staff speak up for a reason, and often it's to make things better for students. Retaliating against their speech isn't just wrong—it can be dangerous.
In her testimony this June, professor Drake made this point, cautioning board members: "It is dangerous in an educational setting, when the administration retaliates against faculty and staff who bring forth concerns, in good faith, as a part of their job function. If we do not allow employees to speak up on issues, we run the risk of a student being injured in one of our labs, a student being sexually harassed or worse, or a student committing suicide."
Less than two months after speaking up, she was fired, too.
The Tsunami of Depression
Suicide has become the second leading cause of death for people ages 15 to 24. Likewise, depression is at an all-time high on college campuses with record numbers of students seeking help, according to the Center for Collegiate Mental Health (CCMH).
More than a third of the students who seek mental-health counseling on campuses say they have "seriously considered" suicide, according to CCMH's 2017 annual report. (Data is unavailable for the many students who don't seek help.) Fifteen percent say they've seriously considered it within the past two weeks. About 10 percent of college clients have attempted it.
There's no way to tell if that student would have reached out. There's no way to know because there was no one there. There was no one on campus to be that person." - Casey Fox, former counselor, Florida Polytechnic University
Making matters worse, as state funding for higher education has declined, many colleges and universities are cutting their mental-health staff and seeking to privatize those critical services.
The recommended number of counselors on campus, according to the International Association of Counseling Services (IACS), is one per 1,000-1,500 students. But finding this is rare. The California Faculty Association, the statewide faculty union, recently studied California State University (CSU) campuses and found that the system averaged 2,217 students per counselor. At Cal State LA, there are only seven full-time, non-tenured counseling positions for more than 28,000 students.
"It's surreal in this high demand for services and the increase in severity of student mental health issues that the CSU doesn't want to hire and retain experienced permanent mental health counselors," CSU Stanislaus counselor Martha Cuan told CSU trustees last year.
Meanwhile, Florida Poly has 1,400 students—and, since June, not one on-campus, full-time counselor. Instead it has a 24-hour hotline number and a contract with a private company to send a counselor to campus for 4 to 8 hours a week.
In an email to NEA Today, a Florida Poly apokeswoman said the new services constitute an improvement.  "This model provides a broader scope of services and access to a much larger network of mental health professionals with diversity in experience, allowing students to choose the options that are best for their needs. This is not possible with one counselor on staff," wrote Maggie Mariucci, a university vice  president .
A Culture of Silence
Problems at Florida Poly, which opened in 2014, have been surfacing for months. Earlier this year, an anonymous employee wrote to university trustees, saying, "In the last 9-12 months things here at the university have gotten progressively worse, and while myself and others have tried to bring these things to light we continuously are made to feel incompetent," according to a report in the Lakeland Ledger.
When asked about the letter, Poly president Randy Avent told the Ledger that he was more concerned with the "group responsible for the letter" than its content, which included concerns about 20 to 29 percent administrative pay raises and mental health on campus. "We have one counselor here doing a job meant for three people," the letter said, putting the campus "dangerously close" to an avoidable tragedy.
In May, the two-year-old faculty union, a chapter of the United Faculty of Florida (UFF), surveyed faculty about campus climate. Two-thirds said they feared reprisal if they expressed "a dissenting opinion about administration's policies." In the comments section, one faculty member wrote "administrators dismiss students' concerns and criticize faculty who try to alert them to those concerns."
In July, the union filed a charge of unfair labor practices (ULP) on campus, relating to staff layoffs, which the state deemed sufficient. An evidentiary hearing has been scheduled for October 31. A second ULP charge relating to additional terminations, filed by the union in mid-August, awaits the state's disposition.
Although nobody signed the letter sent to trustees, its author named about 20 employees who might provide the board with more information, or who had a history of speaking up about serious issues in the workplace. This spring Florida Poly began letting go the people on that list.
"These terminations… appear aimed at suppressing potential whistleblower complains," professor Drake told state board members in June. "They appear aimed at staff who have spoken up about safety issues, legal and ethical issues, and other problems plaguing the university."
The seventh person laid off was the university's only on-campus librarian, who was invited to a meeting and surprised with a police escort off campus. "I'm sure we're now the only university in the United States to not have a dedicated librarian," Drake told state board members.
The eighth person laid off was Fox, the mental-health counselor.
The ninth? The union's grievance chair, Christopher Coughlin, a nanotechnology professor who asserted the rights of his colleagues to union representation. Although he never received anything but positive job review, Coughlin's role in the union "irritated" the provost, according to the union's most recent ULP.
The tenth, and most recent, was Drake.
Stay Informed We'll come to you
We're here to help you succeed in your career, advocate for public school students, and stay up to date on the latest education news. Sign up to stay informed