The required use of face masks on campuses, sanitation stations in every college classroom and office, and comprehensive COVID-19 testing and tracing programs are a few of the recommendations made this week by a United Faculty of Florida (UFF) committee, which stepped into the debate around reopening campuses with a detailed 13-page report of best practices.
The intention is to be helpful, and to make sure the voices of students, faculty, staff, and health experts are part of the conversations around reopening, said UFF President Karen Morian, who chaired the 28-member committee. Presidents of Florida's 40 public colleges and universities have been left to create their own plans with little to no guidance from state or federal officials, and often students and employees don't have no say in those plans, she noted.
"We're hoping that those communities — the faculty, students, and staff involved in those discussions, as well as those presidents and administrators — will find this document helpful," she said. "We feel that there are a lot of good building blocks in it."
In recent weeks, many institutions, including Florida's flagship university, the University of Florida, have announced their intention to physically re-open this fall. It's a decision that should be made with four principles in mind, NEA told U.S. Senators this week. Those four principles are: health expertise; educator voice; access to protection; and the prioritization of racial and social justice.
But, for many institutions, the decision is driven by economics. Many students likely will not pay tuition to stay home, and some colleges, especially smaller, private ones, may not survive. Meanwhile, at public colleges, big funding cuts could lead to employee layoffs and the elimination of branch campuses, academic departments, mental-health services, and supports that help students succeed, especially students of color and those from low-income families.
A critical UFF recommendation is that state lawmakers commit to no state funding cuts. But safety remains the number-one issue in the debate to reopen. On Thursday, a health expert told the U.S. Senate's education committee that "we should assume there will be people on campus[es] with COVID-19 infections regardless of what precautions are taken." For safety reasons, the California State University chancellor announced in May that its 23 campuses and nearly 500,000 students, who represent nearly 5 percent of all U.S. college students, will be kept online this fall.
"Parents aren't going to let students return to campus unless they're safe — so [institutions] need to do the things that will make them safe," such as mandating face masks, which are proven to reduce person-to-person spread, said Morian.
At the same time, she said, institutions also need to face reality: If COVID-19 forces faculty and students into online classes this fall, institutions must be ready through investments in technology to reduce the digital divide. That includes providing all students with devices, and making sure they have access to broadband internet, the committee said.
"Our reopening committees' work—preK-12 and higher education—is already inspiring robust conversations statewide about how campuses will reopen and operate as the pandemic continues," said Florida Education Association President Fed Ingram, whose members include UFF members. "It is also drawing attention to the fact that it will take proper funding for state institutions of higher learning and public schools to safely achieve their critical missions."
Inside the UFF health group
The UFF committee members were organized into five groups: public health and safety; social and emotional well-being; student success; safe learning and working conditions; and investment issues. It included a range of stakeholders, such as state Rep. Carlos Guillermo Smith, plus students, public-health experts, and others.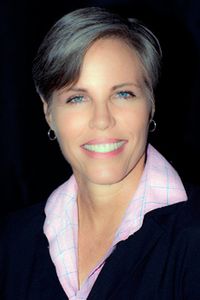 Karen Morian
Tiffany Parisi, a public-health expert and former faculty member at University of North Florida, facilitated the small group on public health and safety. Its members have overlapping interests in public health, "but come at it from different angles," she noted. One is a nurse. Another has worked in healthcare administration. "We came to policies that we were all able to say — 'yes, this is what we need to do, this has to be put into place' — which really speaks to the importance of that policy or approach."
Mandatory face masks or coverings, until there is a COVID-19 vaccine, were a focus. "I know there is a lot of public dialogue or debate around this. But for us, we said, 'if we're resuming on-campus activities…we have to take a firm stance on what will prevent spread for everybody,'" said Parisi. "It's about having respect for each other. In order to care for another person, regardless of whether they're a stranger or loved one, we have to take actions, we have to be willing to make changes in our lives to protect others."
If students or employees don't have masks, institutions must provide them, the committee said, as well as sanitizers and wipes at the entrance to every classroom and office. It should not be left to students or faculty to buy those supplies.
Other requirements, recommended by the health group include:
Creating infrastructure to test, trace and isolate new cases on campus;
Training faculty, staff and students on proper handwashing and restroom use;
And providing on-campus or in-town isolation spaces for residential students.
Social and Emotional Well-being, Funding and More
Another small group, facilitated by scientist Christina Drake, tackled the important issue of social and emotional well-being. Drake, a former faculty member at Florida Polytechnic University, was fired by the university after advocating for an on-campus, mental-health counselor whose position had been eliminated. (Late last year, a state labor board ruled that Florida Poly violated state law in firing Drake and ordered the university to give her back pay and restore the on-campus position of mental-health counselor.)
"It's an issue that's near and dear to me," said Drake.
The pandemic has meant that some students are likely to be caring for sick parents, or caring for younger siblings while their parents are working essential jobs. In addition to making it difficult for them to attend classes, the situation is stressful, said Drake.
Drake's chief concern is that these issues have disproportionately affected racial-minority groups of people, "and I'm really concerned that those groups may not get the support they need, as well as other groups who often aren't well-supported, like LGBT people," she said. "It'd be awful to realize, 10 years down the road, that a year or two of COVID-19 led to significant decreases in graduation among certain groups of people."
Three of the five members of the group were licensed mental-health counselors. Together, they came to several requirements for campus, including:
Reducing student and parent anxiety by providing clear information to families around re-opening campuses;
Prioritizing existing mental-health programs and staff, who already know students and campus culture (rather than outside consultants);
And, ensuring industry-recommended standards of one counselor per 1,500 students, and making sure those counselors are available online.
Meanwhile, another critical subgroup, facilitated by Smith, looked at "investment" or funding, and insisted that colleges and universities see no cuts to research or academics, and no cuts to staffing levels.
"The general philosophy is that not only are these institutions of higher education economic drivers in our state—we know that for every dollar the state invests in them, we get more money back into the state," said Smith, "but also these institutions are providing the professionals who are on the front lines fighting COVID-19. These are really important institutions."
Maintenance of state funding also is required for states to access the $27 billion dedicated to public colleges and universities in the HEROES Act, a $3 trillion coronavirus relief package that the U.S. House passed in late May. (The HEROES Act also includes $200 billion to fill state and local budget gaps. Tell your Senators to support it, here.)
Where is Betsy DeVos?
With its detailed report, the union stepped into a vacuum of guidelines. By comparison, the "Blueprint for Reopening Campuses" that the Florida Board of Governors supplied to state universities is vague, suggesting, for example, that "the use of face coverings and hand sanitizers be addressed in each university's plan."
"If we built a house based on their blueprint, we'd all be wet and mosquito-bitten," said Morian.
U.S. Education Secretary Betsy DeVos
Meanwhile, the federal government has been mostly absent. Last week, the U.S. Centers for Disease Control (CDC) updated its "guiding principles" for colleges and universities, briefly suggesting that colleges promote behaviors that prevent spread, such as handwashing and face masks, keeping desks at least six feet apart, and providing grab-and-go meals in dining halls. In its letter to U.S. Senators, NEA notes the CDC document lacks the specificity needed by colleges and universities.
The Senate hearing Thursday revealed a divide between Republicans, who favor re-opening and said the only federal policy necessary is one to protect colleges from liability, and Democratic Senators, who criticized the DeVos/Trump administration for not providing any specific policies or rules on how to keep students and faculty safe.
"Colleges and universities need the actual support of Education Secretary Betsy DeVos, who instead of working with the higher education community on how to reopen safely, is forcing colleges and universities to implement a new harmful ideological Title IX regulation during a pandemic that will ensure one thing—that students already worried about the pandemic are now going to be more unsafe next school year when it comes to sexual assault and harassment," said Sen. Patty Murray (D-WA), ranking member of the Senate Health, Education, Labor and Pensions (HELP) committee. (Read more about the new Title IX regulations.)
More safeguards are needed, agreed Sen. Tammy Baldwin (D-WI), who said, "I'm very concerned not only about the the safety and health of undergraduate students but of the faculty and staff." Colleges and universities "need very clear rules of the road and workers need to know they are protected," she said.
"Faculty and staff members want students to return," wrote NEA Government Relations Director Marc Egan to Senators, "but they need assurances that as campuses reopen, we are doing everything possible and providing the funding necessary to keep campus communities healthy and safe."
Stay Informed We'll come to you
We're here to help you succeed in your career, advocate for public school students, and stay up to date on the latest education news. Sign up to stay informed