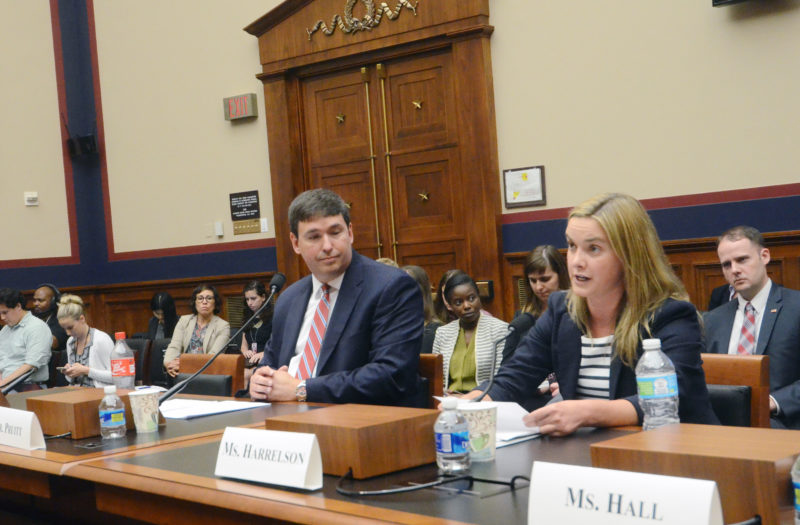 Cassie Harrelson testifies before the U.S. House Committee on Education and the Workforce.
Colorado math teacher Cassie Harrelson of Aurora Public Schools in Colorado testified June 23 before the U.S. House Committee on Education and the Workforce, asking Representatives to ensure the voices of educators be heard during implementation of the Every Student Succeeds Act (ESSA).
The hearing comes a month after the U.S. Department of Education released regulations on implementing ESSA that have met with strong opposition from National Education Association members like Harrelson, as well as members of Congress.
Rep. John Kline (R-MN), chair of the House Committee on Education, said the committee "is determined to hold the administration accountable and make certain the law is implemented in a manner that adheres to the letter and intent of the law."
He added that if the intent of the law is not followed, the U.S. Department of Education will make it harder for teachers like Harrelson to serve the best interests of students in their classrooms.
During the first half of the two-hour hearing, U.S. Secretary of Education John B. King Jr. defended the proposed regulations from attacks from the committee about what the plan would cost districts and how the rules strip flexibility from the states and target too many schools for punitive interventions. The bureaucratic sparring emphasized the importance of Harrelson's testimony and the need for more educators to tell lawmakers how to get ESSA right.
No More Labeling Schools
In her testimony, Harrelson spoke for educators around the country by raising concerns about the implementation of a summative, single rating of schools, even though ESSA itself does not call for such a rating, and despite efforts to assess school performance based on "multiple measures" to give a more three-dimensional view of how schools and students are doing.
If changes aren't made, the regulations would return to the damaging NCLB practice of labeling schools.
"The recently proposed federal regulations rightly focus on the importance of stakeholder engagement. We know that engaging educators, parents and community members up front will make for a successful process in the long run," Harrelson told committee members.
"However, as a teacher, I worry that the extensive areas dictated under the proposed federal regulations take away my voice. We were promised that so many of these decisions would take place at the state and district level, ensuring that Colorado educators had a seat at the table to advocate specifically for our students. Yet, the proposed accountability regulations tell us that Colorado must have a summative rating system with three levels of proficiency overall and with each subgroup of students. I know this requirement is nowhere in the law and something we were supposed to decide at the state level."
Standardized Tests
According to ESSA, states are still required to test all students in English/language arts and math in grades 3-8 and once in high school, but it's up to states to determine consequences for schools that don't meet the 95 percent participation rate. States also could allow parents to opt their children out of tests.
But the draft rules say that states must choose one of three sanctions for schools that don't meet the 95 percent rate, such as giving schools the lowest rating on their academic achievement indicators or knocking down their overall ratings. Such sanctions are punitive and perpetuate some of NCLB's worst practices.
"As an educator in Aurora I have been excited for the accountability system to not only focus on student outcomes but also on closing the critical opportunity gaps that exist in so many of our schools," Harrelson said. "Yet, once again in the proposed regulations we see a return to increasing the focus on the standardized tests. By diminishing the importance and the lack of decision options of some of the indicators, including the student or school supports indicator, we will return to a system where we are overly focused on the numbers game of tests instead on focusing on what students need to succeed."
There is no active opt-out movement in Aurora, Harrelson told committee members, but the test participation rate among Aurora's high schools is 90 percent, which means the district will be subject to sanctions.
"All of [DOE's suggested rules] are designed to punish us rather than help us find solutions to solve the lower participation rate in our assessments," said Harrelson. "This was supposed to be determined at the state level but once again the department is taking away that opportunity."
Harrelson fielded questions from committee members about assessments, who agreed that ESSA should lead to better tests rather than more tests and that the regulations should not get in the way of reducing the time spent on test taking.
English Language Proficiency
The regulations also call for English Language Learners to become proficient during a set time period, but the question remains: how long does it take for an English Language Learner to become "proficient"?
"In Aurora we have a diverse population in which some students arrive with comprehensive educational backgrounds, and some arrive with interrupted or limited formal schooling. Research tells us in the language acquisition process the task is much larger and will require more time….We would appreciate the opportunity to take a student's situation into account when setting individual goals," said Harrelson, who was thanked by committee members, both Republican and Democrat, for her professional commitment to her students.
In the final statements made by the panel, which included Kentucky Commissioner of Education Stephen L. Pruitt, Daria Hall, interim vice president for government affairs and communications at the Education Trust, and David R. Schuler, superintendent of Township High School District in Illinois and AASA President, Harrelson said she wanted to emphasize the importance of teacher voices in the ESSA implementation process.
"I work in one of the lowest performing schools in Colorado, and we'd like to see our voices elevated to improve outcomes," she said. "It's hard for someone here in the Washington, D.C., to dictate what we should be doing in our own schools."
Urgent: Your Chance to Speak Up is Now!
During the summer, educators and other stakeholders are making their voices heard to be sure that ESSA fulfills its promise to shed the burdens of No Child Left Behind and bring equity, creativity, community and collaboration to our schools.
Educators have until August 1 to share their ideas on ESSA and to makes sure it is implemented correctly for school and student success.
Share your voice at getESSAright.org.