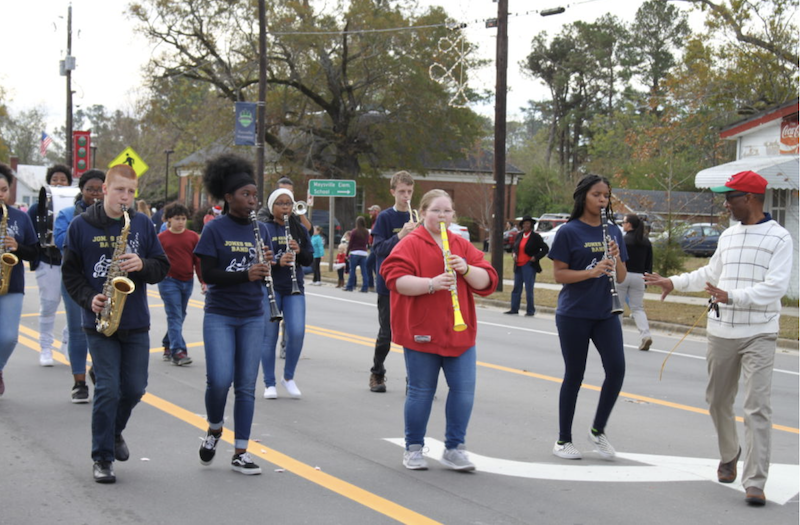 Jones Middle School students march in their town's Christmas Parade with donated instruments.
From east coast to west coast, the U.S. has endured several devastating natural disasters in 2018. It's been a hard year for many people, and if the seemingly endless negative news cycle has you feeling grinchy this holiday season, read on. Though they suffered enormous loss, disaster-hit communities are still feeling hopeful.
When Hurricane Florence swamped Jones Middle School in eastern North Carolina, it wiped out everything, including all of the band equipment and music library, which had taken years to collect and curate. But even though the massive storm destroyed their instruments, it didn't stop the music.
The middle schoolers found a new home in the neighboring high school, and band teacher Alexander Williams was determined to keep his music program alive.
The students drummed on buckets, clapped rhythms with their hands, and struck notes on the few xylophones that could be salvaged.
"We made it work and the kids hung in there and kept good attitudes," Williams said, though he admits he was stressed about how to keep them engaged without the musical instruments he'd relied on for his 30-year teaching career.
Then, a holiday miracle. All of the band equipment was replaced, each and every instrument, along with the music the students had been rehearsing.
After hearing about the school's loss, the North Carolina Foundation for Public School Children sent a call out to the community, and the community answered. People dusted off their trumpets and trombones and donated them. Others pooled their money together to buy new clarinets and cymbals, flutes and French horns, whatever was needed.
And just when they thought they'd have to skip it this year, the Jones Middle School band marched in the Christmas parade, proudly wearing school band t-shirts and jeans because they haven't replaced the band's uniforms yet.
"When the instruments came in the kids were so excited they wanted to start playing right away, but we hadn't even put them together yet," Williams says.
'People Actually Do Care'
He was thrilled to have new instruments for the students and that they were able to play in the annual Christmas parade, but the best part, Williams says, was the generosity of the community.
"People actually do care. We hear so much bad news, we don't hear about the good stuff often enough," he says. "We are very grateful that so many people who don't even know us still wanted to help us be successful. I'm hoping our students will remember this and pay it, and play it, forward."
Williams said that though their community will be rebuilding for many years to come, "at least they had something to come back to."
"In Northern California, there are no schools, no homes, no structures at all to come back to," he says. "We've suffered a loss, but there are others who need our help."
Hope in Paradise
In Paradise, California, all but one of its nine schools burned to ashes after the massive Camp Fire raged for more than two weeks across northern California. Like in North Carolina, the community stepped up to help. On Giving Tuesday when a California business man and restaurant owner hand delivered $1000.00 checks to each and every student and staff member in the Paradise district -- most of them homeless, with the clothes on their backs.
"I felt terrible for them," Bob Wilson said in an interview with The Washington Post. "I couldn't stop thinking, 'How can I help?'"
What the students need most is a sense of normalcy after the trauma of the fire that incinerated their town. Recognizing that need, educators are finding ways to provide it. They're holding classes at their kitchen tables, in hotels where many students are now living, in libraries in neighboring towns, even in shopping malls.
Virginia Partain has taught English at Paradise High School for more than 20 years. Now she's holding classes in a former LensCrafters at the mall in nearby Chico.
"We just want to bring a sense of healing back to our community," Partain, who fled the campfire taking nothing but her cats and her students' college essays because, as she told CBS News, "there's some part of us where we're always the teacher and they had to get their essays done to get into college."
Third-grade teacher Robin is sharing one room at a school in Oroville with four other teachers but they're remaining optimistic.
"We're going to color, have PE, talk to each other…" she said. "It's not about the academics for us. It's about loving each other and building the kids up…The kids need to see we all made it. We are safe. We're just going to move on."
To find out how you can help visit the California Teachers Association Disaster Relief Fund for information.
Do More
Stay Informed We'll come to you
We're here to help you succeed in your career, advocate for public school students, and stay up to date on the latest education news. Sign up to stay informed