It's that one glorious time of year when new and veteran teachers, administrators and education support professionals (ESPs) are drawn together by that much-anticipated milepost: the first day of school.
In this back-to-school guide, we offer ideas for first-year and veteran educators. You'll find tips for conducting class, managing your classroom, and making fresh-faced students feel comfortable. Educators will also share grassroots organizing suggestions on how to advocate for your students and school. Make it an epic year!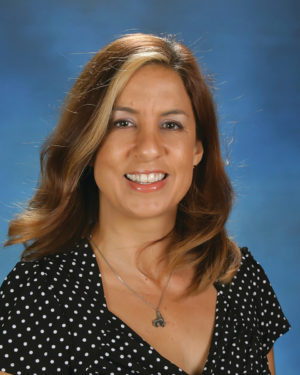 Laurie Jones, speech communications/literacy coach, Mission Oak High School, Tulare, California
'Something' to Break the Ice
We have six feeder schools to our high school. Many of our kids don't know one another on Day One and tend to clique with their eighth-grade buddies. To mix up this grouping in the classroom, I buy two decks of cards. The first deck I split up and tape to each desk. The second deck gets passed out randomly at the door. Students find their seat when they find their match. We then move into the "something" interview. I hand out a paper that says, "Five Things: Something everyone knows about me, something most people know about me, something some people know about me, something a few people know about me, and something no one knows about me." I split the kids in half and number them off. They find their matching number and interview that person using the five prompts. After the interview, they introduce that person to the class. This breaks down barriers, gets the kids thinking about how people perceive them, and gives many of us the few laughs we need to break the tension of the first day!
Welcome New Teachers and ESPs
As a literacy coach for our school, I mentor all new English teachers. Though most conversations revolve around classroom management and pedagogy, I always encourage [educators] to attend our CTA (California Teachers Association) luncheons and meetings. As new educators, CTA can be their voice. When discussing CTA, I like to hear about their love and support of the teaching profession. I then tie that passion in with CTA's mission. I do the same with ESPs, who are equally committed to the education and safety of our students. We have an interesting job . . . surrounded by youth, a parent's most precious commodity. For the sake of the students, we need to make sure clarity can be found when there are disputes between district administrators and school staff.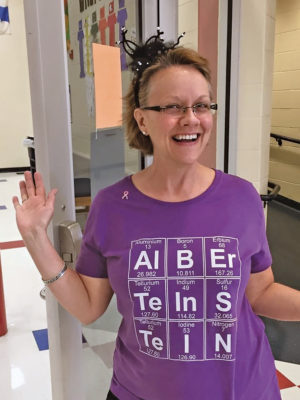 Kelli Whisenhunt, Gifted/Talented Specialist Teacher, Ginnings Elementary School, Denton, Texas
1,2,3 . . . Grades are Done!
Connecting with my students and calling them by name on the first day is essential. It makes me feel like I am off to a good start. Learning names can come naturally, but it can help to place name tags on their desks. Then, there is my student number system. It is a lifesaver. Students receive a number corresponding to their place in the alphabet. From day one, students know their number and use it to line up. The number also corresponds to their place in the grade book. As students hand in papers, I call out their numbers.
Eventually, they just know when to come up and hand them in because they are so used to the number system. Once I have the papers in order, they are easy to record in the grade book. I just flip through, and the work of recording the grades is done. Of course, the number system is for managerial purposes. Bulletin board displays at the beginning of the year should include student pictures. As I hang each photo, I am reminded of the name of each person I am fortunate to have in my class.
Welcome New Teachers and ESPs
I try to touch base with each new staff member and tell them about our local organization. I explain how we are affiliated with the Texas State Teachers Association (TSTA). One of the things I try to emphasize is dues deduction. If you start having dues taken out of your paycheck at the beginning of your career, you really never miss the money. In exchange, you get a voice at the table helping to improve the teaching profession, student outcomes, and working conditions at school. I encourage prospective members to visit TSTA and NEA websites to see how members are enhancing the quality of public school education across the nation, and to explore professional development opportunities and other resources open to members.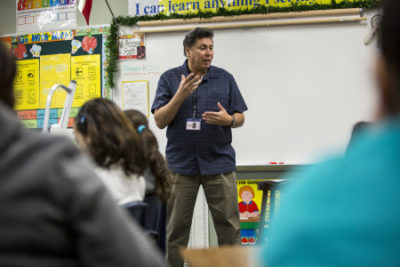 Michael Proscelle, Teacher, Woodlawn Hills Elementary School, San Antonio, Texas
Conduct Class Like a Pro
Streamlined classroom procedures allow more time for teaching and learning. To keep the wheels turning in the right direction from the beginning, try this:
Don't introduce too many topics on the first day. Think through, and organize, the way you want to deliver the content before you enter the room.
Quickly learn and use students' names.
 Consider what you will have students do during those first critical days of school. If it helps, write out your directions before you say them out loud.
Set long-term goals and keep them in mind as you do your daily planning.
Give students their next assignment before you collect or return papers.
Don't interrupt students while they are on task.
I'm a big proponent of teamwork, whether it be with my colleagues and students' parents, or with students themselves. In a classroom, teachers are the leaders. While I might be the one who plans lessons, it helps classroom efficiency when I can get input from students about what lessons are working as I planned and which ones failed to take hold. I hope the approach also encourages students to think critically, to assess and understand how some lessons or techniques or methods work better than others under particular circumstances. It also let's them know they have a stake in classroom efficiency. My students might be only fourth graders, but when I invite their input, they often astonish me with their fresh ideas and insights.
Climate Matters
The first step in creating your classroom's climate is deciding how you want the room to look and feel. As you answer the following questions, consider the activities you want your classroom to support.
Must your classroom be neat (orderly rows, clean boards, limited clutter), or can you stand a more spontaneous look?
What do you want your desk and surroundings to say about you? Perhaps you want to send a message that says: "I'm neat and efficient. I don't worry about clutter, but I like some order." Or, maybe you want your environment to communicate something like "I like flowers and color everywhere. I value students' work and enjoy displaying it." Your decorating scheme is a way for students to learn about your personality and values. It's also a statement of your interests, which could reveal common interests with your students.
How do you want students to turn in their work? Do you want them to put it into your hands because it's easier for you to monitor, into baskets to stay organized, or via e-mail because it helps you to manage clutter? Let them know.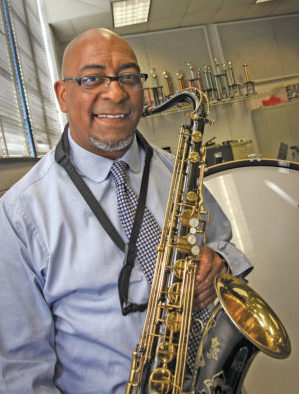 Michael Hairston, Music Teacher, Luther Jackson Middle School, Falls Church, Virginia
The Band Plays On
From the first day of class I try to set the right tone for the year. For example, I'll put on a rousing John Philip Sousa marching song to invigorate them and impress that they are in a room where music is practiced, played, and enjoyed. I'll lay out the course for the year so they will understand to play an instrument takes focus, concentration, and discipline. You can't be too loose with students on day one. I'll talk a little about how music relates to math, English, history and all academic subjects. I will also photograph them as soon as possible and then study their names at home until I know all 270 of them.
Gear Up!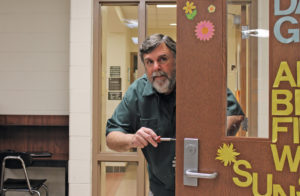 Think your smartphone or desktop computers can solve all your classroom problems? No? Well, neither do we. While a YouTube video can exhibit how to remove stubborn staples from a wall, you'll need a hand tool of some sort to get the job done. Keep reading to see what some of your colleagues might have stashed in their classroom toolbox.
Be Prepared
Andrew Campbell, district custodian for Waterford School District in Waterford, Mich., says, "A classroom is an imperfect world. I recommend the following items be kept within reach of any educator wanting to maintain their sanity."
Five-in-one screwdriver, since screws come in different shapes and sizes.
WD-40 lubricant for squeaky desktops, door hinges, and window locks.
Fishing line for hanging projects from the ceilings.
Squirt bottle and extra paper towels to clean desks and counters.
Batteries for voice activated microphones and other electronic devices.
Child-size broom and dust pan for unexpected messes.
Super glue...for almost everything.
Velcro strips for wall charts and interchangeable displays.
Fly swatter for unwanted guests with wings and spindly legs.
Is This the Year You Become a Local Leader?
Lorna Stowers, English Teacher And Building Representative at Greenville High School, Greenville, Illinois
"My background as an English teacher helps me organize my thoughts and speak clearly and reasonably when I'm representing [the Greenville Education Association]. As the school's character education leader, I attend new teacher orientation every year," Stowers says. "It is at this meeting where I welcome new teachers and talk to them about character education and Association meetings."
At school, Stowers is the faculty sponsor of an anti-bullying program, student talent show fundraiser for needy students, and Give Back Day where students volunteer to spend a day doing community service. Last April, Stowers signed up more than 200 students who went into town to clean streets, paint buildings, plant owers and more.
"Lorna is an extraordinary person," says Marcus Albrecht, Illinois Education Association Region 5 UniServ Director. "She shows how being active in her local, her school and community work hand in hand."
Last May, Stowers received the Outstanding Teacher Award at the IEA Region 5 Awards Banquet. She was selected for the award based on her classroom, community, and Association activities.
"I have spoken with many teachers about ta ing a more active roll in GEA, but only after I get to know them," she says. "It's not a good idea to bombard new teachers with too many things right o the bat. I think they need time to settle in."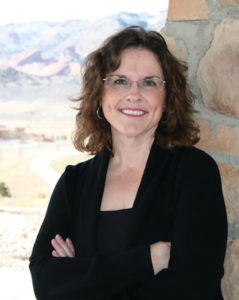 Paula Reed, English Teacher, Columbine High School, Littleton, Colorado. Communication Action Team Chair, Jefferson County Education Association
"The communication skills required to teach literature and writing are helpful in my work on the communications team. I also draw on my 17 years of experience as a debate coach, which means I consider everything I write or say from the view of those on my side and those opposed to me. is enables me to craft more solid messages that are more likely to be well received by the people I want to reach. Years of teaching kids to handle cross examination also helps me when we go door to door seeking community support on education issues."
In 2015, Reed helped to lead a successful effort to oust three school board members whose efforts to censor the U.S. history curriculum sparked district-wide protests and school walkouts.
"I want to stress that you don't have to be a good debater to talk to people about your profession and the great work of your Association. You just have to believe in it," Reed says.
Stay Informed We'll come to you
We're here to help you succeed in your career, advocate for public school students, and stay up to date on the latest education news. Sign up to stay informed