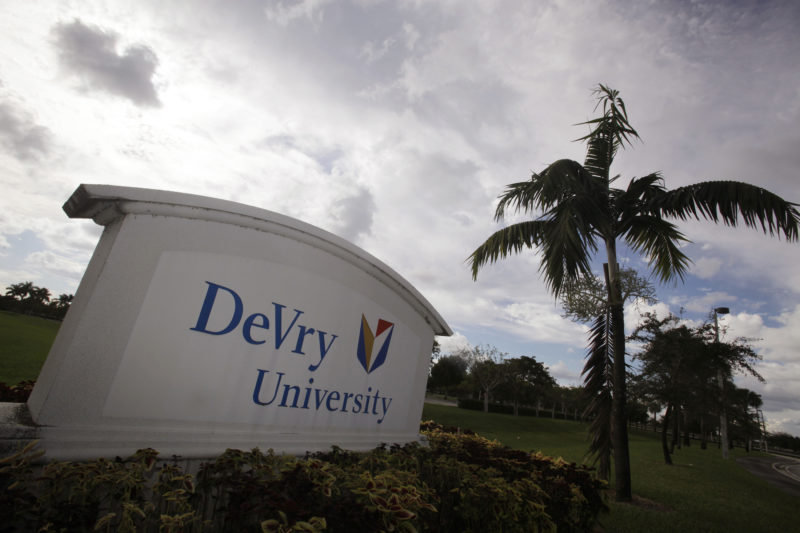 (AP Photo/J Pat Carter)
After serving in the Navy, a San Diego veteran borrowed $50,000 from the federal government to attend a for-profit college that promised to deliver him a good, well-paying job, U.S. Rep. Susan Davis (D-CA) told Education Secretary Betsy DeVos last week.
But all he has now is $50,000 in student debt. "Should there be recourse for students like him who were enrolled under false pretenses?" Davis asked.
Advocates for students, including NEA leaders, say yes. But that Navy vet isn't likely to find much support in the DeVos-led Department of Education, which has given the for-profit college industry "everything they've lobbied for and more," Pauline Abernathy, executive vice president of The Institute for College Access and Success (TICAS), an advocate for stronger regulation, told Politico last month.
Since taking office in February 2017, DeVos has:
* Suspended two federal regulations that would increase protections for students who borrow to pay for essentially worthless degrees. Known as the "borrower defense" and "gainful employment" rules, the regulations were developed by the Obama-era Department of Education (DOE) with the input of student advocacy groups, including NEA. In effect, they require DOE to penalize the for-profit colleges with the worst records on student loan defaults and joblessness, and to work to "protect students and taxpayers," said Mark F. Smith, NEA's senior policy analyst for higher education.
* Reduced loan forgiveness for students who were defrauded by their for-profit colleges, like Yvette Colon, who told Time that she borrowed $35,000 to get a certificate in cardiovascular sonography from Stanford-Brown Institute, only to find out that the for-profit college lacked the accreditation for her to take the licensing exam or transfer her credits to a community college. Stanford-Brown has since been shut down. "This school has totally messed up my life," Colon told Time. "I can't do anything. I can't continue my education. I can't continue to go forward in my career."
Since taking office in February 2017, Education Secretary Betsy DeVos has rolled back regulations overseeing the for-profit college industry (AP Photo/Pablo Martinez Monsivais)
* Hobbled the DOE office charged with investigating for-profit college abuses. The office, which was created in 2016 and included more than a dozen investigators, has been reduced to three people, the New York Times reports. This means several investigations into the nation's largest for-profits have been abandoned, the Times reported. At the same time, the new investigations supervisor is Julian Schmoke, former dean at the for-profit DeVry University. "Secretary DeVos has filled the department with for-profit college hacks who only care about making sham schools rich and shutting down investigations into fraud," U.S. Senator Elizabeth Warren (D-MA) told the Times.
These investigations are more necessary than ever, as an analysis published this week by the Century Foundation, shows a staggering increase in fraud claims, filed by students, from 98,868 in August 2017 to at least 127,817 currently, a 27 percent increase. More than 98 percent of the complaints are about for-profit colleges, including some that are under investigation or already shut down. The largest increase for any single school was for DeVry, which saw its "borrower defense claims" go from 1,195 in August to 7,393 currently.
Nonetheless, the for-profit industry has the support of many GOP lawmakers, whose PROSPER Act—the House GOP answer to the reauthorization of the Higher Education Act—would eliminate the same two protective Obama-era regulations. The bill also would repeal the 90-10 rule that allows for-profits to receive up to 90 percent of their revenues from federal taxpayers, typically in the form of student loans and Pell Grants. The 90 percent does not include military veterans' benefits, which is why many for-profits target veterans with their advertising. This is exactly the opposite of what should be happening, NEA leaders say.
"Instead of repealing the 90-10 rule, we need to strengthen it—for example, by counting all federal funding, including the G.I. Bill…The federal government has a responsibility to help ensure that students don't end up with overwhelming debt and no prospect of employment," wrote NEA Director of Government Relations Marc Egan to Congressional leaders.
Tell Congress to say no to the PROSPER Act!
And yet, despite Capitol Hill's support for the industry, it's not all roses these days for for-profit colleges. Their enrollment is dropping. In 2017, it hit 901,000, down from a high of 2 million in 2010. Prospective students may have been turned off by headlines about for-profits that close abruptly, leaving students in the lurch, like massive Corinthian College in 2015 and ITT Technical Institute in 2016. They may also have heard of the multi-million dollar fines levied against colleges that purposefully misled students for profit, such as the $100 million settlement reached with DeVry in 2016.
In last week's hearing in front of the House education committee, Davis pointed to the backlog of 100,000 fraud complaints that have been filed with the DOE by student loan borrowers. "What proportion came from students who attended public schools?" Davis asked.
"I don't know the breakdown," DeVos said.
"I understand that about 1 percent are publics, and less than 1 percent from non-profits…That leaves a large percentage of for-profit students who are reporting. What do those numbers tell you?" Davis asked.
Among other things, DeVos said, "students should go into higher education with their eyes wide open."
Stay Informed We'll come to you
We're here to help you succeed in your career, advocate for public school students, and stay up to date on the latest education news. Sign up to stay informed