The power of NEA and its affiliates comes from its members, who use their collective voices to influence decisions made in statehouses and school districts across the country. The #RedForEd movement made this point loud and clear when thousands of educators and public school allies took to the streets to demand adequate funding and resources for students, educators, and public schools.
This fall, under the threat of the coronavirus, schools are taking varied approaches to reopening (or not reopening at all). And the full impact of the crisis on school funding is still unknown. One thing is clear though: educators are harnessing the power of their voices to drive change—and here's how they're doing it.
Educators Sway Reopening Decision
It was a Tuesday in late April when school officials from West Fargo Public Schools—the third largest district in North Dakota—conducted a survey and found that 83 percent of school staff and parents wanted to reopen schools for the remainder of the 2019 -2020 school year.
Survey results like these certainly carry weight, especially when many governors, including Gov. Doug Burgum, were questioning whether to resume classroom learning or continue with distance learning for the remainder of the year.
Union leaders from North Dakota United (NDU), however, immediately saw a void in the data: educators from the state's 200-plus school districts had not been consulted.
The next day, NDU polled its teachers and education support professionals (ESPs) and asked, "Would you feel safe if your school reopened?" In a matter of hours—and with a hefty 40-percent reply rate—nearly 90 percent said, "No."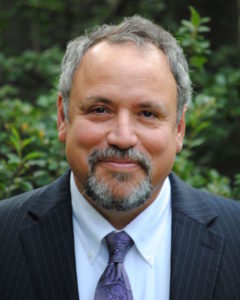 Nick Archuleta
Educators worried that schools would not be able to meet the social distancing guidelines recommended by the Centers for Disease Control and Prevention and that no plans existed to protect teachers and ESPs with underlying health concerns.
Nick Archuleta, a high school teacher and NDU president, shared the polling results with the governor. In a letter, he wrote, "it would be better to continue what we know is working and pivot our efforts to planning for reopening in the fall. This is the position that we have advocated since the coronavirus first reared its destructive head."
By Friday, the governor announced school buildings would remain closed and distance learning would continue. As reported by the Dickinson Press, "Teacher input played a significant role in the governor's decision."
"If we are able to make our voices known collectively, it brings a lot of weight to bear on the decision-makers," says Archuleta, adding that by "raising up our members' voices … we really turned the tide."
Teacher Gets Fired After Insisting Educators Have a Say in Distance-Learning Plans
When state officials closed school buildings and switched to distance learning because of the coronavirus, teachers and ESPs teamed with administrators to help finalize plans. This was happening in big cities and rural areas alike—but not so much in Tiverton, R.I.
Amy Mullen, a special education teacher of 25 years and president of her local union, had learned in mid-March that her area superintendent, Peter Sanchioni, was moving forward with a distance-learning plan without input from teachers. She asked if they could discuss the plan.
Keenly aware of the unique problems distance learning posed to students and their families, as well as teachers, Mullen wanted to ensure its effective delivery, guarantee that it did not impose undue stress on students and teachers, and make sure no one was left out, among other concerns.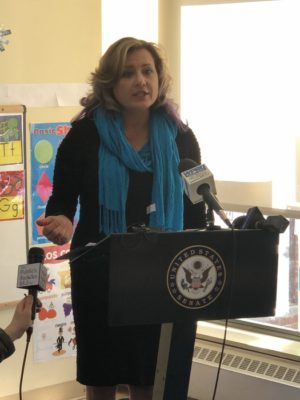 Amy Mullen
But before a collaborative discussion could take place, she was fired. In an email sent to district teachers, ESPs, and parents, Sanchioni described Mullen as uncooperative, unprofessional, and persistently "divisive and obstructive," yet offered no supporting details or relevant context for his decision to fire Mullen.
NEA Rhode Island (NEARI) leaders say Mullen is regarded as an excellent teacher with support from peers, parents, and students. She was illegally fired because of her advocacy work, and NEARI has taken that argument to federal court to fight for Mullen's first amendment rights and her job back.
"This is by far the most egregious attack on a teacher and union leader I've seen in my 28 years at NEA Rhode Island," wrote Executive Director Robert A. Walsh Jr. in a statement to members. "Amy offered no hardline union negotiations. No hold up of distance learning. She asked a question. And she was terminated for it."
In support of Mullen, NEARI launched a "Bring Back Amy" campaign, which started with a 400-car rolling rally through Mullen's neighborhood.
In May, Mullen was reinstated as union president. While the lawsuit contesting her
termination is still pending, NEARI is asking everyone to email and call the superintendent and demand Mullen be rehired. (Learn more at bringbackamy.org, and take action by signing the petition to demand that Mullen get her job back as a dedicated special education teacher in Tiverton Public Schools.)
Educators Stall a 20 Percent Pay Cut
Before the pandemic struck, Hawaii state leaders were close to improving teacher pay—finally!—as a way to address a shortage of more than one thousand educators. After the coronavirus hit, Gov. David Y. Ige floated the idea of reducing state employees' pay by 20 percent in April. The Hawaii State Teachers Association (HSTA) was quick to respond.
"Whenever there's an economic downturn, the first place the state goes to cut is our schools," says Corey Rosenlee, a high school teacher and president of HSTA. "As a union, we knew that was unacceptable."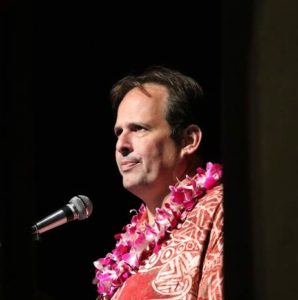 Corey Rosenlee
In a letter to members, Rosenlee wrote, "HSTA and other public sector unions have made it clear to the governor that this will exacerbate our weakening economy, hurt government employees, and potentially prolong this crisis. We stand united and will not accept the governor's plan without exploring every last alternative to keep these harmful cuts from happening."
The affiliate mobilized 900 teachers and hundreds of public education allies to submit testimony to the board of education, explaining how the cuts would further harm student learning. Two days later, HSTA members and those of other public sector unions received good news: Ige backed off his initial plan and announced "no immediate" pay cuts.
The power of our collective voices does make a difference, and that's why, says Hawaii's Corey Rosenlee, "It is important to be part of the largest union in the country."
Stay Informed We'll come to you
We're here to help you succeed in your career, advocate for public school students, and stay up to date on the latest education news. Sign up to stay informed