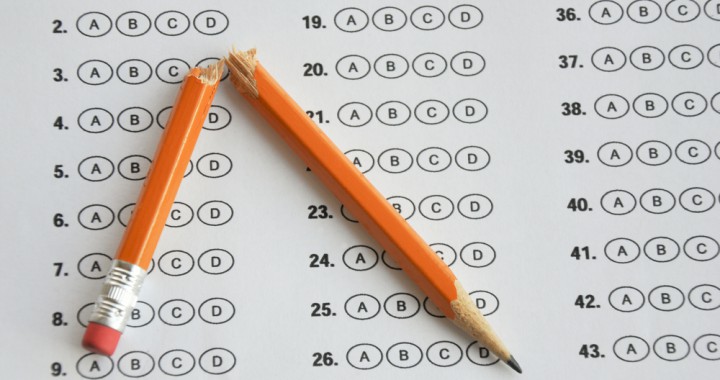 With congressional efforts underway to reauthorize No Child Left Behind, a burgeoning movement of educators, school administrators, parents and students has blossomed in the fight against high-stakes standardized testing. They have taken action across the country as part of NEA's Time to Learn, Time to Teach campaign. The message has been heard loud and clear as school trustees, state and local policymakers are finally deciding to let students learn and let teachers teach.
In Florida, Gov. Rick Scott signed legislation in April to eliminate at least one exam and delay the release of school grades until other exams are deemed valid. The Florida Education Association (FEA) and United Teachers of Dade (UTD) had rallied members, lobbied legislators, and worked with parent groups to limit the use of standardized tests.
"It's time for a new accountability system," says UTD President Federick Ingram. "One that reduces high stakes testing and uses multiple measures to gauge student progress."
Miami-Dade, the nation's fourth largest school district, recently slashed the number of district end-of-course exams from 300 to 10, with other Florida districts taking similar actions. The new law also reduced the weight of student test scores on teacher evaluations from 50 percent to one third.
This month, a new bill to prioritize more class time for teaching was approved by the Colorado General Assembly.
"I'm pleased our legislators moved on the public outcry to dial back the amount of testing," says Kerrie Dallman, president of the Colorado Education Association (CEA). The bill eliminates Partnership for the Assessment of Readiness for Colleges and Careers (PARCC) testing in the 10th through 12th grades, takes steps to alleviate testing for English language learners, and streamlines School Readiness and READ Act testing to give more instruction time to students in kindergarten through third grade.
The CEA worked closely with the bill sponsors throughout the current session, reiterating strong sentiments expressed by educators, parents and voters to end excessive standardized testing.
Capping the Amount of Testing Time 
Further north, a grassroots movement has been gaining momentum in Minnesota and in places like Hazelwood, Mo., where more than 300 educators, parents, and students assembled for a highly charged board meeting carrying signs which read, "Let Teachers Teach." Supported by Hazelwood NEA (HNEA), the crowd handed out testing information while chanting "solidarity forever." Though 93 percent of teachers already belong to HNEA, President Diane Livingston says they recruited several more members that evening and the next morning.
"We have gathered three times before school board meetings since March," says Livingston, who credits members' social media activities as helping to boost attendance. "Everyone involved is encouraged to share information online."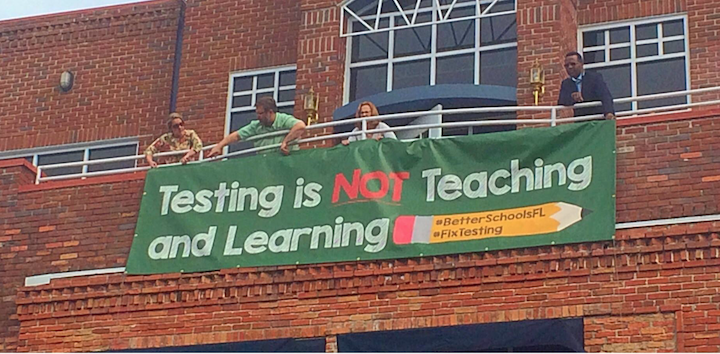 Similarly, more than 450 members of Education Minnesota (EM) have traveled to the statehouse this session to meet with legislators about excessive testing.
The result: Passage of Senate policy and finance bills that capped the amount of class time students spend on testing at 2 percent of the school year, or about 19 hours in elementary school and 20 hours in middle and high school.
"Our members brought the issue of over testing to legislators in both parties," says EM President Denise Specht. "They responded by inserting language reducing the emphasis on testing."
Specht is quick to share this success with a growing cohort of parents, students, and school administrators who were also fed-up with the corrosive effects of high-stakes testing.
School districts in California, Mississippi, Louisiana and dozens of other states are also responding to union-and parent-driven charges to scale back testing.
The Oxnard Union High School District in Oxnard, Calif., unanimously adopted the National Education Association's (NEA) "Time to Teach, Time to Learn" resolution during its April board meeting.
"As a district, we are taking a position and calling on Congress and the Administration to also take a stand," says board trustee and teacher Karen Sher, who proposed the resolution.
Each of the five Oxnard trustees is a current or former educator.
"This is a clear indicator that students, parents, educators, and trustees understand the desperate need for change with regard to high-stakes testing," says Sher, whose district at one point spent 32 days testing students.
Federal law requires states to test students annually in math and reading in grades three through eight and once in high school, and in science in elementary, middle and high school. However, districts have added their own time-consuming assessments. According to a study by the Council of the Great City Schools, students take an average of 113 standardized tests over the course of their K-12 careers.
"Taking multiple-choice, bubble tests is not in the best interest of students," Sher adds.
In Mississippi, the Greenville Public School District school board passed a version of NEA's resolution calling on district leaders to reduce high-stakes assessments.
"Tests can and should be a part of the way we measure student growth," says Reva Pree, Greenville Association of Educators (GAE) president. "But the misuse of tests has robbed our students of the valuable opportunity to connect one-on-one with educators."
Bringing Everybody Together
The Natchitoches Association of Educators in Louisiana also passed the resolution with help from administrators, parents, and other community members, according to Louisiana Association of Educators (LAE) President Deborah Meaux.
"The creativity of teaching has been sucked out of the classroom," says Meaux, who has been on a statewide "listening" tour since January attending educator and community meetings.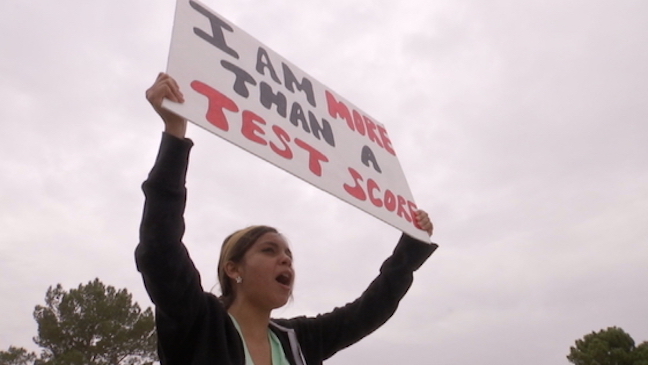 "I heard from teachers and principals who say they have been under a lot of pressure having their job performances measured by students' test scores," she says. "Parents are also upset, so we are working together to regain the time to teach."
In Newport, R.I., parents joined almost 50 educators, government officials, and others at a "Time to Learn" forum organized by NEA Rhode Island (NEARI).
"The real objective of the forum and similar activities is to show legislators that there is strong community support to minimize testing," says NEARI President Larry Purtill, who co-hosted the meeting with NEARI Vice President Val Lawson.
The discussion included remarks from state Rep. Gregg Amore, who introduced legislation to allow parents and guardians of students to "opt-out" of PARCC. This legislation would not penalize students for not participating in the tests and ensures that schools will provide an alternative mechanism for students not taking the tests.
"One of our roles is to bring everyone together," says Purtill, who is also overseeing a grassroots petition drive against toxic testing. "Getting parents and students on board with educators is key."
Members of the Willingboro Education Association (WEA) in New Jersey vigorously promote testing reform at school board and parent coalition meetings.
"We speak to parents about PARCC and excessive testing," says WEA president and school secretary Vicki Benedict. "We explain that even though their child might not be in a testing grade, all students are affected by over testing due to loss of computer lab and library time."
Students in Willingboro are tested an average of 17 out of 36 weeks during the school year.
"And that does not include the district mandated benchmark tests administered each month," she says.
Stay Informed We'll come to you
We're here to help you succeed in your career, advocate for public school students, and stay up to date on the latest education news. Sign up to stay informed