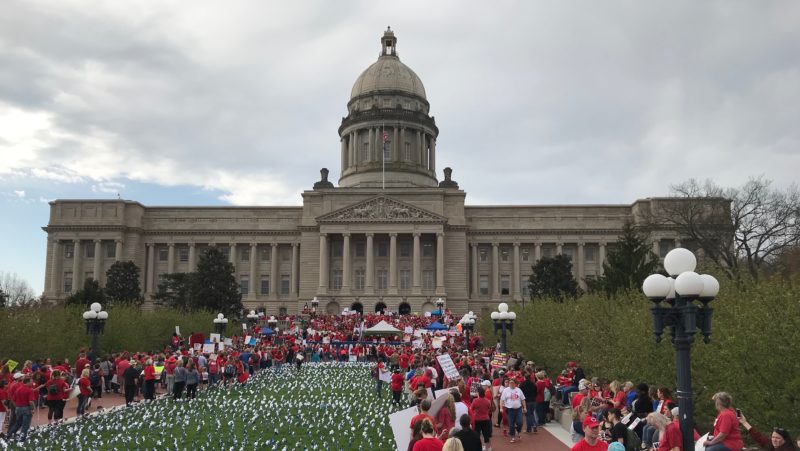 By now it's a familiar scene: tens of thousands of red-shirted teachers and education support professionals, rallying outside their state Capitol, demanding that legislators provide the money they need to educate their state's public school children.
On Friday, the location was the Capitol steps in Frankfort, Ky., where Kentucky Education Association (KEA) members from the state's 120 counties arrived by the busload to deliver a pointed message: Legislators must override Gov. Matt Bevin's veto of the budget and tax bills, which would combine to modestly fuel an increase in K12 investment. By early evening, lawmakers proved they were listening. The Kentucky Legislature had overrode Bevin's veto of the tax bill, and the House had sent its override of the budget bill to the Senate.
"We'll remember! Come November!" educators chanted. "Fund our future!"
Meanwhile, in Arizona, on Thursday an anxious governor offered teachers a 20 percent pay raise over the next two years to forestall further walkouts, and in Oklahoma, where educators, students, and parents packed the Capitol for nine days, Oklahoma Education Association (OEA) President Alicia Priest enumerated the wins they achieved.
"The presence and persistence of Oklahoma educators and supporters have brought the largest pay raise in state history to teachers, a line-item pay raise for support professionals, and $70 million in recurring revenue for Oklahoma classrooms," said Priest. "Each and every one who has marched at the Capitol, written, made calls, and worked in so many ways in their own communities should be overwhelmed with pride."
"This is an absolute movement. It's a moment in time for educators and it's not just one state," said NEA President Lily Eskelsen García, who has called the movement an "education spring."
In the background of these state battles is the Supreme Court's impending decision this spring or summer in the Janus vs AFSCME case, which aims to weaken the rights of public-employee unions and make it more difficult for educators to raise their voices in unison. But educators are making it clear—from Phoenix to Frankfort—that they will not be silenced.
As a result of their advocacy, Oklahoma teachers will see annual pay raises ranging from $5,000 to $8,395, with an average $6,100, while support professionals see $1,250 raises. Additionally, through the first tax increases approved by Oklahoma lawmakers in more than a decade, public schools will get $70 million in new, recurring state funding, plus an additional $22 million next year.
Is it enough? It's not, but Senate Republicans will not budge an inch on additional funding, said Priest. "They say Oklahoma students don't need any more funding, and they're wrong," said Priest. But, as teachers return to their classrooms today, OEA members also will turn their attention to the elections ahead. "The state didn't find itself in a school funding crisis overnight. We got here by electing the wrong people to office. No more," Priest promised.
Between 2008 and 2015, Oklahoma lawmakers cut per-student funding by 15.6 percent, according to the non-partisan Center on Budget and Policy Priorities. In 20 percent of school districts, Oklahoma schools are only open four days a week because local boards can't afford the fifth day. Textbooks are decades old, classroom desks and chairs are broken, and teacher pay ranks 47th in the nation. Teachers work two, three jobs, driving Uber and selling their blood—or they move to Texas or Arkansas, where they can earn $10,000 to $15,000 more a year.
But Oklahoma isn't the only state where lawmakers have cut taxes for corporations, rather than spend money on their schoolchildren. Arizona has seen the worst school-funding cuts—36.6 percent between 2008 and 2015. As a result, Arizona's average teacher pay was last in the nation, according to the 2016 NEA Rankings and Estimates report.
For the past month, Arizona educators have been protesting at the state Capitol. On Thursday, Arizona Gov. Doug Ducey proposed to boost teacher pay by 20 percent by 2020. The pay proposal didn't include education support professionals, even though Arizona Education Association (AEA) leaders have made it clear that support pay is a critical part of their legislative demands. Nor did Ducey address AEA's key requirement that school funding be restored to pre-recession levels.
"My heart sank because he (Ducey) made no mention of support professionals," said Vanessa Jimenez, vice president of the AEA-affiliated Phoenix union of support professionals. "It's clearly an attempt to divide us, and we won't be divided."
Joe Thomas, AEA president, said the governor's proposal reminded him of his days in a social studies classroom with the occasional student who wanted to do just enough work to get by. It's not enough. Ducey has rebuffed efforts to meet with Thomas and leaders of the allied Arizona Educators United group. He needs to realize, said Thomas, that "the educator voice—both ESP and certified—has never been stronger in the state of Arizona."
Many of these state's educators have been inspired by West Virginia's example, where teachers and education support professionals went on strike for two weeks in March and won significant new investments in public education. Since then, the rebellion against low pay and funding cuts has spread across the nation.
Back in Kentucky, KEA members know that the legislature's tax and budget bills aren't going to provide everything that their students need. "The recent budget adopted by the General Assembly is far from perfect," acknowledged David Wade, a special paraeducator in Paducah, Ky. But Wade, as well as countless other KEA members, know that the governor's veto likely would lead to a worse budget for their schools.
As is, the budget does provide for a base increase in K12 funding to the unprecedented levels of $4,000 per student. "My kids can't wait! They can't wait any longer!" said Jennifer Hawkins, a preschool teacher in Bowling Green.
Stay Informed We'll come to you
We're here to help you succeed in your career, advocate for public school students, and stay up to date on the latest education news. Sign up to stay informed