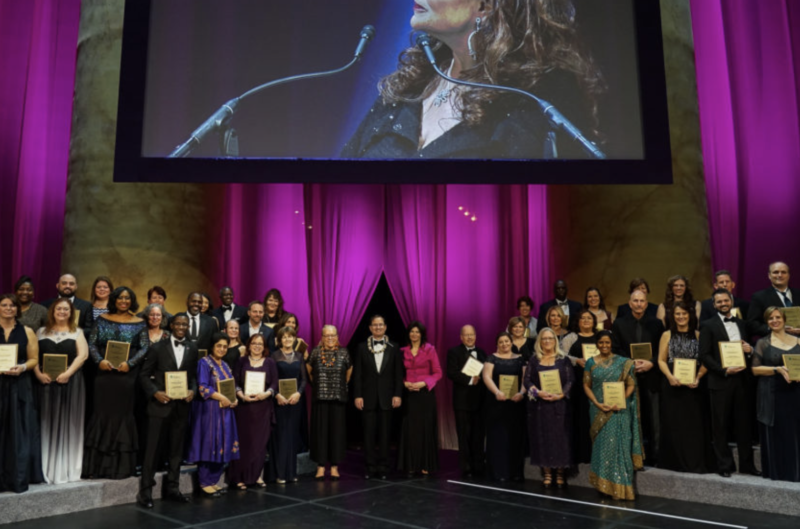 The 2018 Salute to Excellence in Education Gala, held on February 9th in Washington, D.C., was a celebration of the power of innovation, artistry, and teacher leadership.
The event, often called the Academy Awards for Educators, was hosted by Debbie Allen, acclaimed actress, dancer, director, choreographer, and executive producer and was held at the city's National Building Museum.
"The National Building Museum is a spectacular place that matches the greatness of our educators and teachers," said Harriet Sanford, NEA Foundation President & CEO. "We think they're exceptional and are glad to honor them in the right place."
Bobbie Cavnar received the evening's top honor, the NEA Member Benefits Award for Teaching Excellence with an award of $25,000. Cavnar, a 12th grade language arts educator at South Point High School in Belmont, NC, whose classroom is designed like a Victorian library where students feel warm and inviting. "It pulls them in and right away they know that this is a place to think."
Cavnar prides himself on the fact that he not only teaches by the book but also teaches students to have empathy with each other. "By teaching empathy in a world of numbers and data, metal and machines, we can make schools a garden of kindness, humanity, and hope," said Cavnar.
Student, Robert Mageau explains that "Learning is very fun in Mr. Cavnar's class and it's never a dull moment when he's around."
Video: Bobbie Cavnar, 2018 NEA Member Benefits Award for Teaching Excellence Recipient
During his acceptance speech, Cavnar told the audience that "I'm certainly not the best teacher in this room but I want to tell you how thankful I am to get to be the one who is raised up to represent what's best about teaching. The strength of public schools has always been and will continue to be that they are public. Now more than ever we need empathy. We're at a turning point and we must decide what 'we' means. Who we are as Americans and who we are as public schools."
"You must be carefully taught to hate." Cavnar continued. "Children don't hate. But once you are taught to hate there's only one way to learn to love and that is to be carefully taught to love. The way we do that is through public education freely given and offered to all equally."
Tia Mills, a teacher at Eden Park Academy of Ethics and Excellence in Baton Rouge, LA, was recognized for her community service.
"Tia is the consummate teacher, the consummate leader, and community activist." Debbie Meaux, President of the Louisiana Assoc. for Educators.
Revathi Balakrishan, an educator at Patsy Sommer Elementary school in Austin, TX, challenges her students to learn at their highest ability while giving them the confidence to take on the challenges.
"I think a teacher is the single most important factor in learning. A good teacher helps you develop that curiosity, and helps you appreciate learning," Balakrishan said.
Afreen Gootee is a middle school math and social studies educator at the Georgetown School in Mechanicsville, VA. who was recognized for her work with special needs students.
"She was very motivational," said former student Skylar Brown. "When I was upset she would always talk to me and that really helped me with my middle school years. That's also why I still to this day enjoy talking to her."
Crystal May, a fourth grade educator at Pray-Woodman Elementary School in Maize, KS, was also honored. May experiments with classroom design to engage her students. She offers a variety of seating options for her students to choose from and she focuses on small group teaching. "When you're sitting at your table and asking a question she looks at you and pays full attention," said student Brendan Uttinger.
The NEA Foundation also recognized the American Indian College Fund for their work to support Native American students on the path to college graduation, changing outcomes not only for individuals but also for communities. The American Indian College Fund received the First National Bank of Omaha Award for Outstanding Service to Public Education.
Check out videos from the event at the NEA Foundation website.
Stay Informed We'll come to you
From education news to action alerts to member benefits-we're here to help you succeed in your career, advocate for your students, and support public education. Sign up to stay informed.