Despite the many good reasons to bid 2017 a collective good riddance, public education advocates nonetheless notched up important victories during what was an unquestionably trying year. Topping the list was the continued success educators, parents, and their allies had in rolling back standardized testing overkill.
The victories have been widespread and impressive and have surfaced across the country in red, blue, and purple states alike. The National Center for Fair and Open Testing (Fair Test) recently compiled a year-end review, "Testing Reform Victories Surge in 2017: What's Behind the Winning Strategies?" that examines what made the campaigns effective and how they can be sustained and emulated in the years ahead.
"Widespread opposition to the overuse and misuse of standardized testing is producing a marked shift in attitudes about high-stakes assessments and, increasingly, state and district practices," the report states. "Across the nation, assessment reform activists are winning important victories in reducing the amount of testing and ending high-stakes exams."
"These wins often resulted from effective grassroots advocacy by parents, teachers, students and their allies. They reflect the growing public understanding of the damage caused by the overuse and misuse of standardized testing." - Monty Neill, executive director, FairTest
The reforms haven't been limited to one particular aspect of standardized testing. From 2012 to 2017, the number of states that had or planned to have high school exit exams plunged from 25 to 13. Many jurisdictions have also cut back on the amount of time spent on testing and curtailed test scores as a measure of teacher effectiveness. Ten states now allow parents to opt their kids out of some or all tests, and fairer, more effective assessment systems have begun to emerge.
Ending the "Testing Arms Race"
While the districts, policies, and players differ, the same driving force can be found behind most of these successful campaigns, says Monty Neill, lead author of the report and executive director of FairTest.
"These wins often resulted from effective grassroots advocacy by parents, teachers, students, and their allies," Neill explains. "They reflect the growing public understanding of the damage caused by the overuse and misuse of standardized testing."
No Child Left Behind (NCLB), passed in 2001, triggered what Fair Test calls the "testing arms race." The law instituted sweeping mandates for standardized tests and imposed brutal consequences for schools that failed to make "adequate yearly progress." Schools were turned into test prep factories. By the end of the decade, however, educators, parents, and students had had enough.
Learn More About How to Get Involved in ESSA.
The Every Student Succeeds Act (ESSA) returns decision making for our nation's education back in the hands of local educators, parents, and communities.
Thanks in large part to an unprecedented mobilization and advocacy campaign, NCLB was replaced by the Every Student Succeeds Act, (ESSA) in 2016. States now have the flexibility to design new accountability systems that don't rely solely on student test scores. Although testing reform was already building momentum in communities across the country, ESSA provides a new mechanism to help produce further positive gains.
Having a national education law in place that reflects the dimming support for overtesting is essential, but its impact would be marginal without the tireless work of activists on the ground. Buoyed by the growing backlash against testing, alliances led by educators and their unions have been at the forefront of these campaigns, demonstrating, Neill says, "an increasing capacity to use testing issues to influence elections and to pressure school boards and legislatures to make needed reforms."
Big Win in Maryland
Perhaps the most far-reaching victory against overtesting occurred in Maryland, one of the case studies featured in the Fair Test report. In 2015, the Maryland State Education Association (MSEA) launched the  "Less Testing, More Learning " campaign  to reduce testing and high-stakes accountability, culminating in two major legislative triumphs in 2017.
In April, the General Assembly  passed the Protect Our Schools Act of 2017, which overhauls how the state judges its schools. The law ensures that the flexibility granted under ESSA be used to place less emphasis on test scores and more on school quality indicators such as a broad, challenging curriculum, class size, and school climate.  The bill became law in April after the legislature overrode Governor Larry Hogan's veto.
MSEA President Betty Weller called the the law "a commonsense safeguard against over-testing in our schools."
"This means our kids will have more time to learn important well-rounded skills, and our teachers can get back to why they went into the profession in the first place: inspiring their students to love learning," Weller said.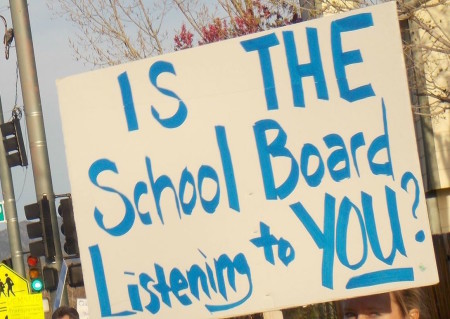 In May, the More Learning, Less Testing Act was signed into law, which limits mandated testing to 2.2% of the year in the state's public schools, which translates to 23.8 hours in elementary and middle schools and 25.7 hours in high schools. The law also eliminates 730 hours of standardized testing across 17 districts each year. The average Maryland student had been taking more than 200 standardized tests during their time in school, taking away 250 hours from instruction.
Crucial to the these legislative wins was the relentless mobilization of MSEA members, who sent 50,000 emails, made 4,000 phone calls, and mailed 2,000 letters and postcards to their representatives. Alliances were forged with groups such as the PTA, ACLU, and the NAACP.
Moving forward, Maryland educators will be vigilant in monitoring the implementation of these new laws - and begin work on the next phase of the campaign.
"Maryland should be a leader not only in reducing testing, but in advancing new hands-on ways to assess students through performance tasks and portfolios that better fit within our students' everyday learning. We must keep our focus on more comprehensive action to improve student testing in Maryland," Weller said.
Starting with the School Board
The FairTest report also takes a look at how NEA-Las Cruces in New  Mexico paved the way for common sense reform by flipping the local school board. In 2015, organizing efforts led to the victory of pro-pubic education candidates endorsed by NEA-Las Cruces to fill two vacant seats. This shift led to the appointment of a new superintendent who soon issued a moratorium on district-wide testing.
"You can't be passive. Otherwise, you don't accomplish things," says retired teacher Becky King. King held a "meet and greet" at her home with the two candidates, attended campaign events, and was among the many educators who knocked on more than 2,000 doors.
"This was about getting out there and doing something," King says. "Had we not gone door to door, it probably would have been status quo."
Educators in Knox County, TN, also focused their efforts around school board elections. The Knox County Education Association partnered with parents and other allies to elect a majority on the board that supports less testing, including ending testing in grades K-2 and cutting district-mandated testing.
The progress in Knox County, however, isn't being duplicated statewide. Tennessee, like many other states, continues to mandate more tests than the Every Student Succeeds Act requires - a glaring reminder of the uphill challenges facing educators as they look to build on these victories.
"Activists need to increase visible opposition to the overuse and misuseof standardized tests and turn this opposition into policy victories in legislatures and school boards," the FairTest report concludes. "This will require electoral battles as well as pressuring current officeholders. The 2018 elections ...provide an important opportunity."
Stay Informed We'll come to you
We're here to help you succeed in your career, advocate for public school students, and stay up to date on the latest education news. Sign up to stay informed