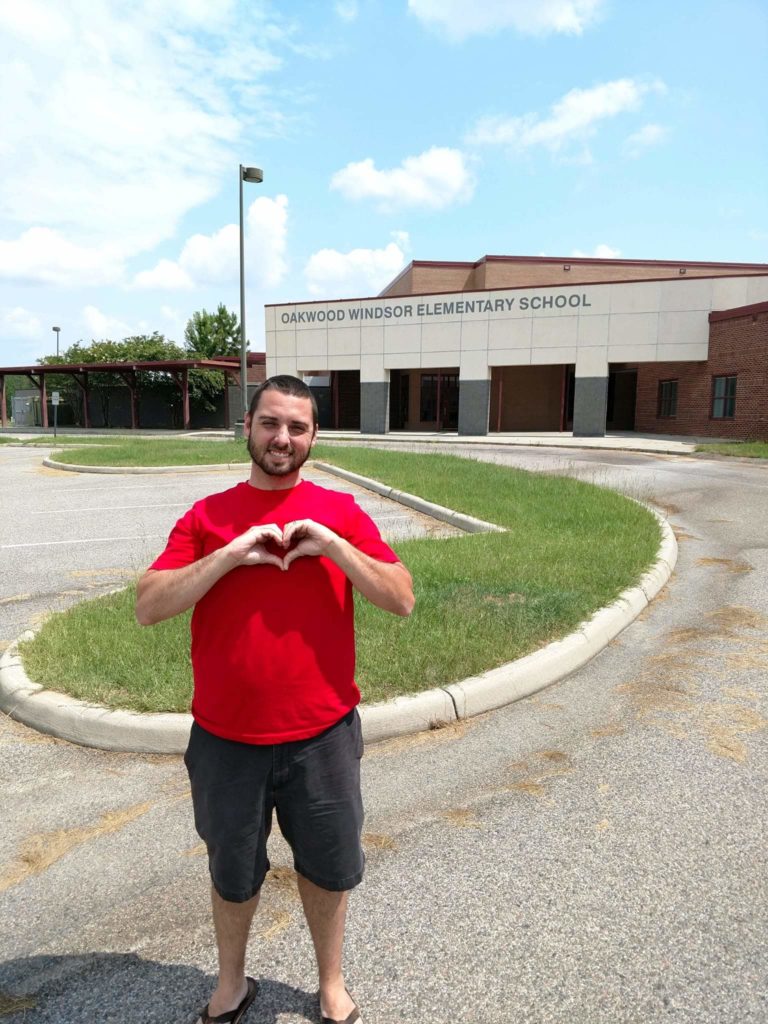 John Ross says of Oakwood Windsor Elementary School, "a school that will always have a piece of my heart."
It almost reads like an old joke: an organizer and a policy wonk walk into a school, but instead of a slapstick punchline at the end, a genuine conversation occurred, a relationship was formed, and a new NEA member/leader was born.
This is the story of South Carolina's John Ross, a K-5 math curriculum interventionist for the Aiken County Public School District and a member of the Aiken County Education Association, an arm of The South Carolina Education Association (SCEA).
Ross started his teaching career 11 years ago in Florence, S.C., as a math and science teacher, and was a member of his local association for a short time.
It was during the Great Recession, and he—like many across the country—struggled financially. His salary was low and cost of living was high.
Ross knew the local and state associations fought for the rights of its members and supported them professionally, but "as an early career educator, I couldn't afford the $40 or $55 that came out of my paycheck," says Ross. "I ended up dropping."
After five years in Florence, he took a position at Oakwood Windsor Elementary School in Aiken. He held several positions there, including stem-lab instructor for the last two years of his six-year stretch. (Ross now works for the district.) He taught students things like electricity, simple circuits, weathering, and erosion. Within this time, Ross also started a family.
"My family is my world. I love them so very much and I would do just about anything for them," shares Ross, a husband and father of two children under the age of four. "I also love education and I love the students in my building."
To support his family and continue in the profession, Ross picked up part-time work at Target, teaching Monday through Friday and moonlighting Friday night, Saturday, and Sunday. His membership status remained "canceled," until recently that is.
#RedforEd Inspires Membership
It's common to see state and national association staff set up a table in the teacher's lounge to talk to members and potential members about the issues they care about most or the challenges that affect their students and profession. During this time, educators sign up to become members of their associations, too.
This is how NEA staffers—John Riley, a senior policy advisor, and Nathan Allen, a national organizer of 16 years—met Ross in March 2018.
"He came during his planning time and shared his story with us and the issues that concerned him," says Riley, a former special education teacher in Maryland. "We talked about ESSA and the power of educator voice, as well as joining (or considering joining) the association and working towards building schools students deserve. And then he left."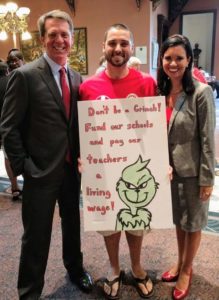 John Ross, pictured with South Carolina Gubernatorial Candidate James Smith and his running mate, Mandy Norrell, lobbies for more school funding at South Carolina's State House during The SCEA's Lobby Day.
But Ross returned later that afternoon and joined the SCEA because "I was inspired by the recent movement of educators across the nation—those in Arizona, Kentucky, West Virginia, and Oklahoma—inspired by the fact that they had rallied together and said 'enough was enough.'"
Ross had had "enough" of inadequate public-school funding. Since 2010, South Carolina schools have been underfunded by $4.4 billion, according to Statehouse Report analyses.
"My position as a stem lab instructor was cut because we couldn't afford to keep it," Ross says, "and this is where kids get the hands-on experience that they wouldn't get in regular classrooms. It's heart breaking."
On the Go
Soon after signing on, Ross attended trainings from the NEA and The SCEA that have helped sharpen his leadership skills and speak up about his experiences and the resources needed for every student to succeed. He uses every opportunity to speak up, too.
In July, for example, Ross shared via Facebook how The SCEA sent him to the GOP's Silver Elephant Dinner in Columbia. There, he met his state representative who asked Ross what he could do for him.
"I told him politely, he could help me by passing on to his fellow representatives that one out of every five educators has a part time job, and while we are appreciative of the one percent raise, we would certainly appreciate a larger percentage in the future, for I—like many of my fellow educators—work weekends to ensure that I am able to put food in the mouths of my babes."
Ross credits the association for his new voice. "While I am a relatively new member of The SCEA, I am grateful for the assistance it has provided me. That assistance has allowed me to find my voice, stand in front of my elected officials, and tell them that we want better for our students, our colleagues, and ourselves," he wrote.
Ross also has been to college campuses to speak with aspiring educators about the importance of voting. He's lobbied for more school funding at the state capitol and protested school budget cuts. Equally important, he's been on social media, spreading the word about the happenings around his local, state, and national associations.
"People need to understand that it requires effort to make change occur…but we need to come together under a banner of some sort—whether it's the SCEA or #SCforEd. And it needs more than a few hundred teachers. It needs to be thousands of us at the state house making our presence known."
One conversation around ESSA and educator voice led John Ross to join millions of other NEA members to stand up for their students and their profession. And, the association provides the kind of space and support for educators and allies to work together toward realizing common goals.
Learn More