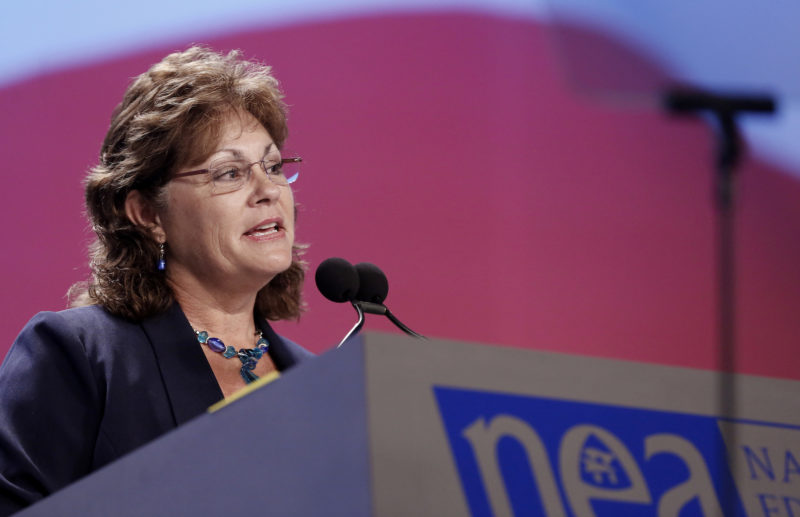 Doreen McGuire-Grigg, 2016 Education Support Professional of the Year, speaks at the NEA Representative Assembly, July 5, 2016. (Scott Iskowitz/NEA)
NEA Education Support Professional (ESP) of the Year Doreen McGuire-Grigg, a special education paraeducator in California's Lakeport Unified School District, took to the stage on July 5 to address nearly 7,000 of her colleagues during NEA's 2016 Representative Assembly. But before doing so, she did what most people would do: she took a selfie with Lily Eskelsen García.
Long known as a "pathbreaker" and an admired leader with the California Teachers Association, McGuire-Grigg spoke of the herculean efforts of ESPs throughout the nation. She advocated for the inclusion of ESPs, and underscored the value ESPs bring to other educators and students.
"It is an honor for me to stand here today, representing incredible education support professionals from around the United States," said McGuire-Grigg, who told the roaring crowd that ESPs are often the bridge between schools and communities. "…And as such, we are often a school community's secret weapon. We see the whole child, we notice their victories and their challenges."
The veteran paraeducator recognized several of her peers: a dropout coordinator from Arizona, who works to keep students in school by connecting them to college aid; a substitute teacher coordinator from Georgia, who mentors students and connects at-risk youth to volunteer opportunities; and a Wisconsin bus driver, who started a book sharing program on his bus that has since spread to the entire district's busses.
Amazing things can happen when education support professionals are treated as equals—as partners and allies in student success. We are more than partners, we are problem solvers.
McGuire-Grigg also highlighted Massachusetts's Nancy Burke, a special education paraeducator, who engaged her students and pulled the entire school community together to create an outdoor learning garden designed especially for students with disabilities.
"Some of Nancy's students have limited mobility and some have severe disabilities that keep them from speaking or learning to read," explained McGuire-Grigg. "Many come from families living in poverty. Most had never even seen or been in a garden before."
She referred to her peers as "secret weapons," people who change lives, bring communities together, and support student success, and encouraged her colleagues to include ESPs in their next union meeting or event.
"Ask an ESP to join you," said McGuire-Grigg, who grew up in the same community where she now works. Her father was a teacher and administrator with the Lakeport Unified School District for more than 35 years.
"Even if they're already members, asking or including an ESP can make all the difference not only to an educator who sometimes feels invisible, but to the students we all serve. It's smart to include us in your battles – we are secret weapons and a key ingredient!"
McGuire-Grigg also emphasized how ESPs are a part of the fight against toxic testing and institutional racism, and asked teachers to join their fight against the threats of privatization, saying the work of ESPs is constantly under threat because our jobs are being targeted by private corporations who put profits before students.
"Would an outside contractor know to put an extra scoop of vegetables on the tray of a student that doesn't know where or when his next meal is coming from," asked McGuire-Grigg. "Would an outside contractor stay after school to fill backpacks full of food for students to eat over the weekend? Would an outsider comfort a crying student and walk them to the office?"
She added, "We need teachers to be our secret weapons. We need your stories, your passion and your numbers. If you see us picketing to fight outsourcing or for a living wage, pick up a sign and join the line."
The paraeducator closed with an inspiring message: "Amazing things can happen when education support professionals are treated as equals—as partners and allies in student success. We are more than partners, we are problem solvers. We are an untapped resource and we are here to support the whole student, the whole school and the whole community. We are the secret weapons."
As ESP of the Year, McGuire-Grigg will represent NEA and other ESP at national education conferences, media events, and other community occasions. The annual award is NEA's highest for an ESP. Approximately, 2.8 million school support staff work in the nation's public school systems, with more than 75 percent working at the K-12 level.
Video: ESP of the Year Doreen McGuire-Grigg Addresses the 2016 NEA Representative Assembly
Learn More
Stay Informed We'll come to you
We're here to help you succeed in your career, advocate for public school students, and stay up to date on the latest education news. Sign up to stay informed