Key Takeaways
Lawmakers in 33 states have introduced legislation to curb the rights of transgender people nationwide.
The newest attack: banning trans girls and women from playing on female sports teams.
NEA will continue to advocate and fight back against these hateful attacks on students.
Rebekah is a 14-year-old girl who loves school, reading, hanging out with her friends, and playing field hockey. She describes herself as a "big nerd." Rebekah is a transgender girl and some lawmakers in states across the country are attempting to pass legislation that would stop her from playing school sports with her friends.
"Sports is something that I really like doing," she says in a video produced by the Human Rights Campaign (HRC). "I'm so much more than trans [and] that doesn't make me less of a girl. It doesn't make me less of a human, either. I'm just me." 
"The idea of banning any child from playing sports and doing what motivates them to come to school and that brings them joy is a horrible thing to do to students—or to anybody," says Amy Biancheri, a teacher of 19 years at Batavia Public Schools in Illinois and is co-chair of the LGBTQ Committee for the Illinois Education Association. 
Yet, certain lawmakers in 33 states have introduced more than 100 bills that aim to curb the rights of transgender people nationwide. The newest attack: banning trans girls and women from playing on female sports teams. 
Florida the Latest State to Ban Transgender Athletes 
On June 1, the first day of LGBTQ+ Pride Month, Governor Ron DeSantis signed a law that bans trans girls from playing girls' and women's sports. He joins with other governors (Alabama, Arkansas, Mississippi, Montana, South Dakota, West Virginia, and Tennessee) who have passed similar bans of their own. More states are expected to follow suit. 
The ban on transgender female athletes participating in school-based sports impacts students from elementary schools to colleges and universities. Other governors and elected officials are only looking at high school and beyond. 
These laws, and proposed legislation alike, require school-based athletic associations to set up their sports program specifically for female, male, or co-ed athletes. Plus, they stipulate that male athletes cannot participate in female sports, explains Rebecca Yates, a civil rights law fellow for NEA.  
"What they've done is define sex in these incredibly narrow ways to make sure that trans female athletes do not qualify as girls and women under the state statutes," says Yates. "And to be clear: This is not because there was some huge epidemic of transgender female athletes pushing cisgender female athletes out of sports—that's not a problem. This law creates a problem and it's done to keep this controversy in front of everyone."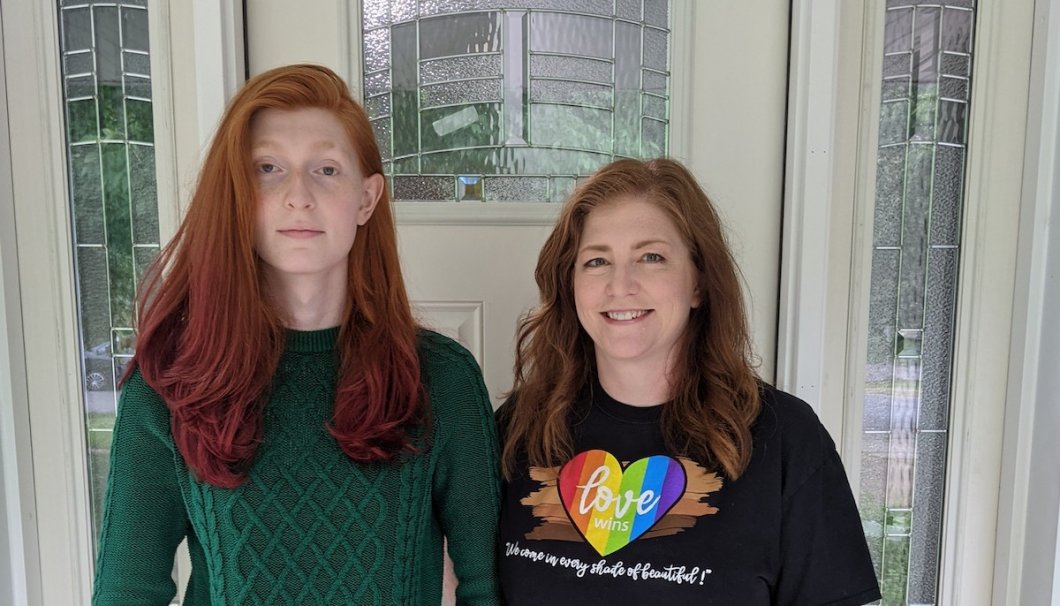 HRC plans to sue the Florida governor over its new law. The American Civil Liberties Union and its allies are also planning lawsuits to overturn anti-trans sports ban laws. 
"Transgender kids are kids; transgender girls are girls. Like all children, they deserve the opportunity to play sports with their friends and be a part of a team," HRC President Alphonso David said in a statement.
In the center of this debate is students, who simply want to play sports. 
Biancheri, a parent of three children, two of whom are transgender, adds: "I don't understand why people would try to pass these harmful, horrific laws just to score cheap political points off kids. If you knew transgender kids, you would know they're wonderful, beautiful people who get so dehumanized by this debate and ignorance. There are no positives to these laws for trans or cisgender people, athletes, or otherwise."  
Despite these harmful bills and laws, the U.S. Education Department recently announced that transgender students are protected under Title IX, a law that prohibits sex-based discrimination in federally funded schools.
"We just want to double down on our expectations," Miguel A. Cardona, the education secretary, told the New York Times. "Students cannot be discriminated against because of their sexual orientation or their gender identity."
The Impact of Exclusion 
Statistics show that what "we need to do, as the adults in the room, is allow people the same opportunities and the same treatment as everyone else. And when we do that, everyone does better," says Biancheri. 
Research from the Center for American Progress (CAP) emphasizes that transgender students who are denied the opportunity to play a sport experience lower self-esteem, a lesser sense of school belonging, and higher rates of school absenteeism.  
Additionally, the lack of acceptance and affirmation increases mental health risks. The Trevor Project conducted a survey in August 2020 and found that 28 percent of transgender youth whose pronouns were not affirmed attempted suicide in the past year. That number decreased to 12 percent for those whose pronouns are affirmed by all or most people in their lives. 
When transgender students are in welcoming and accepting environments, these negative outcomes can begin to reverse and change for the better. And, when transgender students are openly allowed to participate in sports, they experience a greater feeling of school belonging and pro-school behaviors and outcomes reports GLSEN. 
Fifteen states and Washington, D.C., have long held trans-inclusive state athletic association guidance, and participation by transgender students in these areas has produced no evidence of alleged harm to cisgender athletes, according to CAP. 
What the Guidance Says 
Despite the long-standing benefits to trans students when they're allowed to play on sports teams, some lawmakers continue to push polices that prevent them from fully participating in school activities—and they use fear to fan the flames, according to Whitney Weddell, a social studies teacher of 32 years in Kern County, California. 
"Fear is a big seller," she says, "and what is disturbing is this myth that is prevalent that somehow a guy, assigned male cisgender, could pretend to be female, walk on to an Olympic playing field, and clobber the women. That's not what happens given the policies that are in place."  
Weddell identifies as cisgender (a person whose gender identity aligns with those typically associated with the sex assigned to them at birth) lesbian and has been an LGBTQ+ advocate for the past 39 years, and counting, and shares how these policies are set in place to ensure the playing field is fair toward all athletes. 
The National Collegiate Athletic Association, which governs college sports, has well-defined policy on transgender athletes: trans female athletes must complete one year of testosterone suppression treatment before competing as a women; trans men cannot compete with women once they start taking testosterone. Same holds true for the International Olympic Committee (IOC), which allows trans women athletes to compete only if their testosterone levels remain below a certain level for at least a year. Trans men face no restrictions. 
Eric Vilain is a pediatrician and geneticist at National Children's Hospital in Washington, D.C. He has long studied sex differences in athletes and has advised the NCAA and IOC on their trans-inclusive policy. He recently told NPR that "there are no good faith reasons to limit transgender women's participation in sports, especially at the high school level." 
Vilain debunked one of the main myths surrounding this debate that trans girls and women have an advantage in performance. He says, "that is not the case." 
Weddell shares that "we need to do more to tell that truth…and that brings forth the real science."  
Schools have become an important place to ensure racial, ethnic, gender, and all other manner of diversity is fully represented and celebrated. 
"This is why we need the Equality Act," says Weddell. "It's why we need educators who are willing to be brave. NEA and its state chapters have been instrumental in protecting educators. …We are protected so we can speak [and] can ensure we stand on the side of right." 
NEA at Work  
Eric Herrington, senior counsel for NEA, explains that the wave of anti-transgender legislation is, in many ways, "a backlash of all the progress made on marriage equality, cultural recognition and acceptance [of LGBTQ+ people], and on the Bostick [Decision] and the expansion of sex discrimination rights," adding that there's good news to celebrate despite the deluge of bad bills. 
For example, the federal government is supportive of trans-inclusive policy and has been involved is some of these lawsuits. It's also important to note that it's going to be difficult for many of these bad bills to become law. Over the years, laws that have specifically targeted people, usually gay people, for harm have typically been viewed as suspect. 
"We're going to see a lot of federal courts…be hostile to these efforts," explains Herrington. "This isn't to say we're not going to get the headlines, the fights, and the harm and shame that they're trying to impose on people and rob people of dignity—that's all happening." 
When transgender students are in welcoming and accepting environments, negative outcomes can begin to reverse and change for the better. And when transgender students are openly allowed to participate in sports, they experience a greater feeling of school belonging and pro-school behaviors.
But the NEA will not be idle. NEA leadership, legal counsel, and educators have been involved in many of the earlier generational lawsuits, including the Bostock Decision and some of the bathroom wars of recent years. 
"One of the things we worked hard on was bringing educator voice into the courtroom so that when judges are making decisions about these issues, they weren't just hearing from these right-wing extremists who were peddling lies about trans youth but were hearing from educators about what's really right for their students and how best to serve their students," shares Herrington. 
Some of NEA's efforts have been helpful, too, such as when the Third Circuit Court of Appeals, covering Pennsylvania, Delaware, New Jersey, specifically cited and quoted an NEA brief that included educator voices on trans-inclusive policies being good for trans students and good for all students because they send a message of inclusivity. 
Whitney Weddell of California is hopeful that the fight for LGBTQ+ rights will prevail. 
"If you look at all the civil rights movement that has ever existed, [the wins] never go away. …That has never been the outcome. The outcome has always been that the marginalized community speaks up and people in the more majority communities start listening. As time goes by…the marginalized community wins. We are more successful now in the field of LGBT rights than we ever were, and I believe that we will continue to be so because people who discover the power of human rights cannot ever go back from that." 
Learn More
Stay Informed We'll come to you
We're here to help you succeed in your career, advocate for public school students, and stay up to date on the latest education news. Sign up to stay informed