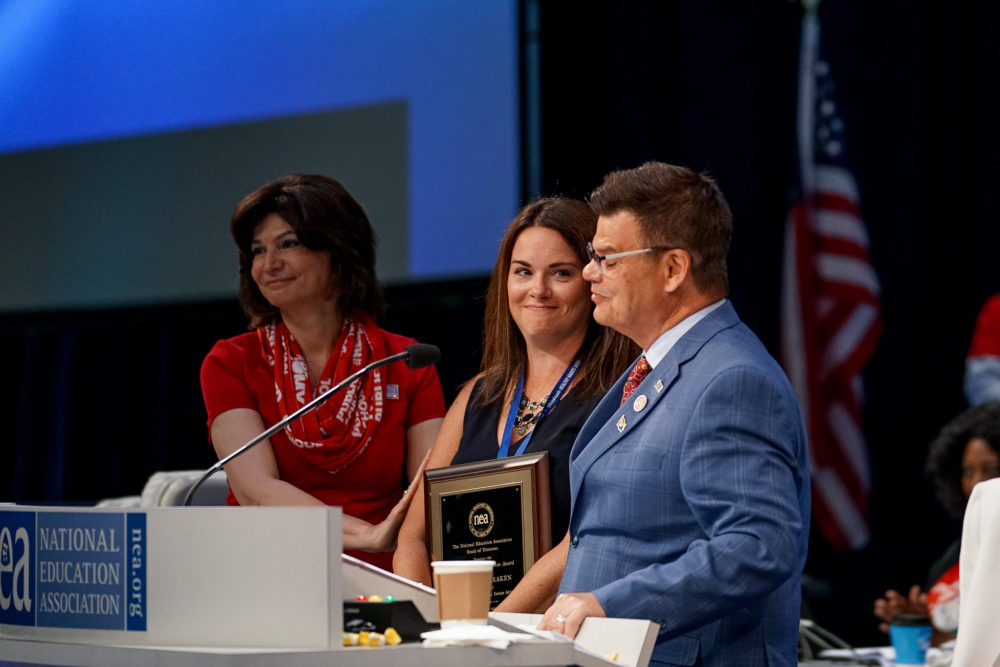 Kristin Ellenberger (center) and PSEA President Rich Askey accept the Friends of Education Award from NEA President Lily Eskelsen García during the 2019 NEA Representative Assembly.
On Friday, the Representative Assembly (RA) posthumously honored Dolores McCracken, former president of the Pennsylvania State Education Association (PSEA), with NEA's highest honor, the NEA Friend of Education Award.
"She was fierce and she was loving," said NEA President Lily Eskelsen García, who called McCracken "a true inspiration to every student and member who had the good fortune to meet her…She was unwavering in her representation and support of PSEA's 181,000 members and all of Pennsylvania's public school students.
McCracken's adult daughter, Kristin Ellenberger, and PSEA President Rich Askey accepted the award from the more than 7,000 RA delegates.
Wow. There's not enough words to explain how I feel — thank you on behalf of my father, my brother, my family. You know how much my mom loved all of you, and her work, and she truly believed every child deserved every opportunity in the world.
- Kristin Ellenberg
McCracken first got involved in public education when her children started elementary school and she took on the role of president of Churchville Elementary's home and school association. "In Dolores' words, 'I got involved, and ended up making it a lifelong habit,'" said Askey.
A former paralegal, McCracken then entered the classroom as a paraprofessional in a sixth-grade inclusion classroom in the Council Rock School District—and stayed nearly two decades. "When you work in public education and you believe you're making a difference, one year turns into two years. And the next thing you know, you realize…you're not going to leave," McCracken said, in a 2017 interview.
After serving in various local and state union leadership roles, McCracken, in 2017, became the first education support professional to serve as PSEA president, where she led PSEA's legislative and political programs, focusing always on improving the teaching and learning conditions in Pennsylvania's public school classrooms.
McCracken died on Nov. 13, 2018, at age 65—but her legacy as an advocate for Pennsylvania's children persists in legislation, policy, and practice. "While we mourn the loss of our dear, dear friend and member of our NEA family, we cherish her memory that will be a blessing. And we recognize the indelible impact she had, not only in Pennsylvania, but beyond," said Eskelsen García.
During her tenure as president, "Dolores was always keenly keenly focused on improving teaching and learning conditions in PA.
She was creative, she was collaborative, she pushed for bipartisan support," said Eskelsen García, "and everything she fought for became law in Pennsylvania," including legislation that promotes school safety, reduces the time that Pennsylvania's students spend on standardized tests, and protects education support professionals from losing their jobs to the privatization of public school services.
"Over her two-decade career, she worked tirelessly to change the lives of hundreds and hundreds of students. She strongly believed that our students are more than test scores…and every one of them deserves a world-class education," said Askey.
Previous winners of the NEA Friend for Education award include: Nobel Prize winner Malala Yousafzai; education policy expert Linda Darling-Hammond; U.S. Presidents Lyndon B. Johnson, Jimmy Carter and Bill Clinton; U.S. Supreme Court Justice Thurgood Marshall; Speaker of the House Nancy Pelosi (D-CA); and U.S. Sen. Ted Kennedy (D-MA).
Stay Informed We'll come to you
We're here to help you succeed in your career, advocate for public school students, and stay up to date on the latest education news. Sign up to stay informed