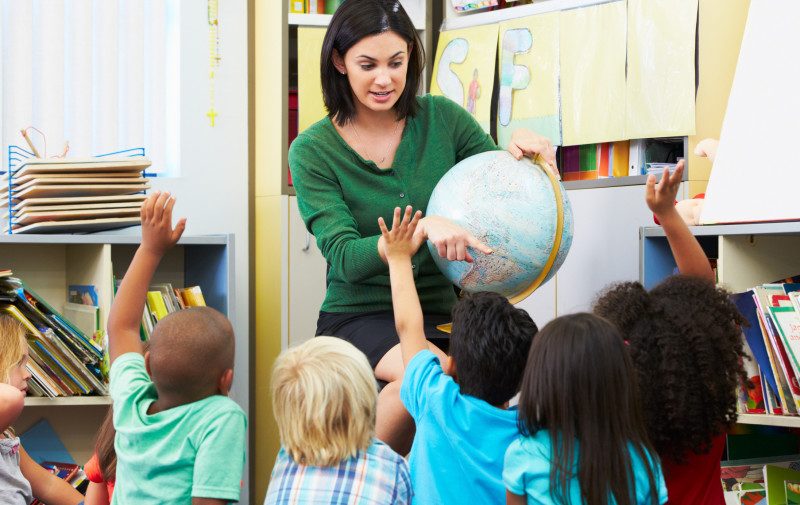 When Matthew Powell of Kentucky began his profession as instructional assistant and custodian, he was handed a big wad of keys and told to go upstairs. With no further direction, Powell figured out his professional path—for the most part—on his own.
Looking back now, "I wish I had a mentor," he reflects, "someone to go along with me and explain the value of my role in that school and the different opportunities where I could be an educator for students." Today, Powell is a custodial supervisor and bus driver for Graves County Schools in the Bluegrass State. He's also night a night watchman and campus resident, meaning he lives on school grounds.
"Public education is my passion and my desire to live at school to look after students who are staying at school events or coming back from sporting events late at night is an example of my dedication to our children and their safety," he says.
NEA members, like Powell, have always been passionate about their profession, appreciating the profound influence they have (in their many and varied roles as educators) on the health, safety, well-being, learning opportunities, and development of their students. So it's fitting that NEA would become the vehicle for members to take the lead of their profession, express their voice, and make a difference for kids, schools, and the communities they serve.
Powell was one of several educators who were recently in Washington, D.C. to rollout two NEA developed reports, Great Teaching and Learning and the ESP Professional Growth Continuum. These reports offer teachers and education support professionals (ESP) recommendations to create a system of continual professional learning with an intense focus on student needs, and they were created with input from two expert panels and task forces focused on how educators, including ESP, can work even more effectively to help students, their families, and communities.
"Every student deserves to have a team of educators that cares for, engages and empowers learners, provides challenging instruction, and enlists the entire school community to ensure student success," says NEA President Lily Eskelsen García. "The reports call for a new vision—a system of shared, mutual responsibility—that is founded on the premise that educators are ultimately responsible to students, to their colleagues, and to their professions."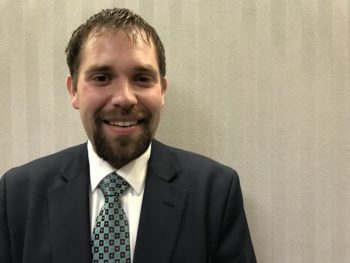 Matthew Powell
NEA began to chart a course to greater student learning through strong professional practice with its 2011 report, Transforming Teaching: Connecting Professional Responsibility with Student Learning, and its 2015 Accountability Task Force Report, which outlined a vision for shared responsibility and student success.
NEA then tapped into NEA members' expertise to set forth standards and growth continua in each of the nine ESP career families: paraeducators, clerical services, transportation, health and student services, security services, technical services, skilled trades, food services, and custodial and maintenance services.
These standards provide a vision and a plan to ensure the continuous professional growth of every teacher and licensed school personnel, from recruitment to retirement, and a career focused on making a positive impact on student learning.
Something for Everyone
Most professions require an advanced degree or certification. The education profession is no different, and a majority of educators have earned associate, undergraduate and graduate degrees, certification in specific areas, and, in many cases, doctorate degrees. But learning doesn't end with a degree or certification. Educators are on a continuous path of professional growth to help improve their practice and ensure student success.
"If we believe the quality of educators is most significant in student success, then we must do what is necessary to support the growth, development and excellence of all our educators, throughout their careers," said NEA Vice President Becky Pringle.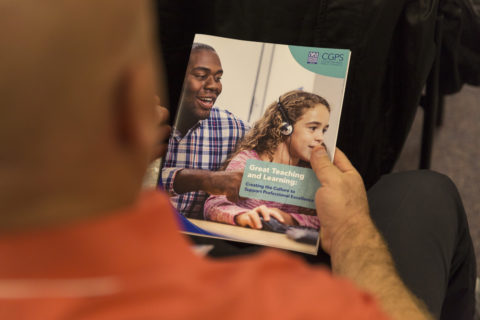 To help guide everyone in the education profession, The Great Teaching and Learning report identifies six career phases—from potential teachers to teacher leaders—and five crucial elements of support that are considered the "keys to transformation" and embedded in each career phase to support growth.
Recommendations, for example, for emerging teachers (those who hold an initial license or certificate after successfully completing a teacher preparation program and begin their careers for the first time as teacher of record) include:
Learning: Understanding and honoring individual differences, each person is afforded additional practice and mentoring when needed and multiple opportunities and measures to demonstrate mastery.
Assessment: Moving from initial licensure to full licensure must be based on performance assessments, possibly through review of a professional portfolio that demonstrates the specific set of knowledge, skills, and dispositions established by the profession.
Collaboration: Emerging teacher are welcomed into colleagues' classrooms to observe. The staff or faculty from the teacher preparation program (TPP) that prepared a new teacher also maintain connections of support and collect feedback for TPP improvement.
Autonomy: The emerging teacher is at a career phase that has significant demands for professional growth to move from initial licensure to full professional licensure. These demands, while daunting, offer the opportunity for the emerging teacher to prioritize and to work with her or his mentor or coach to chart a growth plan that fits strengths and interests.
Worth of Persons and Communities: While hiring teachers who already possess deep understanding of culture and the ability to meet diverse student needs is a goal for the school, not all teachers will come with the same degree of readiness. Induction is a crucial time to support the new teacher in making culturally responsive decisions about instruction, policies, restorative justice in the classroom. These characteristics of sensitivity and respect must also be modeled as faculty and administration interact with the emerging teacher.
The report breaks down each career phase (potential teacher, aspiring teacher, emerging teacher, professional teacher, accomplished teacher, and teacher leader) in practical, easy-to-follow steps on how to go through the continuum.
The report, "connects the dots in ways we need," says Joe Doctor, chief operation officer for the National Board of Professional Teaching Standards. "The continuum is the right vision for supporting teachers to get better every day and … this is what high-performing countries do to lift up the teaching profession," he adds, emphasizing that countries, such as Finland and Singapore, have a similar set of attributes of the kinds of policies and supports that are in place to support teachers across their careers.
Teachers are not alone in this path to growth. ESP have plenty of opportunities, too.
ESP Professional Growth Continuum
During the launch of these reports, Mark Mayer, now a skilled tradesman for the Ventura Unified School District, shared how a facilities director once said to him, "You don't get paid for being 'excellent.'" As a tradesman, the level of his job performance only reached "satisfactory."
"But looking at this report will help me be better than 'satisfactory,'" he says.
The ESP Professional Growth Continuum includes the first ever professional continuum for ESP that provides clear pathways for professional learning and growth throughout the careers of ESP.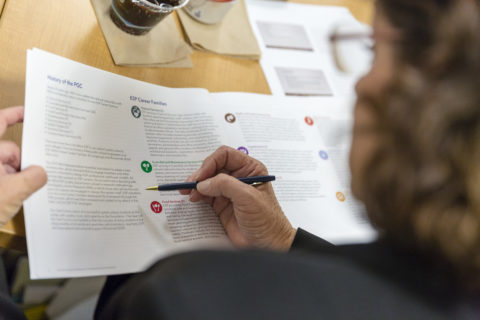 This continuum consists of eight universal standards (communication, cultural competence, organization, reporting, ethics, health and safety, technology, and professionalism) within three levels of professional practice (foundational, proficient, and advanced and mastery). These three levels of practice span across all nine ESP career families with opportunities for them to enhance their professional standing by being a role model, mentor, and a leader at each level.
Marti Alvarez, a school bus driver from Traverse City, Mich., says of the report, "When I opened the cover of this book, I discovered that I have been working on behavior management for kids on my bus," explaining that when one of her 11-year-old students was expelled from school she made sure to have a conversation with him. "I said, 'You need to be on the bus, on time, and get to school because there's a lot of opportunity waiting for you there.' We need to talk to our kids and let them know they're cared for and loved. They belong on my bus and they belong in school."
The ESP Professional Growth Continuum serves as a map of how ESP can grow professionally. This map toward professional growth, however, is not meant to be linear or hierarchical. An individual can be proficient for one ESP universal standard of practice, but also advanced for another. The model is fluid so that ESP can build their professional capacity in one or more standards by participating in professional learning opportunities aligned with each level of practice to complement on-the-job experiences and training.
Go to nea.org/teacherquality for more on the the Great Teaching and Learning report. The ESP Professional Growth Continuum can be viewed in their entirety and www.nea.org/esppgc.
Stay Informed We'll come to you
We're here to help you succeed in your career, advocate for public school students, and stay up to date on the latest education news. Sign up to stay informed