When governors and state superintendents closed schools because of the coronavirus, it took teachers and faculty a matter of days—and in many cases a few hours—to move their classes online. Despite the differences between online learning and face-to-face learning, the level of commitment and creativity from educators is stronger than ever.
Cecily Corcoran, a middle school art teacher from Arlington Public Schools in Virginia, was ahead of the online learning game because she made it her personal goal earlier in school year to update her materials and transition them onto Canvas, an online learning management platform.
"I wanted students to access what I had taught in case they had missed a lesson," says Corcoran.
Once her school closed, she went into overdrive and created 60 video tutorials of under 10 minutes in length. Additionally, before her students went home, she supplied them with basic art supplies: pencils, sharpeners, erasers, and paper to make sure learning was "equitable from the beginning."
How to make a Sunset using CRAYONS! Please share what you made! ~Ms. Corcoran ❤️@APSArts#artsalive @SwansonMSArt @MsPorterSwanson @ReneeHarber pic.twitter.com/nTPvJhKs5k

— SwansonArts (@SwansonMSArt) March 30, 2020
From there, the magic began.
"My motivation was to get them into another world of focus and concentration, to be proud of what they're doing, and still learn and have fun in the midst of something we can't comprehend," says the art teacher of 24 years.
Student have submitted artwork by the dozens, and their work is "sensational," Corcoran shares.
"I couldn't just sit here and enjoy this alone so I got back on Twitter and Instagram and told them I would share their work. They got really excited."
Students are following my "How to Draw" Tutorials. My students are submitting their requests and images. I've got quite the list! Today, a Swanson students shared their work. @APSArts#artsalive @SwansonAdmirals pic.twitter.com/Do3osUNRai

— SwansonArts (@SwansonMSArt) March 27, 2020
A Focus on Health
Jillian Nemeth, a health and physical education teacher also in Arlington, Va., sent her students on a window scavenger hunt  in their neighborhood.
Students created a sign that said: "SMS (Swanson Middle School) Strong," and were asked to put it in a window that faces the street. The goal was to see how many "SMS Strong" signs they could spot.
Nemeth connected this activity to a previous lesson on the health triangle, with each side representing a different type of health: physical, mental, and social.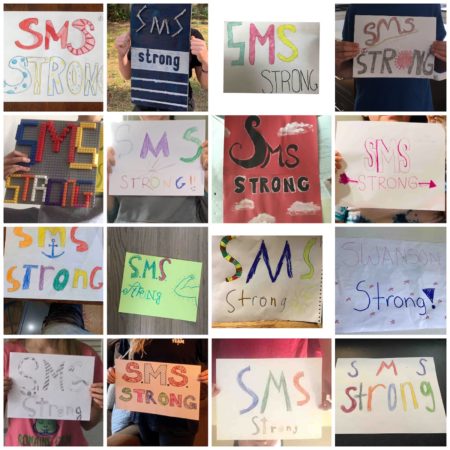 "All 3 of these sides are interrelated," she says, "and the three sides need to be balanced to accomplish true 'health.' If one side of the triangle is emphasized too much—or not enough—the other sides will change. This leads to an imbalance."
How can this scavenger hunt help balance our health triangles?
Nemeth explained that going on walks or runs around the neighborhood, while maintaining social distancing, is one way to help with physical health. Part of mental health is based on how well students relate to others, while social health focused on seeking and lending support to others. The "SMS Strong" signs? They were meant to give students a sense of unity and community during these difficult times of social distancing.
"I believe now, more than ever, our students need us, the health and PE teachers. We have the ability to pass along coping strategies that we all need right now, kids and adults. We have the platform right now to really highlight life skills they can implement in their lives at this very moment," Nemeth  explains.
'It's Difficult...But There's No Better Option'
Jim Parry is a coordinator for a program called REACH (Relationships, Education, Accountability, Character, and Hard work) at Stewartville Middle and High School in Stewartville, Minn. While he uses various tools to connect with students, including Schoology and YouTube, Parry's class centers on the character and emotional wellbeing of students.
A lesson, for example, is placed on Schoology and is accompanied by a video. These videos are intended to help Parry connect with students on a human level. Students are asked to play the video, write a reflection, and complete a list of items to help keep them on track.
And the videos, says Parry, are his way to ensure students get face time with him.
"Right now, a lot of students have other responsibilities: work, taking care of siblings or extended siblings. I'm not guaranteed face-to-face time so the next best thing was for me to put as many videos as I can for them to watch and re-watch and share with family and friends about the characteristics that make us really good people."
Parry adds, "Doing things online is difficult. When you're not in front of students, it's hard to pick up on small queues or their energy. It's hard to respond in a way that's loving and supporting. But for me, there is no better option than putting together these videos and cheering up as many people as possible and doing my best to get face time online with my students."
Good Old-Fashion Social Media
Julie Beaver is a high school math teacher at Zimmerman Middle/High School for Minnesota's eighth largest school district (Independent School District 728) and uses Google Meets as her main point of contact with students.
With good parameters and guidelines previously in place by the school district, Beaver has set times to meet with students online, but they can also check in with her in the morning or afternoon. Additionally, she's found that students who would normally stay quiet in class are "coming to the Google Meets and asking good questions and some of my students are getting differentiated instruction in a smaller group setting."
But one of Beaver's favorite points of contact with students is through social media, which has seen a lot of student traffic.
Every day is something different, from the Joke of the Day to the Song of the Day.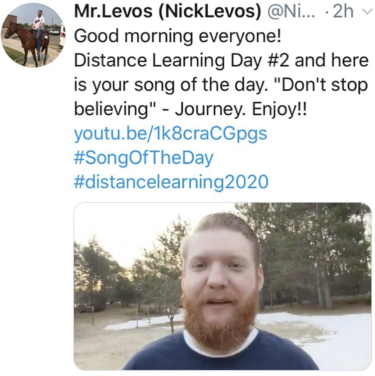 Motivational messages get pushed out on Mondays while Pits and Peaks get shared on Fridays. To promote reading, one teacher posts himself reading to his dog.
"The kids love it," says Beaver. "We're putting things on Instagram Stories and Twitter that the students can engage with and we have so much positive feedback on how they still feel connected with us even if we're not face to face."
Check out Zimmerman Middle/High School on Twitter and Instagram.
On College Campuses
On community college and university campuses, it's hard to imagine how faculty in laboratory classes or fields that require face-to-face collaboration—say, chamber music—or hands-on instruction, like nursing or respiratory therapy, can move to virtual learning. But NEA's higher-education members are meeting the challenge.
At the University of North Florida in Jacksonville, Fla., associate professor (and local union president) Kally Malcolm-Bjorklund is teaching two photography courses this semester—one on black-and-white photography, where students have been producing silver gelatin prints in a traditional darkroom, and the other on lighting, which typically takes place in an on-campus, professional studio with strobe lights and 20-foot ceilings.
"I view what's going on as 'crisis teaching,'" says Malcolm-Bjorklund. To meet the new challenge of learning through a pandemic, her darkroom class has switched to digital photography, and is focusing less on technical skills and more on ideas like tonality or contrast. Students in her lighting class are working on independent projects that might focus on natural light or other sources. Something has been lost, she acknowledges, but "we're keeping our chin up."
Her colleagues in the biology department, John Hatle and Charles Brian Coughlin, are teaching physiology labs—where future nurses or community health workers learn about anatomy, histology, organ systems and more. "We suspected we were going to be shut down," recalls Hatle. "So, we checked out blood pressure cuffs, checked out stethoscopes, had them all write down their home addresses on envelopes and then we bought urine test strips, stuffed them into the envelopes, and mailed them off." Their students are still able to collect experimental data—on themselves—and then share it via a Google sheet.
"Of course, there are gaps, but I think this is a model that students can still learn from," says Hatle.
The Human Connection
Educators and faculty members from around the country have connected with students in authentic and supportive ways—and continue to show the value they bring to the entire school community.
While many have found success online, Virginia's Cecily Corcoran makes a salient point: "Online is supplemental…it's the human connection that's fundamental to teaching students."
For More Information Visit
Stay Informed We'll come to you
We're here to help you succeed in your career, advocate for public school students, and stay up to date on the latest education news. Sign up to stay informed