The first day of school is exciting—and also a little anxiety-provoking. But with a few calming classroom design elements from the popular Danish design trend hygge (pronounced "hoo-guh"), you can help put your students at ease the minute they walk through the door.
Hygge is a Danish concept that means comfort, togetherness, and well-being, and it was what motivated third-grade teacher Aubrey Dane's classroom design decisions.
"I've always been particular about design in my own home and I enjoy having a calm environment myself," says Dane, who teaches at Redmond Elementary School in Washington, the state that introduced us to cozy coffee shops.
Dane used calming colors in her classroom, dimmed overhead lights, and hung softer, string lights. She also created a cozy reading corner.
"The first step in setting up a space for 'hygge' is to designate a 'hyggekrog'—the cozy nook," says Jane Zhang, cofounder of room2learn.org, a classroom design website that's been called the Pinterest of classrooms. "You don't need a giant space to snuggle up in a blanket with a book. In a classroom, dedicate a corner or section of the room for cozying up."
In Dane's hyggekrog, she included a comfy chair with a big pillow, soft lanterns and string lights, and a cozy carpet. She also framed children's book covers that pop with color on a dark background in dollar store picture frames that she spray painted to match.
To create a hygge-inspired classroom, follow these tips from Dane:
Start With Calming Colors
Many classrooms are painted in dull industrial colors. If you can paint your classroom, choose calming colors like light gray or light blue paint, which are softer than typical school paint colors. A lot of teachers have been able to paint their classrooms—some do it themselves, others were lucky enough to get the district to do it.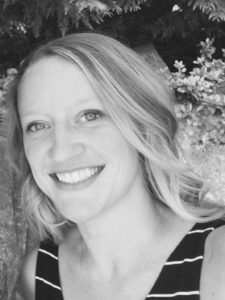 Aubrey Dane
Fabric or Paper the Walls With Calm Colors
If you can't paint, cover the industrial cinder block walls with a calming solid color paper or fabric. I used black paper in the book nook with bright borders, but I kept a color scheme of calming grays and blues. On the fabric, which doesn't tear or get all wrinkly, I can hang the book covers so they really pop. I used lots of staples because I'm in a portable classroom where the walls can be stapled. It's really easy to decorate as a blank canvas. If you don't have that, you can cover your bulletin boards with calming fabric colors and your doors.
Wallpaper works very well on doors, too. Choose calming colors or patterns. I like cohesive blues and grays, but pick colors that you love and that make you feel good. If you feel comfortable and calm, your students probably will too.
Limit Wall Hangings
When I was a student I found walls with too many posters and colors distracting. There were too many things to look at and different colors. It was overwhelming.
Try to minimize what's on your walls. Only include what's necessary. So often teachers put all their posters about everything so that all the tips for students are there, but it frequently leads to information overload and students stop using them as reference. If you put up fewer posters, students will pay more attention.
Change it Up
If you have a lot of great posters, you can still display them, just not at once. I have a select few posters that I've framed—get frames at the dollar store and spray paint them and they look great on a budget. Then I swap them out rather than having them all up at once covering the walls. I immediately noticed that students were calmer, more engaged.
I also switch out the book covers that I frame, and students sometimes choose which books we'll have framed in the nook. It provides interest and a spot of color in the calming nook.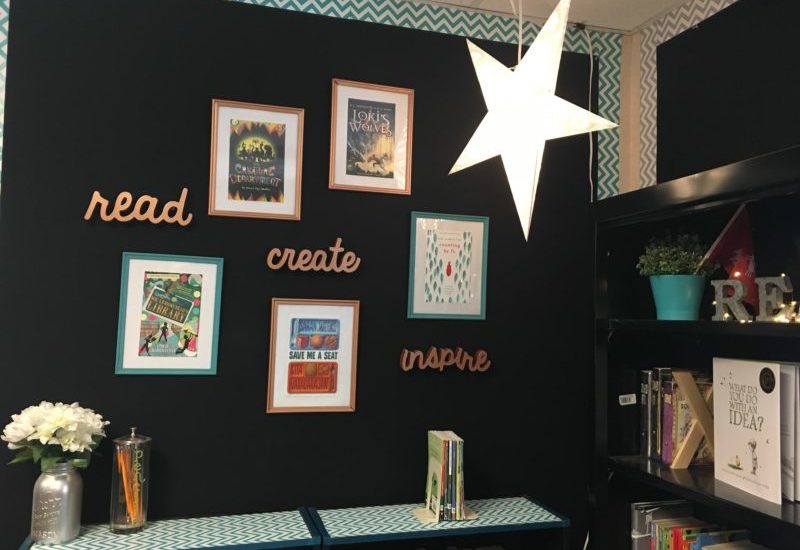 Aubrey Dane limits her classroom color scheme to two or three calming shades, and also keeps bulletin board content to a minimum so students are not overwhelmed by visual clutter. (Photo courtesy of Aubrey Dane)
Framing is Easy and Cheap!
Framing posters and book covers makes them seem fancy, important, and special and it's an easy design hack. Remember, the dollar store is your friend!
Dim the Lights
A key element in hygge is soft lighting, like flickering candles or the glow of a crackling fire. To create softer light in your classroom, turn off the overhead fluorescent lights, make use of natural light as much as possible, and use lamps where you can. You can use hanging twinkle lights in your hyggekrog as well as a lamp or two, but check with your district first.
My string lights are very lightweight LED lights that don't get hot, and if they fall they're plastic so they don't break. All my lamps are LED lamps as well, with low wattage, soft white bulbs. Together with natural light coming in through the windows, there is a good amount of light in the classroom that's not as harsh as the overheads and allows the kids to feel calm and to think.
Cozy, Comfy Seating
Start with the book nook, but in addition to the hyggekrog, have different and comfortable pillows, chairs, and workspaces throughout the classroom so students can feel comfortable, even feel like they could be at home.
Calm, Cool Community
A hygge classroom design takes away anxiety that many students have at the beginning of the year. They see that the classroom is their space, designed for their comfort. They see it as a place where they can sit down and relax and not feel threatened. Hygge creates a family type of environment and helps build our community as a class. The whole idea is to build a community environment. Once you have that, everything else starts to fall into place.
Stay Informed We'll come to you
We're here to help you succeed in your career, advocate for public school students, and stay up to date on the latest education news. Sign up to stay informed