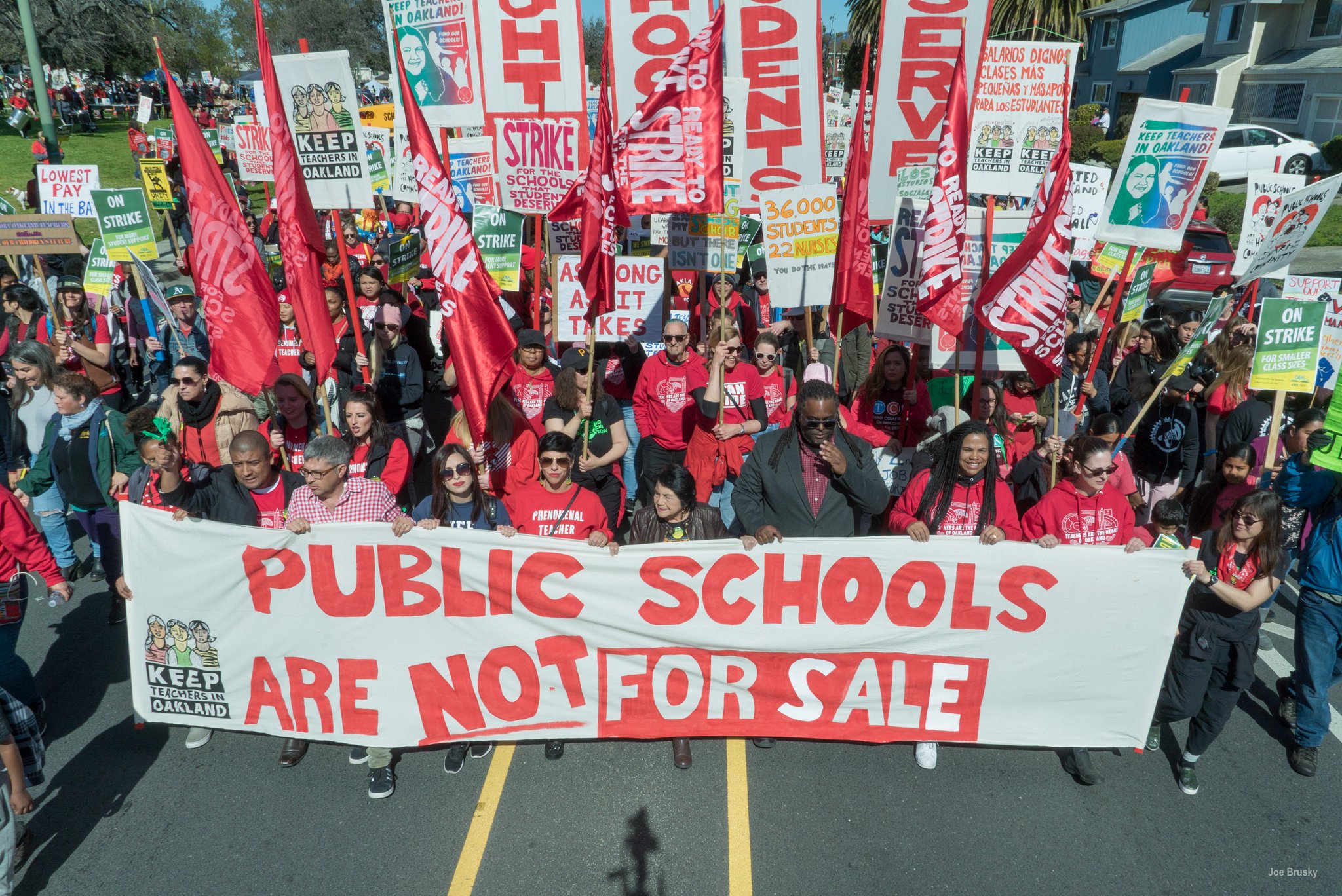 (photo: Joe Brusky)
At the panel discussion on educator walkouts at the National Education Writers Association (EWA) conference this week, NEA President Lily Eskelsen García was asked what was driving this unprecedented activism happening across the country, including the latest action in Oregon this week.
"A moment in West Virginia became a movement," Eskelsen García said. "It is inspiring. It's energizing. And it's always a little scary because no one knows how these things will turn out, but so far we've had 100 percent success in that every place where teachers have raised their voices and thrown on their #RedForEd T-shirts and gone to the public, they've won support. [It's about ending] the absolute neglect of education funding and giving kids the programs and services they need."
People are hearing what educators have been saying for years: There is much more that should be done to support public education. It hasn't been enough for decades.
"Parents, the public, have all marched with their educators in support of more funding for education." Eskelsen García said. "They're asking, 'What do you mean you have to pay for your own supplies? What do you mean you have 40 students in classrooms?'"
Panelist Kathereine Strunk, a researcher at the University of Michigan, said we know that kids who miss school on a day unexpectedly miss learning. "If you miss five days of school for a snow day you miss learning," she said. "We expect to see studies about kids and learning loss from strikes. These are not costless to them."
Educators walkouts have resulted in more funding for students, Eskelsen García responded, but said she's never seen kids win a million dollars for their school after a snow day.
Dov Rosenberg, an educator from Durham Public Schools in North Carolina who joined his state walkouts, said they are taking action for the students who are not getting what they deserve and that parents and teachers want the same thing for their students.
"We demonstrate because we feel nobody is listening; it's necessary to do something we know will have an impact," he said.
If we don't do something, it's never going to change. Teachers keep picking up the slack." - NEA President Lily Eskelsen García
To lessen the impact, Rosenberg told the panel how they had organized food distribution centers so the kids who rely on them can still receive free breakfasts and lunches.
"We can't provide childcare, and it is a hardship, these aren't easy," he said. "We stay mindful of how we can serve students on days we are striking so there is less hardship."
Many students, he added, marched with their parents alongside their educators, getting a real-life education in civics and political action.
Shar Jeffries of Democrats for Education Reform, which supports more charter schools, told the audience that the unions would have the public believe that walking out is the only lever they have to pull. Jeffries said educators should exhaust every lever before leaving the school or classroom to protest.
Rosenberg responded that political action isn't harming students when the whole point of a walkout is to improve students' learning.
"It is the last lever. We tried phone banks, letters to representatives, and supporting legislation that would increase funding, and it didn't work. We have to use what power we have, and the most power we have is our labor. We are furious that our students are forced to learn in the miserable conditions we are required to work."
Madeline Will of Education Week, who moderated the panel, asked how unions are faring in the wake of the Supreme Court Janus decision.
"Our membership is up all over the country when we were supposed to be plummeting," said Eskelsen García. "We are energized. This is about the Koch brothers and their ilk trying to get rid of our membership. We know the only power we have is a collective voice…. And we have three million professionals who love their students and stand ready to put their boots on the ground."
Stay Informed We'll come to you
We're here to help you succeed in your career, advocate for public school students, and stay up to date on the latest education news. Sign up to stay informed