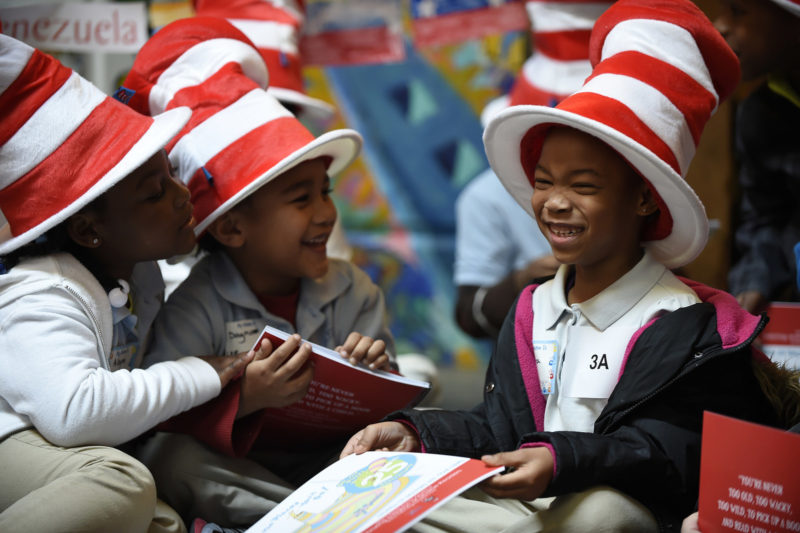 When Marley Dias got tired of reading books about characters who looked nothing like her, she didn't complain to her parents or teachers. She took matters into her own capable hands and launched a movement --   #1000blackgirlbooks. The 12-year-old is up to 4000 books and counting and last month landed a book deal with Scholastic. Hundreds of school kids will meet her and hear her story at NEA's Read Across America.
This Thursday, March 2, marks the 20th anniversary of NEA's Read Across America, the nation's largest reading celebration, with more than 45 million students, parents, educators and others participating every year.
Magic and Laughs
NEA will kick off the 2017 Read Across America at its headquarters in Washington, D.C., with a reading extravaganza for more than 400 public school students. The opening act will be The Great Zucchini,  longtime favorite of children throughout the Washington, D.C. area. The Great Zucchini puts on rollicking, high-energy show with amazing magic tricks and silly games that involve everyone in the audience.
The kids will also be visited by The Cat in the Hat and Thing One and Thing Two and will listen to the classic Suess tale, "Green Eggs and Ham," read by NEA President Lily Eskelsen García.
Write and Draw Your Own Story
Authors and illustrators from NEA's Read Across America 20th Anniversary Calendar features diverse books about a variety of topics children can relate to today, and several of the featured authors and illustrators will be on hand to celebrate the day by reading from their books and leading the kids through interactive activity stations where they can start writing their own story and work on illustrations.
Diverse Books Roundtable
Following the kickoff events, NEA will host a roundtable discussion about literacy and diversity in literature in public schools with key education reporters, NEA President, and Read Across America's partners Reading is Fundamental and FirstBook. The discussion will be headlined by diverse books advocate Marley Dias and LeVar Burton, the host of the long-running PBS children's series Reading Rainbow, Lt. Commander Geordi La Forge in Star Trek: The Next Generation and the young Kunta Kinte in the 1977 award-winning ABC television miniseries Roots.
Events Around the Country
Schools and communities around the country will also celebrate. NEA's Read Across America awarded 16 state affiliates with grants to conduct their own RAA Day celebration.
Check out what's happening and find resources like top book picks, activity guides, reading rewards, event ideas, as well as tips for parents to encourage their children to have a love of reading, visit www.nea.org/readacross.
State affiliates who received grants include:
Washington Education Association
Texas State Teachers Association
NEA Rhode Island
North Carolina EA
South Dakota EA
Utah Education Association
AEA-Sierra Vista Classroom Teachers Association
Wisconsin Education Assoc Council
Federal Education Association
IEA-Davenport EA (Davenport, Iowa)
Wyoming Education Association
Arkansas Education Association
NEA New Mexico
South Carolina EA
Share your event details on Facebook.com/readacrossamerica.
Stay Informed We'll come to you
From education news to action alerts to member benefits-we're here to help you succeed in your career, advocate for your students, and support public education. Sign up to stay informed.