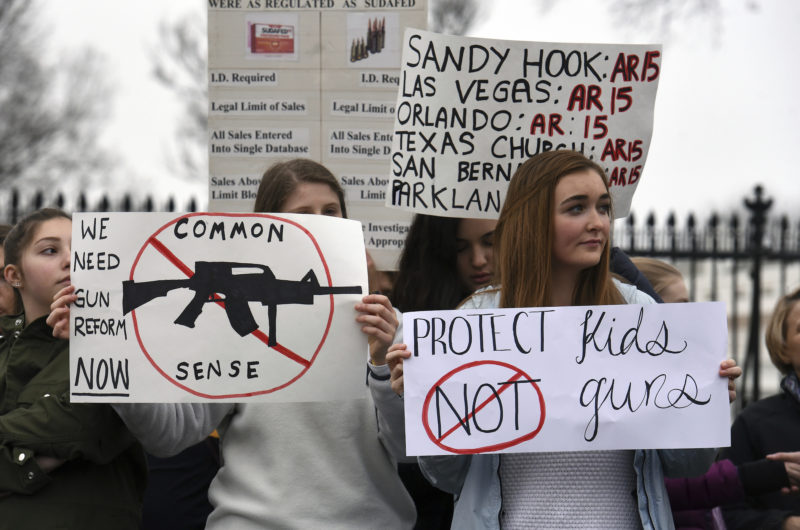 Olivier Douliery/Abaca Press(Sipa via AP Images)
There's a new face on the age-old gun debate: our students, and they won't be silenced. They are demanding that the adults in power keep them safe and they will not stand by and allow elected officials to fail them any longer.
As of Feb. 14, just a month and a half into the new year, a total of 20 people have been killed and more than 30 have been injured in shootings at American elementary, middle, and high schools. Only weeks earlier at Marshall County High School in Kentucky two students were killed by a 15-year old shooter who left fourteen others wounded and all traumatized perhaps for the rest of their lives.
AUDIO: NEA Vice President Says No to Arming Teachers
A gunman killed ten at Umpqua Community College in Oregon. Twenty-eight young children and their teachers had their lives cut short down at Sandy Hook.  Thirty-three died when one shooter opened fire at Virginia Tech.
Students are saying, no more. This time, they might be right.
"We are going to be the last mass shooting," Marjory Stoneman Douglas High School student Emma Gonzalez shouted at a packed rally in Fort Lauderdale on Saturday. "We are going to change the laws."
'Stand Up For What You Believe In'
The rally participants called for a ban on assault weapons like the one used at the high school, and to vote out any lawmaker who opposes a ban on assault weapons or who takes money from the National Rifle Association.
Wiping away tears, she said school violence is not just a mental health issue. "He wouldn't have harmed that many students with a knife," she cried to shouts and cheers.
"When our message doesn't reach the ears of the nation, we call B.S.! They say tougher gun laws don't decrease gun violence, we call B.S.! They say a good guy with a gun stops a bad guy with a gun, we call B.S.!"
With her powerful voice shaking with emotion and the crowd shouting with approval, Gonzalez said, "Guns give these disgusting people the ability to kill other human beings. This is about guns and this is about all the people who had their life abruptly ended because of guns."
David Hogg, 17, huddled in a closet with his classmates to hide from the gunman. A student journalist, he decided to record his terrified classmates on his phone.
"It was sheer terror," Hogg told CNN, but he believed it needed to be recorded so that lawmakers could hear the horrified students and understand the need to prevent another mass shooting.
"It's a midterm year and it's time to take action," Hogg said. "I don't care if you're a Democrat. I don't care if you're a Republican. Stand up for what you believe in. Let's make some compromises and save some children's lives."
The Mass Shooting Generation
School shootings are rare for most of our students, but since the 1999 Columbine shooting, they have become accustomed to lockdowns and code red drills. School violence occurs often enough that the New York Times is calling today's young people the "Mass Shooting Generation."
They're also a social media generation and harnessed that power to bring about change. In the hours following the massacre, the survivors of the Stoneman Douglas shooting created #NeverAgain, a movement that immediately gained traction in social and traditional media, sparking tv interviews, viral videos, a march, and support from celebrities.
Brendan Duff, a college student who went to school at Marjory Stoneman Douglas High School, returned home to help manage the digital campaign. He told NPR that the response has been overwhelming, with hundreds of messages per minute pouring in.
"People all over the country want to help. Social media is honestly the best way to reach not only everyone in this country I think, but definitely this generation," Duff told NPR.
Organizing for School and Student Safety
Nationwide, students and activists have joined their rallying cry and have organized two upcoming events -- the National School Walkout on March 14 and the March for Our Lives on March 24. NEA will also participate in another event, a National Day of Action on April 20, the anniversary of the Columbine shooting.
March 14th – the Women's March has announced a National School Walkout in which school communities will walk out of their schools for 17 minutes to honor the lives lost in Parkland. NEA will join with AFT in encouraging educators throughout the country to wear orange on this day.
March 24th – Several students who survived the tragedy at Parkland have called for a student-led march and protest. They will travel to Washington, DC, and meet with politicians on the need to address gun violence and are encouraging others to join. This is a fully student-planned march. More information can be found at marchforourlives.com
April 20 – NEA and its members are joining with the National Public Education Network, American Federation of Teachers, Moms Demand Action, Everytown for Gun Safety, Giffords: Courage to Fight Gun Violence, and other national organizations, to take action against gun violence on April 20 together in a way that sends a strong message to policy makers that #enoughisenough.
"We demand a plan that will keep dangerous weapons out of the hands of dangerous people," says NEA President Lily Eskelsen García. "Only the United States has such a long, long, long list of mass public murders by a lone gunman. The reason is simple. Our laws allow dangerous people to easily purchase military-style, rapid-fire assault weapons. That's the only difference. That's what we need to fix. Thoughts and prayers will not prevent the next tragedy. People rising up will."
NEA is asking educators nationwide to share their ideas and information on events in their school communities. Visit our National Day of Action site.
Stay Informed We'll come to you
We're here to help you succeed in your career, advocate for public school students, and stay up to date on the latest education news. Sign up to stay informed