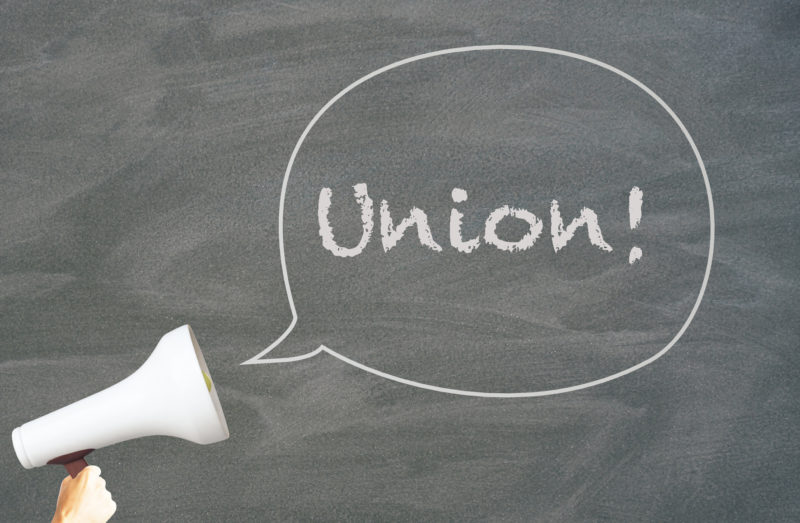 It's been 42 years since Florida's legislature put in place the state's collective bargaining law, and finally Calhoun County teachers have decided to take them up on the offer.
This year, Calhoun's teachers became the last in the state to form a union and sit down with school officials to bargain a contract. "It took a while," acknowledges Russell Baggett, president of the new Association of Calhoun Educators (ACE). But word has reached this rural bend: Other teachers—teachers in unions—have a say in learning conditions!
"We heard about teachers in our neighbor districts and what they get—their rights, their voice—and we thought, 'Why can't we have that?'" explains Baggett, a nationally board certified teacher who has spent 49 years in Calhoun's schools, as a student and as a teacher.
They're not the only ones asking that question these days. A new union of education support professionals in DeSoto County, Florida, was organized this past summer, plus new faculty unions at Tallahassee Community College and State College of Florida this fall. In fact, across the 13 states of the South, union membership grew by 200,000 workers between 2014 and 2015, according to data from the U.S. Bureau of Labor Statistics.
Old-Fashioned Organizing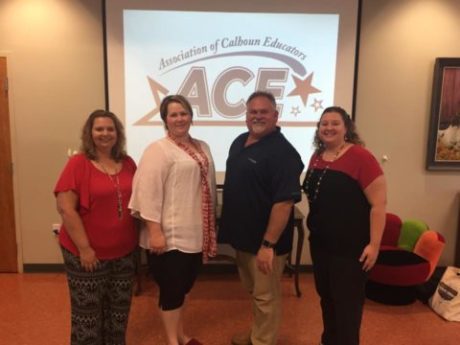 Calhoun County teachers (l-r) Kennesse Dew, Jaycee Moore, Russell Baggett, and Jessica Olson.
Calhoun County, tucked on the northwest side of the Apalachichola National Forest in Florida's panhandle, is about three times nearer (in miles) to Montgomery, Alabama, than Miami. In mindset, it's a world away. With just five schools and 2,200 students total, the countywide district is small, conservative, and closely acquainted. "Everybody knows each other. Everybody goes to church together," says Florida Education Association field staffer Tony Gentile.
For more than four decades, those close quarters were enough to ensure that Calhoun's teachers would get a say in their working conditions. Even as educators in every other one of Florida's 67 countywide public school districts voted to unionize, there was a feeling in Calhoun that "they took care of their own," says Gentile.
But, by 2015, many Calhoun teachers felt like school district officials couldn't care less—and their pay proved it. With an average teacher salary of $40,792 in 2015, Calhoun ranked near the bottom of the state, according to state Department of Education data. By just crossing the county line to another school district, teachers could add $5,000 to their annual pay.
We heard about teachers in our neighbor districts and what they get—their rights, their voice—and we thought, 'Why can't we have that?'" - Russell Baggett, teacher
Not only that, but teachers from nearby districts reported something even more magical than fair pay: They were listened to. Their thoughts on education, and what would work best in classrooms, were respected. "We brought in presidents from other local unions, and they talked about what they were trying to get done for students and how they worked together," says Gentile.
Union organizing meetings took place in people's homes, and conversations were held one on one, face to face. Fear was an issue, especially since Florida Gov. Rick Scott in 2011 eliminated due process protections and ordered all new teachers onto one-year contracts only. Folks in Calhoun feared losing their jobs over "the 'u' word," says Baggett.
"We are hometown people," explains Baggett, who went no farther than Tallahassee for his degrees. "We may go away for school, but we come home to live and teach. If a person lost their position here, they'd have to leave their home to keep their career. So that fear factor is strong."
Sitting Down at the Table
But that fear proved surmountable. In an election certified by the state board in early summer, about two-thirds of Calhoun's teachers voted for a union. Now, the next phase of work begins: Baggett and his colleagues are sitting down this month to negotiate their first-ever collective bargaining agreement with Calhoun County's elected superintendent.
"When I met with Tony (Gentile, who is assisting ACE in its bargaining), I was like 'oh my gosh, we can do this? Or we can do that? It's never been done that way!'" laughs Baggett.
What he's talking about are things like contractual guarantees on teacher planning time or workload limits, and stability around employer-provided health and retirement benefits. Having real procedures for grievances also will be a new thing. Previously, if workplace problems arose, "it'd be every teacher for themselves, pretty much," Baggett says.
Along with FEA's assistance, the new union's bargaining team is looking at contract models from Florida's 66 other countywide teachers' unions. They are not alone anymore.
"It's a learning curve," says Baggett. "We didn't used to have a voice. That was one thing that pushed us to start this—having a voice in the conditions affecting us and the students."
Learn More
Stay Informed We'll come to you
We're here to help you succeed in your career, advocate for public school students, and stay up to date on the latest education news. Sign up to stay informed