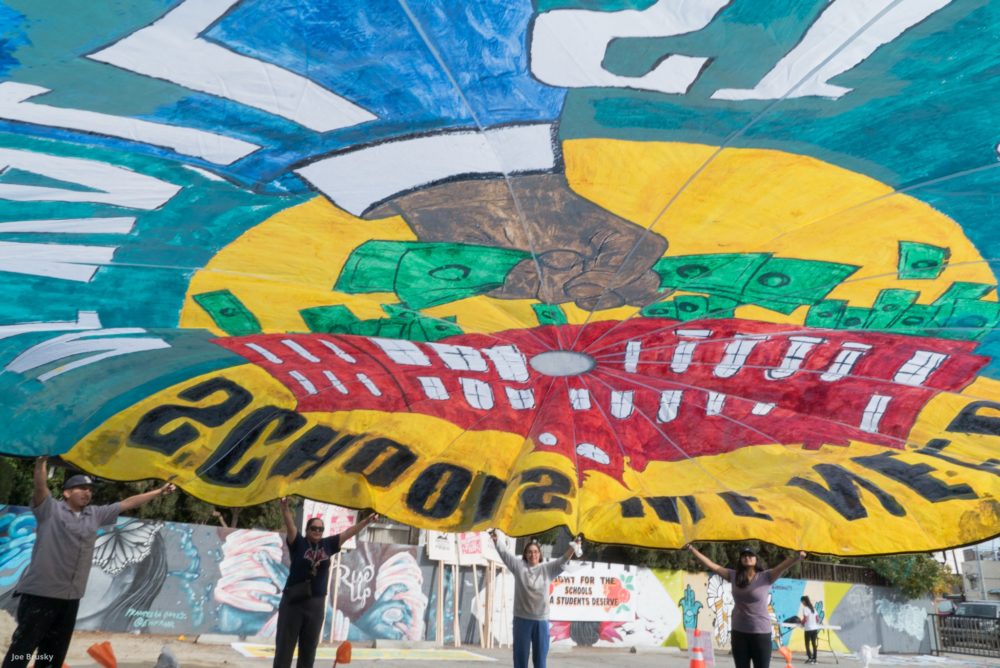 Photo: Joe Brusky
On a typically warm and sunny Saturday last week in Venice, California, Kristie Mitchell sat outside at a table surrounded by Sharpies and a pile of posters. Each one featured the same basic illustration - an outline of an African-American woman and three school-age children with the words "I Stand For" across the top. It was up to Mitchell and the other public school parents and children around the table to decorate the poster with whatever color or flourishes they preferred, but also to include what they believe their school needs the most.
Mitchell had already created two posters - one declared "I Stand For School Nurses Five Days a Week," the second, "I Stand for Smaller Classes" - and was busy working on a third.
"We need to give teachers a stronger voice," Mitchell said. "They don't have the resources to teach our kids. Everybody in the community should help give them more power. When we get together like we are today, that's what we are doing."
Mitchell was just one of the many parents who joined hundreds of educators, students, artists, activists and who converged on a three-day community Art Build hosted by United Teachers Los Angeles (UTLA) to create protest art supporting public education. The event was held at the Social and Public Art Resource Center (SPARC), a popular community arts center housed in an old art deco building that until the mid-1970s was the Venice Police Station.
A few feet in front of Mitchell at a longer table, a row of educators, parents and students were dipping into tins of black and orange paint to decorate a large banner adorned with the proclamation "Fight For the Schools LA Students Deserve."
A little further away, a few students had begun applying the first layers of color to four 24-foot parachute banners that cloaked the  outdoor parking lot. At the studio inside, artists were churning out silk screen picket signs with messages denouncing school privatization and corporate greed and championing smaller class sizes and solidarity with educators.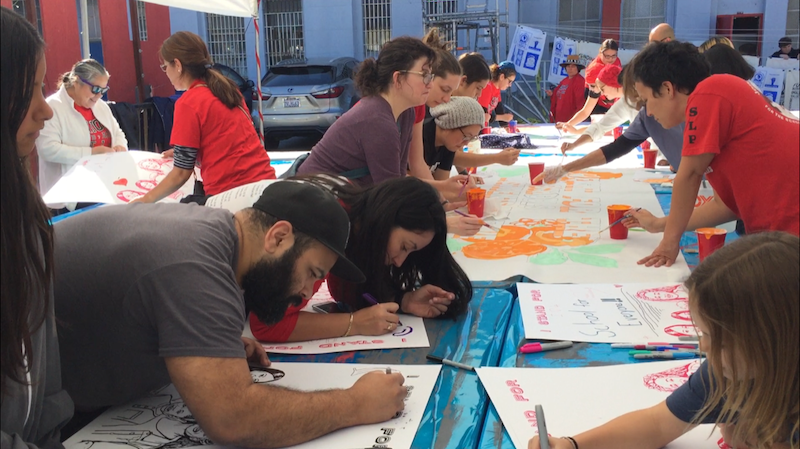 Parents, teachers and students at UTLA's community Art Build for public education.
"Anyone here is reminded of how much kids love art," said teacher Julie Van Winkle, "and why we need it in our schools."
By the time the event wrapped up on Sunday night, participants had produced 8 parachute banners, 1,600 picket signs, 1000 posters, and 30 banners. Every last piece will be carried at a the March for Public Education in downtown Los Angeles on December 15, and a possible UTLA strike in January.
Events like Art Build, said UTLA President Alex Caputo-Pearl, are a demonstration of the power of art in social movements and how passionate the people are about public schools  "and the fight we are in."
"We should take confidence from this. The community is with us."
Art in Action
Art Build is a "transformative experience" for educators and their allies, says Nate Gunderson, an organizer with the National Education Association. Gunderson, who organized the UTLA event, witnessed the first Art Build for public education in Milwaukee in 2017. He also helped coordinate subsequent events in Minneapolis, St. Paul, and at the 2018 NEA Conference on Racial and Social Justice.
Gunderson believes Art Builds, regardless of the location, inspire educators and communities and open up new paths for advocacy and union organizing.
"It's the creativity, the collaboration, the inherent power of art, and the democratization of images and messages," says Gunderson.
Joe Brusky, a fourth grade teacher in Milwaukee and member of the Milwaukee Teachers' Education Association, was instrumental in organizing that city's Art Build and was onhand in Los Angeles documenting UTLA's event on social media. He recalls how Art Build became "entry point" into the union for many educators.
"The event energized them," Brusky says. "Afterwards, people were getting involved for the first time. I remember seeing them at Art Build and then suddenly they were at school board meetings."
UTLA Art Build 2018
Where there is grassroots support for public eduction, there is potential for an Art Build. The Oakland Education Association (OEA) will be hosting its own event on January 18-20. OEA President Keith Brown visited UTLA's Art Build to lend his support and preview some of the logistics.
The Social and Public Art Resource Center was an ideal partner. SPARC not only provides studios for silk screen and digital printing and the necessary outdoor space to unfurl 24-foot parachute banners, but offers invaluable guidance to organizations looking to create public art for social change.
Last November, Gunderson put out a call for educators, artists and activists to submit images and slogans promoting public education. The Art Build Committee reviewed the submissions and selected those that would go on to form the basis of the posters, banners, picket signs and parachute banners that were delivered to SPARC in December.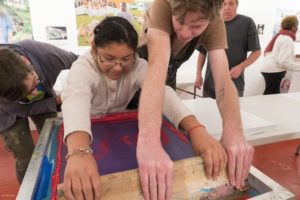 A LAUSD student gets a silkscreening lesson at Art Build. (Photo: Joe Brusky)
Gloria Martinez, UTLA Elementary Vice President, was struck not only by the creativity of students and parents in bringing these objects to life, but by the conversations they were having.
"You ask students what they wanted for their schools, and they came up with these long lists," Martinez recalled. "Smaller class sizes, more art, or just more money for schools in general. And their parents are listening to them. It's great to hear them and their children talk about our issues and then use those discussions creatively."
There's something else about Art Build, said Cecily Myart-Cruz, UTLA/NEA Vice-President, that shouldn't go unnoticed.
"Yes, it takes our activism and our visibility to the next level. But you know what? This is also a stress-reliever for our members. They need this. It's fun and will build resiliency. It's been a difficult time and we may have a lot more work to do in January."
"We All Want the Same Thing"
Myart-Cruz is referring to a possible strike early in 2019. In August, UTLA's 33,000 members voted overwhelmingly (98%!) to authorize such an action if the stalemate between teachers and Los Angeles Unified School District (LAUSD) continued. (Update: If no agreement is reached with LAUSD, UTLA will go on strike on Monday, Jan. 14)
After two years of negotiations, educators are refusing to retreat from their demand that LAUSD end an era of austerity and privatization that has starved public education across the city.
The situation was exacerbated in May when the Los Angeles school board selected Austin Beutner as district superintendent. Beutner is the quintessential corporate "reformer": a billionaire investment banker with zero experience in school or district leadership and a tireless appetite for school privatization. He has dismissed calls to slow down the expansion of charter schools (which currently cost the district more than $600 million annually) and refuses to tap into the district's $1.6 billion reserves to properly fund the city's schools.
"We are in a battle between Austin Beutner's vision to downsize the public school district and our vision to reinvest in the public school district," UTLA President Alex Caputo-Pearl wrote to the membership in November.
Unless UTLA stays strong, he warned, Beutner will be back for "another pound pound of flesh every year in a downsizing plan that includes layoffs, school closures, cuts to services, and healthcare cuts."
From the start, the successful forging of partnerships - a tenet of "bargaining for the common good - has strengthened UTLA's resolve and its position. The bond between parents, their children and educators at Art Build is striking, said Julie Van Winkle.
"We're all on the same side. We want the same thing. We don't want our schools to be starved out skeletons, we want them to be vibrant hubs of learning for our kids," Van Winkle said as she motioned to a group of students hard at work on a banner that read "Give Our Kids a Chance."
By Sunday night, that banner would be complete, ready to be added to the abundant stockpile of strike ready art. Next stop: downtown Los Angeles for the March for Public Education.
If a massive rally of educators, students, parents and community members doesn't push the district into an agreement with UTLA, then there will be a strike, but "it will then be a strike of the city, not just of a strike of teachers," said Caputo-Pearl,
"And if we're on the picket lines in January, then this art will again be right there with us."
Posters and Banners from UTLA Art Build
Learn More
Stay Informed We'll come to you
We're here to help you succeed in your career, advocate for public school students, and stay up to date on the latest education news. Sign up to stay informed