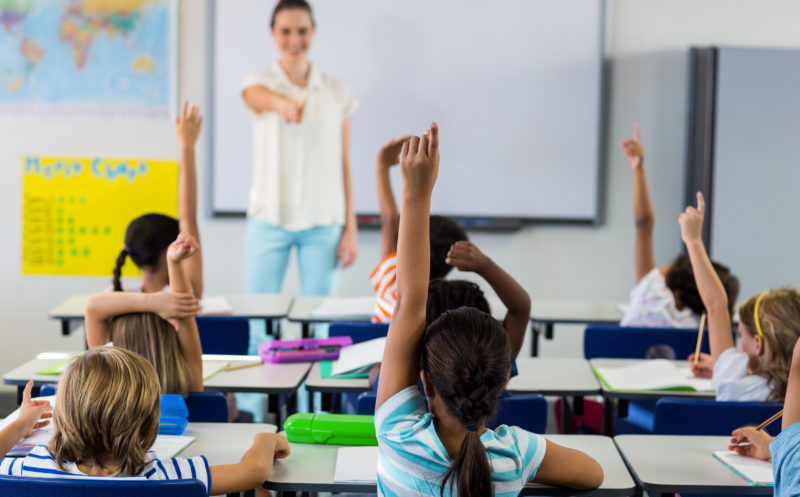 It's common for some educators to feel a bit disconnected from education laws or policies. Drawing a straight line between a state or federal law and the classroom, after all, can be challenging. The Every Student Succeeds Act (ESSA), however, returns decision making back to local educators, parents, and communities, which is why these stakeholders are getting involved in helping to implement the new education law.
One of these educators is Amy Perruso, a nationally recognized social studies teacher at Mililani High School on Oʻahu. She's also the secretary-treasurer of the Hawaii State Teachers Association and serves on the governor's ESSA task force. NEAToday recently spoke with Perruso about what educator engagement looks like on the ground in her state.
How did you get involved in your state's task force?
Amy Perruso: I was asked to serve on Hawaii Gov. David Ige's ESSA Task Force in spring 2015 because of the work I did with the Hawaii State Teachers Association Speakers Bureau to organize the community in support of public schools. With the support of an NEA Student Centered Advocacy grant, I created a Speakers Bureau for HTSA in the fall of 2015. The rank-and-file members in the Speakers Bureau spent our 2015 winter break writing an evidence-based report based on feedback that new state leadership had gathered from members on our fall 2015 Listening Tour. The report was called "Schools Our Keiki Deserve." (Keiki means children in Hawaiian.) HSTA Speakers Bureau then proceeded to use that organizing tool to go out to community organizations, asking for input on a shared vision for public education and sharing our preliminary thoughts.
Because of your involvement on the task force what kinds of decisions are you able to make or have influenced?
AP: This process has enabled me to have hundreds of conversations with teachers around the state, to get some real insights into the conditions that are faced by our students and teachers on a daily basis, in very grounded, concrete ways. Being on campuses around the state, meeting the students and administrators with which our teachers work, and hearing insights and analysis from teachers has had a profound effect on me. As a member of the Task Force, I have also had the great privilege of having small-group, focused conversations with many critical stakeholders in public education in the state, experiences from which I have learned a great deal because I have been a very active participant.
How is ESSA a game changer for students and educators?
AP: ESSA is a game-changer in many ways. ESSA contains provisions that can help states reclaim their education system, as power devolves from federal to state policy makers, and makes possible a shift away from top-down, test-and-punish, compliance-based approaches to education. Moreover, in many sections of the new law, there are requirements for meaningful community and stakeholder engagement, which then requires state policy makers to reconsider the ways in which education policy has previously been developed and imposed on teachers, students and even parents.
Most importantly, ESSA creates new space for educator organizing. The language of ESSA presents both great opportunity and great danger, but because we think that the best organizing around community building emerges from vision, we are focused on the possibilities for positive change.
How do you use ESSA as an organizing opportunity?
Webinar: ESSA-What's Working in the States
Click here to sign up for NEA & ASCD's "Collaborating for successful, student-centered ESSA implementation: Oklahoma's story," the first of NEA's ESSA webinars, Monday, October 17 at 7:30 p.m. ET. Enter your email and you will receive the instructions to join us and a reminder so you don't miss it!
AP: Prior to the passage of ESSA, we were already agitating for the "Schools Our Keiki Deserve," and thinking about how to connect with the community around student-centered advocacy. But working with other Associations in the Pacific region, we began to organize using ESSA as a fulcrum around which we could connect our organizing training (because the task force was calling for visioning, and our approach to organizing is about identifying shared aspirations), our professional development redesign (as ESSA was creating space for new kinds of professional leadership in implementation), and our campaign for contract negotiations.
It is not just ESSA itself that is creating this shift, but the ways in which our negotiations team has been inspired by conversations that have emerged from ESSA Town Halls, opportunities for community engagement that have been occurring every week for months, in multiple locations on every island across the state. The HSTA Speakers Bureau has been incredibly active in the ESSA town halls, and the union has supported this organizing, with messaging and communications designed to elevate the profile of the organizing.
How does change in the federal education policy connect to the larger struggle facing teacher unions?
AP: The struggle being mounted by our teachers to reclaim public education in Hawaii, although shaped by a very specific and unique historical context, are deeply connected to the struggles faced by teachers across the country and across the world. We have an opportunity to push back against neoliberal education policies, and we should take advantage of any opportunities we have.
The extent to which we can support each other, and make common cause with our union brothers and sisters to identify common interests, objectives and strategies, will determine whether we will be successful.
What should educators be doing now to ensure ESSA is implemented correctly?
AP: Educators should be involved in conversations, beginning with each other, in honest discussions about the negative consequences of hyper-focus on testing, including loss of learning time, creativity, critical thinking and innovation. And educators should be starting to articulate, in those same spaces and in leadership discussions at the school and complex level, what they would advocate instead of existing policies and methods of implementation, really focusing on strengthening the decision-making power of those closest to the students.
We are also asking educators to go back to their communities with the school success indicators developed by the NEA Great Public Schools project, and have discussions about what kinds of changes we all want to see in our schools, and how we can express our values through the school accountability system under ESSA.
Stay Informed We'll come to you
From education news to action alerts to member benefits-we're here to help you succeed in your career, advocate for your students, and support public education. Sign up to stay informed.