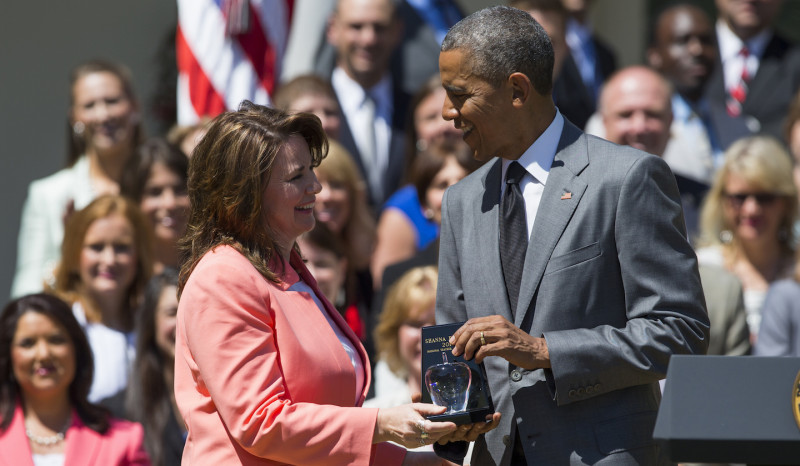 President Obama presents the 2015 Teacher of the Year award to Shanna Peeples on April 29, 2015
Shanna Peeples, a high school English teacher from Amarillo, Texas, was named the 2015 National Teacher of the Year on Monday morning  by the Council of Chief State School Officers (CCSSO).  Peeples teaches AP English at Palo Duro High School and serves as the English department chair as well as an instructional coach for other teachers.
Amarillo is a city known for its efforts to welcome refugees from war-torn countries. Over the past several years, it has received the highest number of refugees per capita across the nation and Peeples has dedicated herself to working diligently with students from these families.
"My students, survivors of deep and debilitating trauma, have shaped the kind of teacher I am," Peeples says. "They have taught me to never make a promise I can't keep because so many already have learned to see the world through suspicious eyes. To be the best teacher to them, I have to remember this and honor their background. I remember so I can gain their trust because I want them to read and write their way out of where they are."
Sandy Whitlow, the principal of Palo Duro, says Peeples is often "the critical adult in their lives."
"She respects the different cultures of our students and genuinely cares about their personal lives," explains Whitlow.  "She even responded to student invitations to a Burmese New Year's, the opening of Buddhist temples, and a Somali wedding. She affords every student and family the respect they deserve."
"It is clear why Shanna was selected to be the 2015 National Teacher of the Year: Shanna's dedication to teaching is all-encompassing, from the countless hours she devotes to helping every child in her classroom to the time she spends mentoring colleagues in her school district," added Chris Minnich, executive director of CCSSO.
Peeples, along with the other three finalists - Ann Marie Corgill of Alabama, Catherine Caine of Hawaii, and Kathy Nimmer of Indiana - and all the state finalists, will be honored by President Obama at the White House this week. Peeples will then spend a year traveling the nation to represent educators and advocate on behalf of teachers. She also hopes to use the opportunity to shape the conversation about reaching students in poverty, as well as those who have faced other extreme challenges, with new and innovative teaching methods.
"As National Teacher of the Year, I represent the people who love what they do,' Peeples says. "Who are willing to do whatever it takes to help kids. Who stay after school for hours. Who steal time from their own families to help our kids. Who may be the only person that shows up at games for a kid, or at plays, at concerts. For many kids, teachers are the only person for them."
Video: Watch the National Teacher of the Year Announcement
Learn More
Stay Informed We'll come to you
We're here to help you succeed in your career, advocate for public school students, and stay up to date on the latest education news. Sign up to stay informed