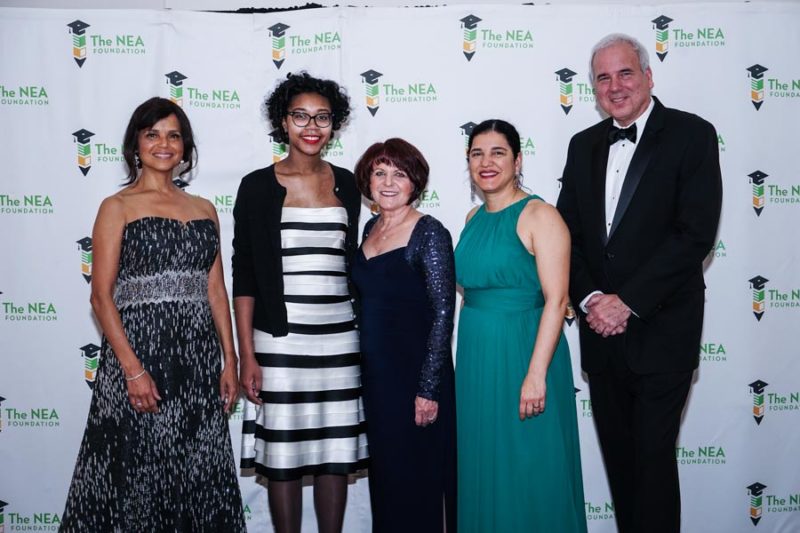 Photo (left to right): Host Victoria Rowell; Special Guest Maya Faison; Sharon Gallagher-Fishbaugh, Chair of the NEA Foundation Board of Directors; Evie Hantzopoulos, Executive Director of Global Kids; Jerry O'Flanagan, Executive Vice President, Consumer Banking, First National Bank of Omaha
The NEA Foundation's Salute to Excellence in Education Gala, which honors the men and women who work in America's public schools, was hosted Friday, February 10, by Victoria Lynn Rowell, an actress, writer, producer and dancer, and long-term advocate for foster children. She founded the Rowell Foster Children Positive Plan that supported services for foster children in fine arts, higher education, healthcare, financial literacy, and reunification programs. Today she is actively involved in the oldest home for U.S. foster children in the nation, The Carrie Steele Pitts Home in Atlanta, Georgia, which closely collaborates with the Atlanta Public School system.
In her memoir, The Women Who Raised Me, which is dedicated to the many women who served as role models in her life, she chronicles her rise out of the foster care system to attain success in the American ballet, theater and television. She writes of the series of women – from Agatha Armstead, a black Bostonian who was Victoria's longest-term foster mother and first noticed her spark of creativity and talent, to Esther Brooks, a Paris-trained prima ballerina who would become her first mentor at the Cambridge School of Ballet -- who lifted, motivated, and inspired her along the way.
Rowell has received 12 NAACP Image Awards and been honored with the United Nations Association Award for her commitment to education, human rights, world peace, and her support of foster children.
NEA Today talked to Rowell about her life and what she hopes for children today.
What was one of the most important messages you hoped to convey to the educators gathered at the NEA Foundation Gala?
That we need to celebrate the excellence of our public school educators who bring education to life for our nation's children. My teachers taught me to burn brightly no matter what hardship I was facing. I wouldn't be here without my teachers and mentors. The best educators have a lasting impact on a student, and the best way for students to honor their teachers is to make their own impact on the community and the world. Pass that inheritance of knowledge forward and make positive change.
Who were some of the most influential educators in your life?
In grew up in the state of Maine in the small farming community of West Lebanon and I remember my first and third grade teachers very vividly. I think in part because I stood out in my classroom so obviously. Maine does not have a big black population, certainly in the 1960s when I was going to school in rural Maine. But those two teachers were so inclusionary, so kind, and loving and sensitive. As I got older I was fortunate to have many excellent educators, like my ballet teachers in Boston and women from the community who served as my educators and mentors.
How did being a foster child shape you as a person?
l was born in Portland, Maine, and when I was 16 days old, I was surrendered to child services by my biological mother who suffered from mental illness. The experience I had in the foster care system opened my eyes as I was witness to the sacrifice of people who were foster parents and extended family members of my foster family helping care for me and others. I saw the sacrifice involved and raising an orphan of the living – other people's children. And they did this for many children besides me. I had teachers showing up at my elderly foster mother's house with a Thanksgiving food basket. In Boston, our home was attached to burnout boarded up building, and the staff of the Boston Globe came to our house at Christmastime with new or gently used toys. They still do this for foster families. When I went to New York City to study ballet, a Ukranian ballet teacher gave out of her own pocket to make sure I had what I needed. The sacrifice of others spared me from living an impoverished life. It made me a fighter who stands up and speaks out. My experience as a foster youth has been a brilliant inheritance – intellectually, spiritually, socially. My experience through the women who primarily educated me taught me about social equality and effecting change.
When did you decide to become an advocate for other foster children?
Today there are approximately 500,000 foster brothers and sisters in America. I advocate for them because not everyone can withstand the heartbreak. Not everyone can survive the shame. Not everyone can withstand the extraordinary loss. People don't think about the amount of loss foster kids endure. Some relationships are bad for the children, but that is still a loss. But some relationships are beautiful and they are still removed for a variety of reasons, and that is a tremendous loss. Not everyone can endure that. We have incidents of suicide and addiction and homelessness and prostitution, among the boys and the girls. This is the underbelly if the system that I've witnessed and endured and I can't imagine ever extracting myself from this reality. For me, not being an active part of my legacy, of my lot in life, would leave me rendered half a person. I wouldn't be living authentically. Historically children have been abused in slavery, in sex slavery, for millennium. Children will always be in need. Right now the lead story is the children caught up in the immigration debate. They're not going away. Their numbers are going to continue to increase as people seek refuge. And our classrooms are going to get bigger. The child welfare system will expand because it has to. People are looking to save their lives and looking for a better one. We have a lot of work ahead of us.
Why are mentors so critical to a child's success, particularly to at-risk children?
Mentoring is tantamount to the success of any child, let alone foster child. The mentor offers continuity, a one-on-one experience with a child who might not have that anchor. Whether or not a mentor wants or expects that responsibility, sometimes the mentor is the only person that the child may grow a trusting relationship with. The mentor maybe be the only one that a child feels safe disclosing how they're really feeling. It's a very, very important relationship with a lasting trajectory that casts the net really wide for a child. It offers opportunities for excursions and experiential learning that might not otherwise be introduced. A good mentor relationship can be for life in some cases. A mentor gives the child something to aim for. A mentor inspires.
What messages can we convey to kids about race and tolerance?
We need to teach acceptance. To be tolerant, is to me, not sufficient. We have to accept people for who they are. We have to accept a child in transition, who is transgendered and in the LGBTQ community. We have to accept that children are people and don't have a voting voice, but they do have a voice and they have opinions and feelings and they need to be loved and cared for. I think they are powerful change agents. When I was in Maine as a child I really felt accepted by the children I was in the classroom with. Maybe it was the tone the teachers set, I don't know. But when I got to Boston, it was a different story. It was during busing. The school I was to attend and was about to have black students like me bused to it was burned down in Cambridge -- right outside Harvard Square. We ended up in a church basement for our classes. Now that church basement houses homeless people and I go back often to walk around and to remember how beautiful people can be and how cruel. We have a responsibility to accept and include all children, all people. We must not cast aspersions because someone looks different and sounds different. You may not be able to see your face in their face, but they count as much as you do. There is no good end to what I see happening now to banning people who risk their lives to cross an ocean or a border. We can do better.
Where can children find strong role models?
In each other. On the cover of Time magazine was a girl who was born a boy. What a powerful role model. Malala Yousafzai, an 11-year-old Nobel Peace Prize winner who stood up for girls' education, is an incredible role model. We have young role models on rafts and boats and sitting in detention camps. We have children coming unaccompanied into unknown and unfamiliar countries here and around the world bravely looking for a better life. Some of these kids are orphaned due to war. Those children and their courage and resilience are role models for all of us.