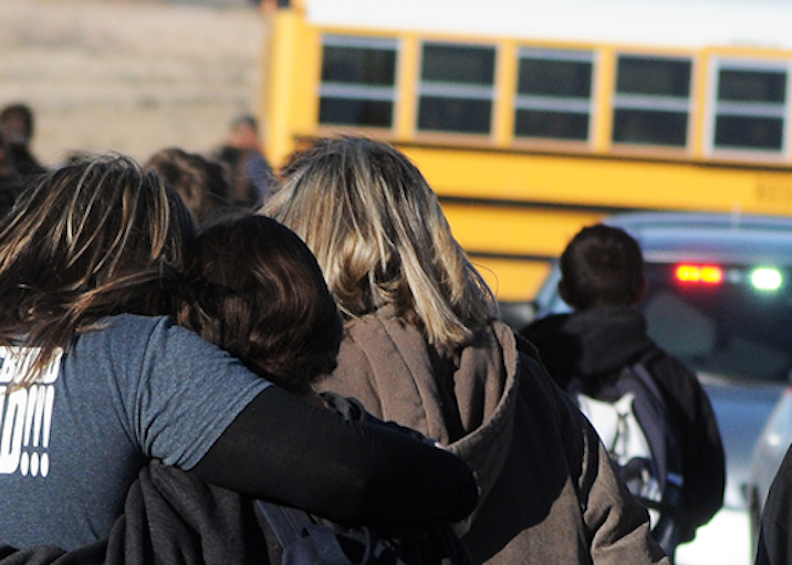 It's a grim reality, but school shootings have become so common that some students around the country have said it's not a matter of if, but when, it will happen at their school.
They've been called the "mass shooting generation," and they now experience lockdown drills as routinely as fire drills.
"We just had one this spring," says Rob Lundien, a counselor at Park Hill South High School in Riverside, Missouri. "It's scary and nerve-wracking, but I'm glad we're preparing and trying to be proactive."
Lundien's district has a Crisis Response Team and a Crisis Plan in place, which is regularly reevaluated and improved upon.
Now they have another resource on hand – NEA's School Crisis Guide.
The guide includes advice for talking to students about violent tragedies, as well as tips for preventing school violence, but it also has resources for a wide range of crises schools can face, from natural disasters to fatal car crashes involving students or staff. It even includes information for school communities who experience ongoing trauma in violent neighborhoods or environmental stressors, such as the Flint water crisis.
Strategies to Prevent, Prepare, Respond, and Recover
NEA assembled the crisis guide to help foster the creation of crisis teams with the ideas, tips, tools, and resources that spur effective leadership and crisis management.
Knowing what to do in a crisis can be the difference between stability and upheaval. This step-by-step resource created by educators for educators can make it easier for all educators, including union leaders, school district administrators, and principals, to keep schools safe—before, during, and after a crisis.
For gun violence, the guide emphasizes strategies for prevention, including the need for identifying and addressing mental health issues and creating a positive, healthy learning and working environment.
Creating a positive school climate where all students feel welcome and safe is one of the most important roles of a school counselor, which for Lundien boils down to relationship building.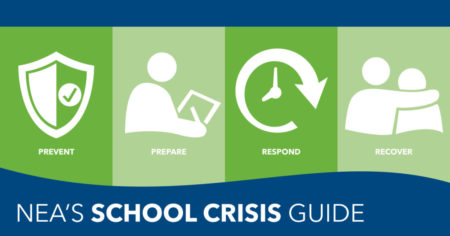 "I need to be a trusted adult students can go to when they're feeling stress, anxiety, or anger, whether it's from a bullying situation or a problem in the classroom or something going on at home," he says.
Lundien says counselors are trained to address mental health issues, but often don't have time to use that expertise because of astronomical case loads where there's one counselor for 500 or more kids.
Arm Schools with More Counselors
"I was at a school where my case load was close to 400 and I didn't have a full grasp on all my kids," he says. "Counselors must have time to get to know students, have an opportunity for that one-on-one, so we can identify problems help solve them before they escalate. What we need to do is arm our schools with more counselors."
Some crises can't be prevented – which the start of hurricane season on June 1reminds us. But schools can be prepared to respond and NEA's guide offers tips on using social media for communication, creating safe transportation routes, and working with the news media as well as local, state, and federal organizations.
"I grew up in Joplin in the southwest corner of the state, where they just marked the seven year anniversary of the devastating tornado there," Lundien says. recalling the massive twister that killed more than 100 people and destroyed a high school and hospital. "The school there partnered with a host of agencies to help address the overwhelming needs of students."
The guide also offers comprehensive guidance on the response phase, from the first hour to the first week to the day students and staff return, which is a critical time to support students and families to help them feel safe and to promote healing and a sense of routine.
The last section focuses on the recovery phase – which Lundien says could take months or even years, as it did after the Joplin disaster.
Lundien says he hopes, of course, that no one will ever need these resources. But it's better to have a plan in place and go through practice scenarios.
"In the heat of the moment, when your heart is pumping and your thoughts are racing, you need to have a plan that you've gone over in drills to get you through the crisis," he says. "The NEA crisis guide provides a great framework that every school could adopt. It's incredible."
Stay Informed We'll come to you
From education news to action alerts to member benefits-we're here to help you succeed in your career, advocate for your students, and support public education. Sign up to stay informed.