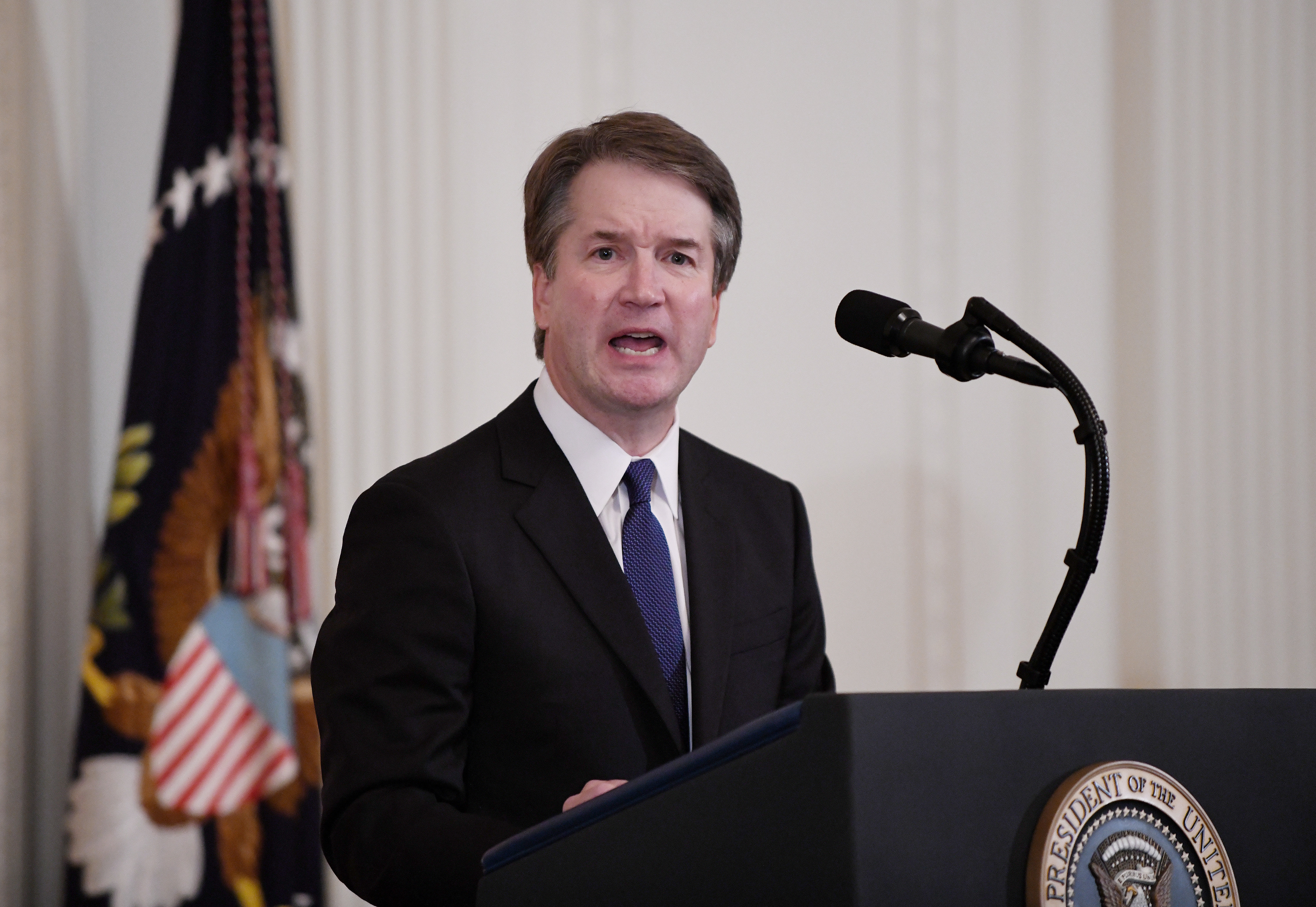 Judge Brett Kavanaugh speaks to the crowd after U.S. President Donald Trump nominated him to the Supreme Court in the East Room of the White House July 9, 2018 in Washington, DC. Photo by Olivier Douliery/ Abaca Press (Sipa via AP Images)
This week, President Trump nominated Brett Kavanaugh, a D.C. circuit court judge who once predicted that the Supreme Court would uphold the constitutionality of school vouchers, to the U.S. Supreme Court.
His nomination was immediately decried by pro-public education groups, including NEA, who predict that the 53-year-old could tip the balance for generations on Court decisions of critical importance to public school students and families, including school vouchers and the fate of the Affordable Care Act.
"Americans deserve a Supreme Court nominee who will apply the law fairly for all and not favor corporations, the wealthy and the powerful; Judge Kavanaugh is not such a nominee," said NEA President Lily Eskelsen García. "We oppose this nomination and urge all senators to do the same."
If confirmed, Kavanaugh could play the deciding role on Court decisions that include whether it's constitutional to divert taxpayers' money to pay for private schools; whether educators have a voice on the job in advocating for themselves and for their students; and whether all Americans, including children and families, will have access to health care. Other issues that may face the Court include reproductive health, guns, voting rights, and separation of church and state.
Kavanaugh would replace retiring Supreme Court Justice Anthony Kennedy, who has been a critical swing vote on the court for nearly three decades, sometimes voting with more liberal judges on issues like LGBTQ rights and the death penalty but also voting with conservatives on voting rights and gun control.
Almost certainly Kavanaugh would push the court to the right on issues that matter to students and families. His record shows support for school vouchers—during his 2004 Senate confirmation group, he said he previously served as co-chair of the Federalist Society's "School Choice Practice Group," and that he worked on voucher litigation in Florida "for a reduced fee," Politico reported on Tuesday.
His record also shows support for school prayer—he headed the Federalist Society's "Religious Liberties Practice Group"—and opposition to the consideration of race in college admissions. In 2016, he also argued against the constitutionality of the Consumer Financial Protection Bureau, which has aggressively assisted students victimized by for-profit colleges and predatory lenders.
Additionally, in 2011, when the D.C. Circuit Court upheld the legality of the Affordable Care Act (ACA)—Kavanagh dissented, voting against ACA, which has provided health care for millions of poor and middle-class Americans.
He is exactly the "rubber stamp" nominee that NEA expected—and will not stand for, Eskelsen García said. "President Trump, Education Secretary Betsy DeVos, and their wealthy and powerful allies envision an America where public schools lose public funding to private, religious, and for-profit schools, and educators lose their ability to advocate for themselves and their students," said Eskelsen García.
"These ideologies have been at the core of the Trump administration's playbook, and the majority of Americans continue to reject them. Yet, if Judge Kavanaugh is confirmed, Trump's agenda would be more than a temporary departure from our ideals and values."
With the stakes for students so high, Kavanagh "can't be trusted to protect the interests of students and educators," said Eskelsen García.
Learn More
Stay Informed We'll come to you
From education news to action alerts to member benefits-we're here to help you succeed in your career, advocate for your students, and support public education. Sign up to stay informed.