Galvanized by the historic mobilization of public school educators that caught the attention of the entire nation, educators converged on the George E. Brown convention center in Houston, Texas on July 4 for the 98th National Education Association Representative Assembly (RA) and 157th Annual Meeting. The theme of the 2019 RA was Our Democracy. Our Responsibility. Our Time! After four busy and exciting days, the more than 6,000 delegates left Houston ready to carry the momentum of the #RedforEd movement into 2020 and play a pivotal in choosing the next president.
"This movement has created something better for millions of students and educators, but it's bigger than that," NEA President Lily Eskelsen García told delegates in her keynote address. "We've created something better for communities—for this country that we love."
And that unnerves people like Secretary of Education Betsy DeVos and the army of billionaires who are funding the school privatization schemes that drive her agenda. But if we are to bring real change, Eskelsen García said, we need to look to the top.
Electing a new U.S. president in November 2020, she said, should be a priority of anyone who cares about public education. And public school educators should not shy away from working toward that goal.
"Political action isn't subversive," Eskelsen García said. "It's the essence of democracy. ... We will use our collective power to listen and learn and teach and reach and engage and organize and convince."
At this year's RA, NEA took a big first step in leading the conversation around public education and Election 2020 with the #StrongPublicSchools presidential forum (see video below).
For two hours, ten presidential hopefuls - former Vice President Joe Biden, former HUD Secretary Julián Castro, New York City Mayor Bill de Blasio, Sen. Kamala Harris, Gov. Jay Inslee, Sen. Amy Klobuchar, Rep. Tim Ryan, former Rep. Beto O'Rourke, Sen. Bernie Sanders, and Sen. Elizabeth Warren - made their case to the delegates (and viewers nationwide who watched the forum via livestream). They fielded questions from NEA members on everything from education funding, privatization, testing, school safety, and student debt.
Although NEA members undoubtedly had their preferred candidates, most came away impressed by the substantive conversation and the fact that - as Eskelsen García pointed out in her opening remarks - while educators were hearing from the candidates, "the candidates were listening to you."
Wow. Just wow, y'all. I'm floored that I was in the room for this historic event. My heart is pounding because I'm so fired up to WIN this election now! #NEARA19 #StrongPublicSchools

— Christina Spears (@CSpearsEDU) July 5, 2019
"They have clearly been listening to teachers," said Oklahoma teacher Brendan Jarvis. "Only a strong and large organization can make an event like this possible, and give teachers a seat at the table in the next administration."
'Our Kids Deserve Better'
Taking a seat at the table (and keeping it) is a goal shared by all teachers and education support professionals, said 2019 NEA ESP of the Year Matthew Powell. Powell, a custodial supervisor in Kentucky and one of the most politically active educators in the state, addressed the RA on July 6.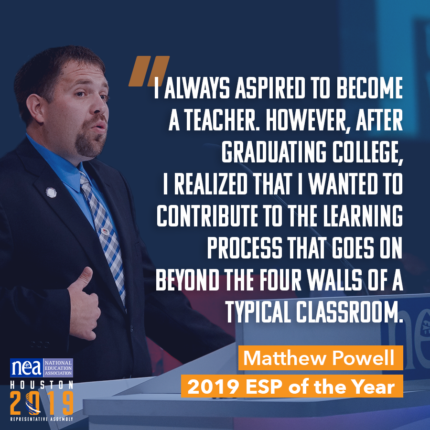 "I want to remind all of us of the influence and power we have in the lives of our students, in our schools, and our communities," he said. "That power is available to each and every one of us, every day, in big ways and in seemingly small ways ...Never forget, we are the experts when it comes to public education."
National Teacher of the Year Rodney Robinson carried the inspiring message forward with a powerful speech later in the afternoon. Robinson, a social studies in a school inside the Richmond Juvenile Detention Center in Virginia, made an impassioned plea for diversity, inclusion and greater educational opportunities for our most vulnerable students.
"We have hit the point of a national emergency, as we stand in solidarity with our brothers and sisters all over this great nation, and we need leaders who are willing to stand with us," Robinson said.
In his closing, Robinson put lawmakers across the country on notice.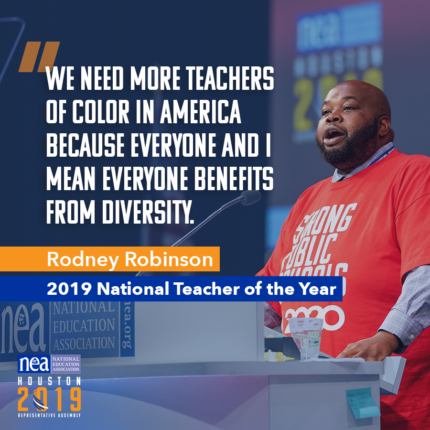 "Thousands of students, teachers, parents, and administrators are stepping up and saying enough is enough. And I promise you your judgement day will not be on your final day on this earth, but on Election Day when millions of Americans–led by every single person in this crowd-march to the polls, break down the doors, kick you out of office and say our kids deserve better!"
Strong and effective activism sometimes starts with a strong image. Hundreds of delegates discovered that when they visited a designated area in the hall, where artists from the Milwaukee-based Art Build Workers helped them create powerful protest art for signs, posters, and parachute banners.
"Creating images that go along with a movement, whether it's racial or social justice [or the national #RedforEd movement], brings people together, and creates ownership in the movement," said Wyoming art teacher Paige Gustafson.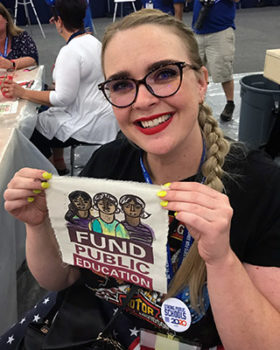 Paige Gustafson at the NEA RA Art Build
John Stocks, in his last address as NEA executive director, urged the delegates and educators everywhere to embrace their growing power. "We need you to come together and make this country whole. Our democracy is calling out for social justice patriots.
"Let's be perfectly honest. An educator can do more for our democracy in five minutes than some lawmakers can do over their entire career," said Stocks.
Dolores McCracken, former president of the Pennsylvania Education Association, posthumously received the NEA's highest honor, the NEA Friend of Education Award. McCracken's two adult children accepted the award.
The RA awarded David Schneider, a communications professor at Saginaw Valley State University (SVSU) in University Center, Mich., as the 2019 Higher Educator of the Year.
What Democracy Looks Like
It wouldn't be an RA, however, without New Business Items, lots and lots of New Business Items. The RA is a democratic body, so delegates spend most of their time debating and voting on new NBI's - policies, resolutions, amendments that will direct much of the Association's work in the coming year.
This year, delegates adopted more than 60 out of 160 proposed, dealing with topics as far ranging as the impact of technology on students, the opioid crisis, immigration advocacy, charter school "co-location," and ethnic studies.
RA delegates also elected two educators to NEA's Executive Committee, the Association's highest-level governing body. Robert Rodriguez, a special education teacher from San Bernardino, Calif., and a champion for diversity and LGBTQ rights in schools, was re-elected to a second two-year term.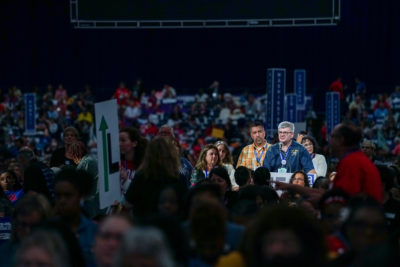 RA delegates debate a New Business Item.
The newest member of the executive committee is Christine Sampson-Clark of New Jersey, also a special education teacher.
"I'm honored to join NEA's Executive Committee and look forward to representing the voices of my fellow education professionals in this role," said Sampson-Clark. "Our members deserve professional respect as well as the resources needed to provide all our students with great schools. NEA is vital to these goals."
RA delegates got the chance on the last day to say hello to NEA's new executive director, Kim Anglin Anderson, who effective Sept. 1 will replace John Stocks. Anderson was previously with NEA for 15 years, creating and leading NEA's Center for Advocacy and Outreach in 2016 before leaving to serve as executive vice president of the Democracy Alliance.
In a brief address to the RA, Anderson told the delegates how thrilled she was to be "coming home" to the NEA.
"What's in my heart is what's in yours: a love of the students we serve. And the responsibility we share to instill the values of democracy and equal opportunity in order to model in our schools what a just society should look like."
 Watch the #StrongPublicSchools Presidential Forum
Stay Informed We'll come to you
We're here to help you succeed in your career, advocate for public school students, and stay up to date on the latest education news. Sign up to stay informed