The holidays came early to Monaview Elementary School in Greenville, South Carolina, this morning. Winner of the first ever NEA Read Across America sweepstakes, the school received 500 diverse and inclusive books from award-winning authors and illustrators for students and educators to share and enjoy all year.
"We are so excited!" says Catherine Holub-Ward, the first grade teacher who entered the sweepstakes on behalf of her school. "Monaview is such a special place, and we're thrilled that all of our classrooms will have these books representing multiple identities and cultures."
More than 70 percent of Monaview students are Hispanic, with 30 percent of their families new to the country, says Shannon Land, Title 1 facilitator at Monaview.
"I get input over and over again from parents who want more bilingual books for their children," Land says. "The kids are going to be so happy with these new titles, and families are going to be delighted to see more bilingual books in our classrooms."
Books that Cross Borders and Curriculum
One of the books classrooms will receive in English and Spanish is My Two Border Towns, by David Bowles, a picture book about a boy living along the U.S./Mexico border, with timely themes about asylum seekers and freedom.
In the story, the boy travels with his father back and forth across the border between mirror towns, one in the U.S. and the other in Mexico. During their trips, they have lunch, visit an uncle, run errands, and stop to deliver supplies to people living in tents on the border at the edge of the Mexican town -- people "stuck between countries" as they wait for asylum.
"I'm hoping that kids who are from the frontera but who live elsewhere will be reminded of the beauty and wonder of their homeland—and that kids who are here will smile to see themselves represented," Bowles, who lives with his family in a Texas border town, said in an online chat hosted by Publishers Weekly.
My Two Border Towns and the other books Monaview received are from NEA's Read Across America program and were carefully selected to connect students with diverse books and the joys of reading.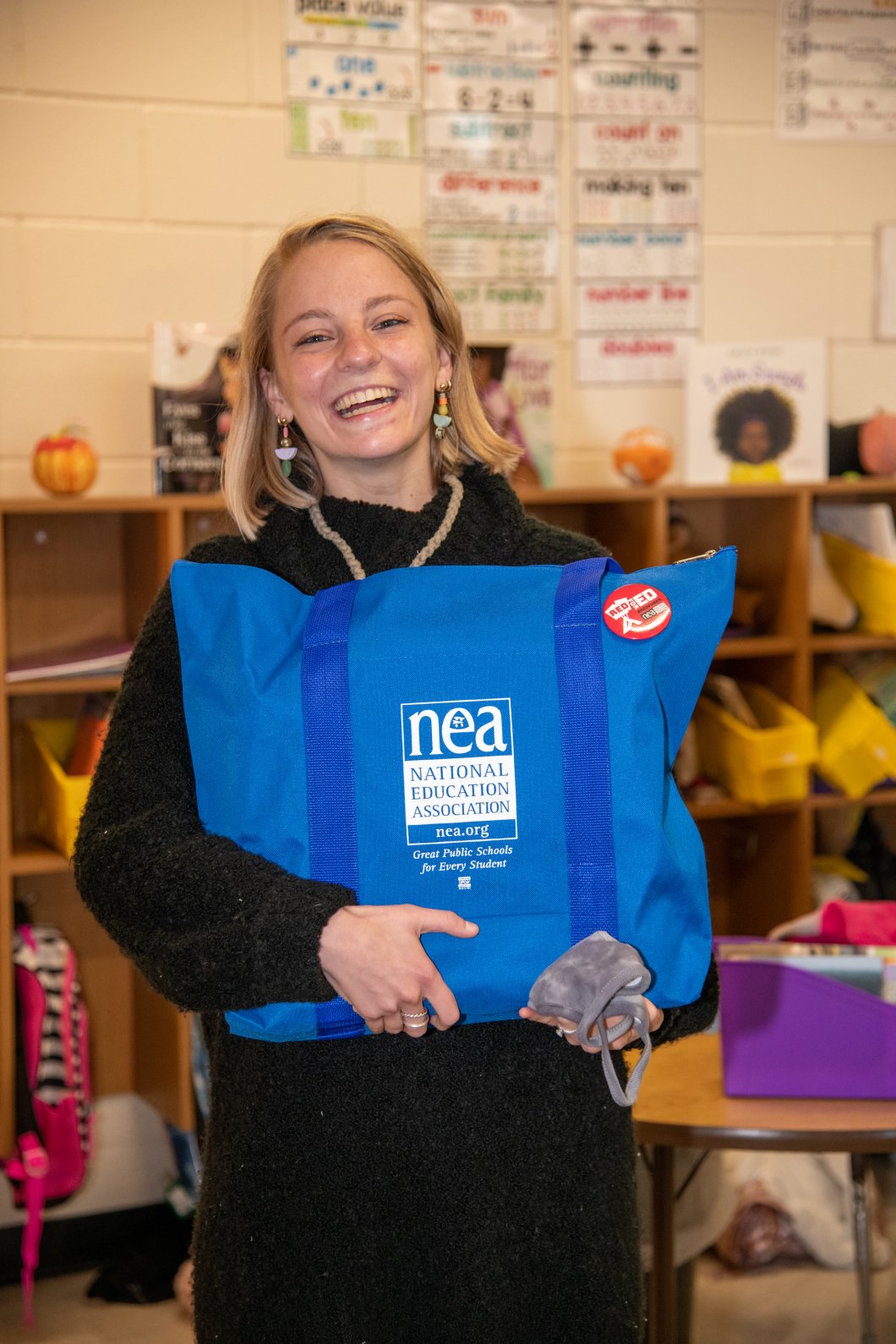 In August, NEA unveiled its latest list of recommended children's and Young Adult books, as well as its popular Read Across America digital calendar. 
With an entire year of book suggestions for kindergartners up to high school seniors, educators can deepen lessons across the curriculum, using the books to broaden students' understanding of history, the arts and music, science and environment, social studies, and current events.
Holub-Ward, whose submission was randomly selected from more than 27,000 sweepstakes entries, looks forward to lesson planning with the new books.
"I can't wait to sit down with the books and my sticky notes and say, this book will be in my next science lesson, and this one in my next social studies lesson," she says. "These books are definitely going to move across curriculum and across our day."
Surprise Start to American Education Week
The books were delivered as a surprise for Monaview this morning to kick off American Education Week at their school in South Carolina and across the country. During the week, educators are celebrated and honored for their work to ensure that every student – no matter their race or place – receives a quality public education.
"Congratulations to the students of Monaview Elementary School for earning the title of first-ever recipients of the Read Across America sweepstakes," said NEA President Becky Pringle. "The delivery of nearly 500 books to these happy and surprised students today not only brings new, diverse books into the classrooms but also will open new worlds and experiences for these students. Everyone, no matter their race, place, or the language they speak at home, deserves to see themselves represented in the books available at their public school. Let's provide kids with more books that are as diverse and complex as the world in which they live so that we can create more lifelong readers, more writers, more thinkers, and more people who understand that the world is far richer than just their experiences alone."   
Holub-Ward couldn't agree more and says the more books, the better.
"My students get so excited and energized when it comes to reading books. Reading is critical to discovering who they are and who their community is," she says.
#MonaviewMoment
The surprise delivery to the elated students and educators of Monaview Elementary was made with the help of of the The South Carolina Education Association (SCEA).
"We are proud to work with the NEA to make today's special #MonaviewMoment possible for the educators and students at Monaview Elementary School as they receive nearly 500 diverse books," said The SCEA President Sherry East. "Each book donated represents a chance for Monaview's students to feel the joy of falling in love with a book, to reinvigorate a love of learning, and, most importantly, to ensure every child has the opportunity to see themselves reflected in the texts in their classroom."
Stay Informed We'll come to you
We're here to help you succeed in your career, advocate for public school students, and stay up to date on the latest education news. Sign up to stay informed