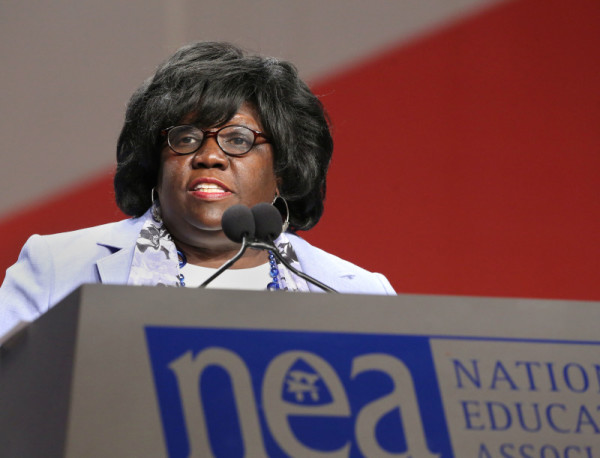 2015 Education Support Professional of the Year Janet Eberhardt speaks during the 94th NEA Representative Assembly at the Orange County Convention Center in Orlando, Florida, Saturday, July 4, 2015. Photo by Rick Runion
Janet Eberhardt, NEA's Education Support Professional (ESP) of the Year, took the stage, today, at this year's Representative Assembly in Orlando with a humble—but strong—message: when educators unite, students succeed.
"Many of us feed the brain, but all of us feed the soul," said the 29-year veteran educator who works as a community relations specialist and elementary advisor in the San Francisco United School District. There, she partners with classroom teachers to address emotional, behavioral, and other issues students may have that are interfering with their academic progress and how they interact with others.
Eberhardt referenced a few problematic issues that plague public education, including the inequalities and injustices school communities face as more than 50 percent of children attending U.S. public schools come from low-income families; standardized tests and poor evaluations systems that do little to inform; diluted collective bargaining agreements; layoffs and privatizations; and budget cuts that starve quality school programming.
"It's easy to say that some fights are for teachers and some are for ESPs. But all of these issues impact our students and our communities, so we must be a united front for our students and public schools."
But together, she says, educators are making a real difference by inspiring students to find their greatness and by fighting for the resources their schools need.
She says, "Our work makes a difference—from placing a band-aid on a cut, to finding a student a winter coat, or filling a backpack with food so a student can eat over the weekend. Through our acts of love, our dedication and efforts, we show…students, families, and communities that they matter. And on top of all that, we teach their students to read, write, do math, and, most of all, to value learning. Together we are making a better tomorrow."
The long-time educator shared with 7,000 of her colleagues the story of Rogers High School in Spokane, Washington, where teachers and school support staff worked hand-in-hand to increase the school's graduation rate. Three years ago, the graduation rate stood at 49 percent. Today, it's jumped to 82 percent. School staff used federal funds to provide community support services to students.
"They knew that students could not succeed," she said, "unless they were healthy, safe, engaged, supported and challenged."
In her school district, a similar story exists of teachers and ESPs working together to meet the needs of the whole student, which refers to meeting the emotional, social, and physical needs of students so they can be successful in and out of classroom.
The local association, United Educators of San Francisco, pushed for professional development for every educator. A Professional Learning Community was also established that was inclusive of ESPs. Moreover, a mentorship program was created between the entire staff—teachers, administrators, paraeducators, custodians, bus drivers, security officers, and office support staff—to serve as mentors to students.
"By working together to plan, advocate and innovate, the whole school team can support the whole student," she declared, explaining that she and her colleagues "see more parental engagement, less absenteeism, higher graduation rates, fewer suspensions, and more student achievement."
In her closing remarks, Eberhardt underscored how schools are "ecological systems and children are at the center" who "deserve the support, tools, and time to learn," she said.
"We care about our students. We are the ones pushing back against those who see public education as their personal piggy bank and students as a dollar sign. So let's continue to unite and fight to provide opportunity for all students."
Stay Informed We'll come to you
We're here to help you succeed in your career, advocate for public school students, and stay up to date on the latest education news. Sign up to stay informed