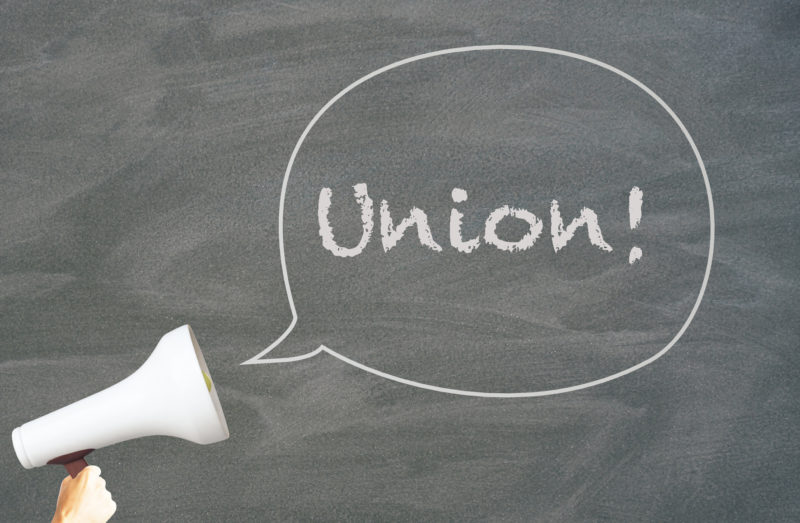 It was two days before Thanksgiving Day in 2015. Without warning or provocation, 27 education support professionals (ESPs) in the affluent Solana Beach School District in California were blindsided by an email from the district's director of human resources.
The surprise blast stated in stark terms that their health benefits under the Affordable Care Act (ACA) were being cancelled in a month.
"It was a sad day in our district," says Robin Park, an instructional aide for special education at Solana Vista School and one of the email recipients. "It showed there was nothing we could do when something like this happens to us (ESPs)."
Surprisingly, the email sparked a heated conversation among ESPs in the district that wound up inspiring an activist movement in this upscale community popularly known as the "Beverly Hills of San Diego."
After returning from the holiday break and contacting the California Teachers Association (CTA), Park, CTA staff, and other educators organized a community petition drive and public rally at the next school board meeting December 14. Park says it was the first time that board members learned about the classified workers losing health benefits.
"They were shocked, just stunned," he says. "Administrators apparently had not felt like they needed to tell the board about cancelling our health coverage."
Since the medical coverage issue was not on the board's agenda, they decided to call an emergency meeting to address the matter on December 18. Workers at nine job sites were affected, including those in almost every classified job category, from custodians and paraeducators to technical, maintenance and food service employees. A significant number of clerical service employees at schools and the district's Child Development Center were particularly affected.
"We knew it was time that classified and certificated employees be treated equally and fairly," says Park, who graduated from Northern Arizona University with a degree in elementary and special education. "We're on the same team."
At the emergency meeting, board members voted unanimously to offer benefits to the affected workers through the district's plan, which would no longer depend on ACA-dictated policies.
Looking Forward
With support from CTA and members of the Solana Beach Teachers Association (SBTA), classified workers continued their fight for workers' rights by establishing the Solana Beach Association of Support Professionals (SBASP) in March 2016.
"We hadn't realized that we could overwhelmingly unionize across the district," says Park, president and one of the founding members of SBASP. "We eventually found our collective voice."
Members of SBTA and CTA were instrumental in helping the classified workers get organized and ready to negotiate for fair wages, medical coverage, due process, seniority, and other provisions, says Park.
"We couldn't have gotten this far without them," he says. "They shared their expertise and helped many of us get trained in how to empower ourselves and improve learning conditions for students."
More than 200 new classified workers from Solana Beach are now affiliated with CTA and NEA per recognition of SBASP by the district's Public Employment Relations Board as the exclusive bargaining agent of classified ESPs in Solana Beach. The local's first contract is currently being negotiated.
"They had no leverage, no voice, no solidarity … nothing," says David Partida, a CTA regional organizer who helped establish SBASP. "How could they not form a union."
Partida and now-retired CTA staff member Cynthia Manjarrez organized that first board meeting rally before going straight to work identifying potential ESP leaders.
"You have to identify the right people to start a local like SBASP," says Partida. "It takes a combination of experienced leaders, credible workers, and young people who have potential to be the leaders of tomorrow."
Before joining SBASP, many classified workers were leery of unions, says Partida.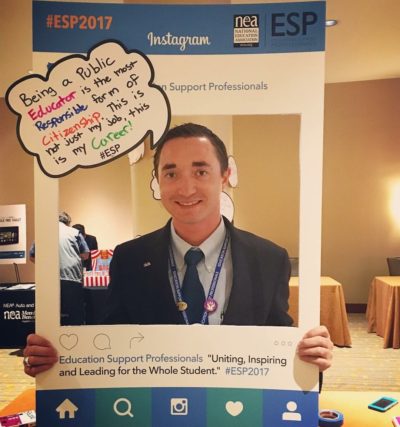 Robin Park, president of the newly-formed Solana Beach Association of Support Professionals.
"For many them, unions had never been part of their work culture or family history," he says. "Some were hesitant to stand up and organize for fear of retaliation at their schools, or because their only reference for a labor organization came from other countries where there is rampant corruption."
After meeting with workers one on one and discussing job duties, job decriptions, workplace conditions, and other job issues, Partida says many had a change of heart.
"We found that many workers had the same job titles and duties as their colleagues at different schools but were being paid a lot less for some reason," he says. "They didn't know this because they were isolated from one another … they had never connected."
Although Park had worked for the district for five years, he had not met instructional aides from other nearby schools.
"I hadn't even met other classified workers until we started getting together and exploring the idea of organizing a union," Park says. "Once we started sharing our stories we realized that there were a lot of job inconsistencies from one school to the next, particularly involving wages. We realized that the district was being divisive."
The 'divide and conquer' tactic had worked in Solana Beach several times in the past when ESPs attempted to organize themselves as a CTA affiliate.
"That won't happen again," Park says. "We've come too far to turn back now."
Ample Funds in Reserve
Regional UniServ Representative Teresa Horton is a member of the negotiating team. She says pay equity is one of the issues under consideration.
"The district has a huge reserve," says Horton, who replaced Manjarrez after she retired. "They are flush with money while many of these workers cannot afford to live in the district where they work."
Solana Beach is located in San Diego County near the wealthy seaside community of La Jolla.
"Many of the workers have long commutes," she says. "The least the district can do is give them health insurance."
Partida says proof of the district's wealth is evident.
"They just completed construction on a new school and are in the process of renovating other schools," he says. "They have the money."
Park says settling a contract with the classified workers can address the needs of both students and staff. As with other locals across the nation, unions bargain for student-friendly provisions such as class size limits, relevant staff training, school building health and safety, and needed classroom materials.
In Solana Beach, the biggest impediment to settling the contract, which is not expected until next year, seems to be the issue that brought everyone together in the first place: health coverage.
"They have this significant reserve of funds they seem to be saving for a rainy day," Park adds. "This is not just a job for us. It is our career. We love the kids and love the work we do on their behalf."