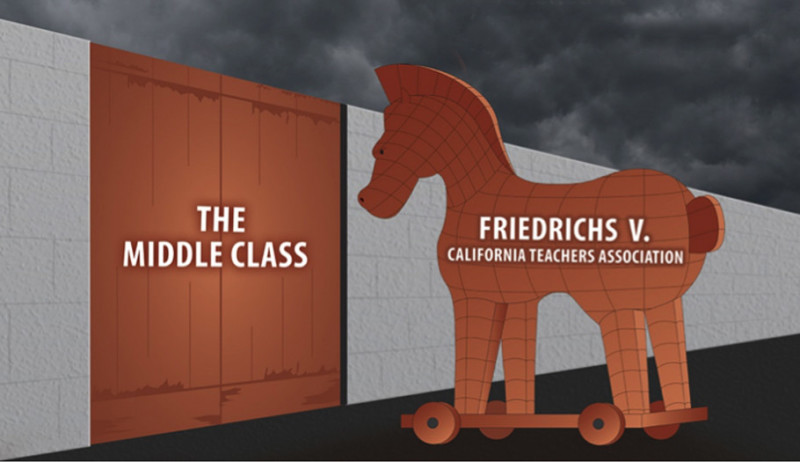 Hundreds of groups and individuals—representing all levels of government and civil rights organizations, and including public officials, academic experts, and others—have filed 24 briefs amici curiae ("friends of the court") with the U.S. Supreme Court in the Friedrichs v. California Teachers Association case. The briefs, like the one filed by more than 70 national civil rights organizations, urge the Court to uphold the fair share fees that support strong collective bargaining, rather than "undermine" the strong bargaining relationships that have provided "a critical path to the middle class for generations of working people." The Court first upheld such fees in Abood v. Detroit Board of Education in 1977, and has repeatedly reaffirmed the validity of such fees unanimously, including in an opinion just six years ago.
"The number and vast range of groups who have spoken up by filing amici briefs with the Court illustrate how important this case is and what's at stake for America's working families," said National Education President Lily Eskelsen García. "States as different as Alaska and New York, with lawmakers from both sides of the aisle, see how this case harms not just public workers but also the communities who depend on the services they provide."
Earlier this month, NEA joined with the California Teachers Association and a number of unions to file the union respondents' brief, which laid out why the fair share rule first adopted in Abood remains sound and should be reaffirmed. The state of California also filed in support of Abood, explaining that it relies on fair share fees to effectively manage its substantial public workforce and ensure the efficient delivery of quality public services.
This past Friday, hundreds of amici weighed in with dozens of briefs. Twenty-one states, dozens of cities, nearly 50 Republican lawmakers, school districts and public hospitals rose in support of the value fair share fees provide in terms of the effective management of public services.
States including Alaska, Iowa, Kentucky and Virginia, joined by the District of Columbia, as well as Montana Governor Steve Bullock, who filed his own brief, have all weighed in to voice their common view that Abood rightly recognized "that States have a significant and valid interest in being able to employ the models of collective bargaining that have proved successful for achieving labor peace and avoiding labor strikes," and for improving the efficiency and quality of public services. Thousands of contracts that include such fees cover millions of public employees.
Almost 50 Republican state officials have filed to urge that the Court reaffirm Abood and leave "the complicated calculus involved in determining how to structure public sector labor relations," to the state and local leaders "best positioned" to decide such matters. As the brief of the U.S. government points out, the petitioners' request that the Court constitutionalize public-sector labor relations decisions long made by states in accordance with their local circumstances "would astonish the founding generation and would stamp out the state-by-state variation in public employment structures that has been the hallmark of this Court's First Amendment jurisprudence for decades."
Several of the amici explained the benefits that states have reaped in choosing collective bargaining supported by fair share fees. New York City filed a separate brief explaining why fair share fees have been essential to securing labor peace and the uninterrupted delivery of public services on which its millions of residents depend.
School districts secure more effective collective bargaining relationships with unions that have "the stability to make difficult agreements that may be unpopular but are in the long-term interests of employees, students and the entire community." Other municipalities gain "significant efficiency benefits…by working with the stable union partners that agency-fee arrangements make possible." And public hospital systems that serve millions have benefitted from the strong labor management partnerships that fees make possible, which have served to substantially improve the health care they provide.
Leading experts from across the country have also filed in the case, explaining that the Court should decline petitioners' invitation to cast Abood aside based on politics, rather than principles, and should continue to allow states to decide for themselves how best to manage their workforces in order to provide critical government services like public schools. And leading national economists have filed to explain that the free-rider phenomena, which fair share fees are necessary to counter, is real and significantly decrease union effectiveness if left unchecked.
NEA and CTA have joined other unions and organizations in a broad-based coalition, America Works Together, to raise public awareness and to ensure the public and Supreme Court know that current law established by Abood has formed the foundation for people to work together for more responsive public services—such as better outcomes in the classroom for our kids, quicker response times in emergencies, and better staffing for hospitals..
"This case will do nothing to help our students," said CTA President Eric C. Heins. "What this case is really about is making it harder for working people to stand together and fight for our students, our schools and our future."
Image: America Works Together