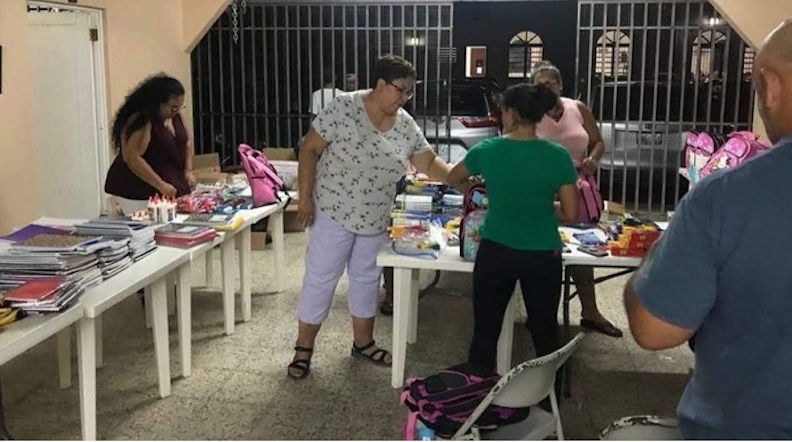 Mary Ann Rivera (center) and volunteers sort through donations for victims of Hurricane Maria at a local church.
Students in Puerto Rico were supposed to return to school in early January after winter break, but after hundreds of earthquakes and aftershocks rocked the island, dozens of schools, buildings, homes, and businesses were reduced to piles of cement blocks and rubble.
The series of tremors, which started December 28 and reached a fever pitch with a massive 6.4 quake January 7, has left more than 8,000 Puerto Ricans displaced from their homes. Sleeping in tents, in parks, or even on the streets, they are afraid to go back into what remains of their houses or apartment buildings, afraid the next quake will bury them inside. Many Puerto Ricans had not yet recovered from the trauma of Hurricane Maria of 2017.
"As educators, we think of the children first," says Mary Ann Rivera, a special education paraeducator from Illinois. Back in 2017, as she watched television coverage of Hurricane Maria destroy her childhood neighborhood in Puerto Rico, she was overcome with grief and a desire to act.
"The fact that my island has suffered so much and has been ignored, hurts me," she says. "I had to do something."
Rivera works at Lyons Township High School, where she organized a supply drive to help students in Puerto Rico who lost everything, including basic items needed for school.
Several months after the hurricane hit, Rivera's husband surprised her with a July trip to Puerto Rico to celebrate their 30th wedding anniversary.
"I was so happy, but I reminded him that we would have to help students in some way once we were there," says Rivera, co-president of the Lyons Township Paraeducators Association.
Before departing, she called teachers and principals in Yabucoa, a coastal community deemed "Ground Zero" for the hurricane. She learned that more than anything, they needed school supplies.
I've been appealing to everyone to help and it can be a lot of work coordinating and having to ask for donations, but I put it in simple terms – can you donate enough for a coloring book? These are kids. They need our help." - Mary Ann Rivera
Initially, Rivera planned to pack the school supplies in a suitcase. But to her delight, her home was flooded with notebooks, pens, pencils, and paper. She soon had to ask for donations to cover boxing and shipping costs.
In the end, Rivera collected 84 boxes of school supplies and $6,700—a feat she "never imagined," she says.
She continued her donation drive and returned to Puerto Rico to visit students and hand out supplies every summer since. Rivera, who is also a delegate to the National Education Association Representative Assembly, put out word about her efforts at the NEA Annual Meeting in Minneapolis in 2018. Rivera said union members soon took up a collection to help pay for shipping costs.
This year, Rivera is moving her trip up to March knowing the needs can't wait. As she hears reports of teachers holding classes in the park or in makeshift tents, she knows as an educator, that the main reason they're having classes is not to prevent students from falling behind academically, but to create a sense of normalcy and routine out of chaos and fear. "They're doing it because the kids are scared," she says. "They went through the trauma of the hurricane and then the terrifying earthquakes, and they're not being able to go home and live normally."
____________________________________________________________________________
IEA Educators In Action: Supplies for Puerto Rico from IEANEA on Vimeo.
____________________________________________________________________________
Rivera still has family in Ponce, her hometown, which is in the southern part of the island heavily hit by the quakes. Everyone is okay, she says, but they are sleeping outside because the aftershocks continue to come.
"They say you can hear the rumbling and you know an aftershock is coming," she says. "Just last week there were at least nine of them."
In addition to school supplies, Rivera is collecting money to buy toiletries because the people are in a state of emergency with no sanitary products, toothpaste, deodorant. But supplies for kids is still a top priority.
Rivera has connected with an American psychology professor who visits Puerto Rico to help with relief efforts to talk to kids and help reassure them as they struggle with trauma. He sent her a list of kids with needs so she can be sure to distribute products to them and their families when she arrives.
"I've been appealing to everyone to help and it can be a lot of work coordinating and having to ask for donations, but I put it in simple terms – can you donate enough for a coloring book? These are kids. They need our help."
And help is arriving from her district and throughout the state. The president of the Illinois Education Association sent an email to all members about the effort, and every day when Rivera gets home she has boxes of supplies waiting by her door. And she finds a way to ship them.
She says she has no plans of ever stopping her efforts to help those in need in her home of Puerto Rico, recalling a moment when she gave a little girl a backpack full of supplies. The girl looked at her, then at her mother, then back at Rivera.
"Is this for me? Is this really for me, Mommy?"
The mother was in tears and Rivera told the girl that yes, it was for her, everything in it was all for her.
"How do you stop after a moment like that? You can't," Rivera says. "I do this to help as many kids as I can, to let them know that they're going to be okay, and that people care."