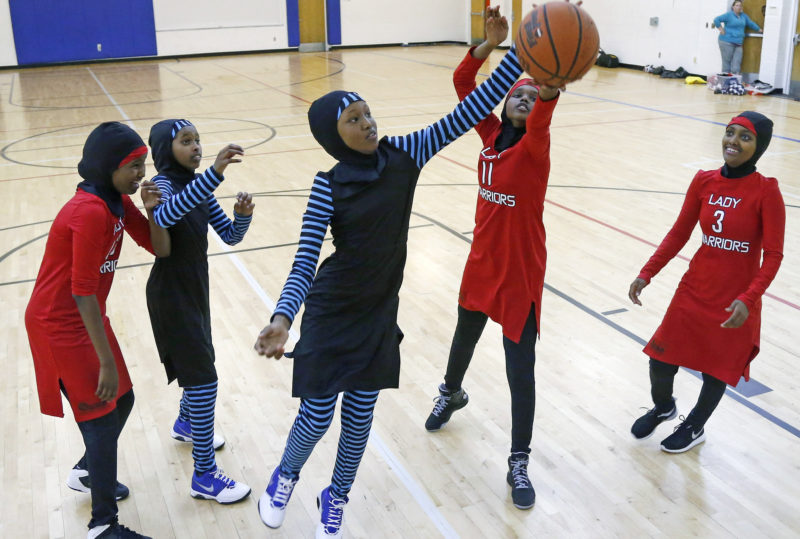 East African Muslim girls practice basketball in their new uniforms in Minneapolis. The culturally sensitive uniforms, designed by the girls, address worries over tripping on a long, flowing dress, or having a loosely wrapped hijab come undone during a crucial play. (AP Photo/Jim Mone)
When Ifrah Jama was a seventh grader at Granite Park Junior High, Salt Lake City, UT, in 2016, she wasn't able to participate in her gym class unless she compromised her religious beliefs by wearing the school's standard uniform.
"My PE teacher wouldn't let me wear a skirt or dress in class because it didn't follow the gym requirements," Jama said. She felt she had no choice but to comply.
"Looking back, I really wish I didn't listen to him because by following the PE requirements, I had to break my religions rules," she says. "That's very bad because my religion comes first."
After transferring from Granite Park Junior High to Glendale Middle School, Jama began to feel more included in her gym classes. At Glendale, the Muslim students have the freedom to wear what they are comfortable in to participate in gym. Some students would even wear the gym uniform overtop of their modest clothing but know this is not a requirement.
Some students even have handmade uniforms, sewn by Muslim mothers in a sewing club organized by the school as a way to engage parents, allow them to meet one another and build community, and also solve the gym uniform problem.
Tradition of Modesty
When in the public, many Muslim girls and women are covered from head to toe to dress modestly in accordance with their religious beliefs, but a recent survey by the Institute for Social Policy and Understanding (ISPU) revealed that 42 percent of Muslims with children in K-12 schools report bullying of their children because of their faith, often because of wearing a hijab or other clothing associated with their religion.
Educators and administrators can make a more inclusive learning environment for every student by implementing a change in gym uniform policies that allow for Islamic religious beliefs, according to Fakhra Shah, a teacher at Mission High School in San Francisco.
"Forcing students and kids to wear what is against their values is how schools subtract resources and culture from students," Shah says. "Is it necessary to strip someone of their identity in order to educate them? This is a great injustice and this has been happening for far too long in our country."
Most school gym uniforms consist of a short sleeved t-shirt and shorts, which causes a problem for Muslim girls who will either have to compromise their religious beliefs to participate in class or they sacrifice their grade by not changing into the gym clothes.
The option of a uniform with long sleeved t-shirts and full-length gym pants would go a long way towards inclusion and equality in schools. Lucas Tucker, the physical education teacher at Glendale Middle School in Salt Lake City, Utah, believes that all students should be able to participate and be active.
"Whether or not the students voice their opinion, or voice their feelings, it is easy to see that they do not like to feel isolated or want to be left out of anything. There is no reason that they should be left out, because then kids are going to view them as different, and problems could arise," Tucker says.
Inclusivity in PE is Long Overdue
In 2011, then 14-year-old Demin Zawity was removed from her Junior ROTC program for the homecoming parade because she wasn't allowed to wear her hijab during their performance. Now, a 20-year-old student at Middle Tennessee State University, Zawity feels that in 2017, Muslim girls should not still face the issue of not having a proper gym uniform.
"When I was taking gym my only option for a modest uniform was heavy sweatpants and an thick long-sleeved shirt. Remember, I'm from Tennessee and it gets pretty hot, so running the mile outside in that heat was VERY uncomfortable!" Zawity says.
There are many ways that educators can adapt uniforms to better accommodate Muslim girls modesty.
"Let them wear skirts and dresses as long as they match the P.E. colors," Jama says. "Our religion has a bigger impact on our lives than PE does."
More and more students are bringing attention to the issue by speaking out on the lack of gym uniforms or uniforms for after school sports, which deters too many Muslim girls from participating in enriching school activites.
"We need to create more awareness of the importance of physical activity and sports in our societies as well as the prevalence of Muslim women in sports," Shah adds.
Learn More
Stay Informed We'll come to you
We're here to help you succeed in your career, advocate for public school students, and stay up to date on the latest education news. Sign up to stay informed