National Youth Poet Laureate Amanda Gorman captivated the world with her stirring poem "The Hills We Climb," delivered at the inauguration of President Joe Biden. In Change Sings, her new book—or children's anthem, as she calls it—Gorman has another message to deliver.
"We all have the power to change the world," she says. Her hope is that educators, parents, and children who read her book will recognize that every young person has the ability to make a difference.
Gorman's poem explodes into vivid color through the illustrations of Loren Long, the New York Times bestselling author and illustrator of Otis picture books and illustrator of former President Barack Obama's picture book, Of Thee I Sing. NEA Today spoke to Long about his work on Change Sings and how educators can use it in their classrooms.
What excited you about working on this project with Gorman?
Loren Long: She puts forth this amazing promise and possibility and hope into the world, even at such a young age. The impact she is making is so big—and growing.
Personally, I was excited about getting to illustrate her words, which to me are about taking action. I read the words over and over again before sketching. When I realized that her words were a powerful metaphor, a call to action, I wanted my pictures to show that action—doing good and kind works to make the world better.
Like Gorman's inaugural poem "The Hills We Climb," I feel this book has such hope in it. We have an intense political divide in the world, but this book holds hope for goodness and positivity. That's what I felt when I first read it, and that's how I still feel.
How can the book inspire readers to become change-makers?
LL: You could read it from different sides of our country's divide and find inspiration in universal themes. Through the words and illustrations, which show children joining together to make changes, it sends readers powerful messages of empowerment, inclusiveness, and positive change that resonate with and inspire children of all ages and backgrounds.
Why is Change Sings a good choice for classroom teachers?
LL: Little eyes and ears have taken in everything that has happened during these tumultuous times and may have felt powerless. The book shows them they do have power, which is a tool for social and emotional learning, civics, and history. There are also really cool and creative lessons for poetry, stories, and art.
Our publisher, Penguin Books, recognized right away that this book was perfectly suited for education and created the #TeachChange Changemaker Kit for educators that includes an oversized poster, a list of activities, and an educator guide. (Download the free kit at sites.prh. com/teachchangesings.)
What are some lessons educators are sharing on #TeachChange?
LL: On Twitter, I've seen some very creative and exciting lessons for students from elementary school through high school. One teacher asked her students, who were in first through eighth grades, to list all of the things that must change to make the world better. They suggested that food, water, and shelter should be clean and affordable for everyone; that we build racial equality; that we make room for everyone's voices; and that popcorn should cost 2 cents.
Another teacher asked her class to write down everything they noticed and wondered as they look at the pictures and read the poem. When the class shared their thoughts, students noticed how colorful the pictures were and wondered if the colors were what made the words sing. They noticed that in the first mural, the kids are looking at a picture of Martin Luther King Jr., and in the second, the kids appeared on the mural themselves, and the crowd is looking up at them. The students wondered how the inspiring words on the paintings were chosen. Elementary school students have very different questions and observations than those in middle school.
How can teachers use this book in the classroom?
LL: For language arts lessons, ask students to discuss the differences between a narrative story and a poem. How does each convey a setting and characters? Is there a story in Change Sings? If so, how does it unfold? (Spoiler alert: The narrative arc is set by the illustrations.)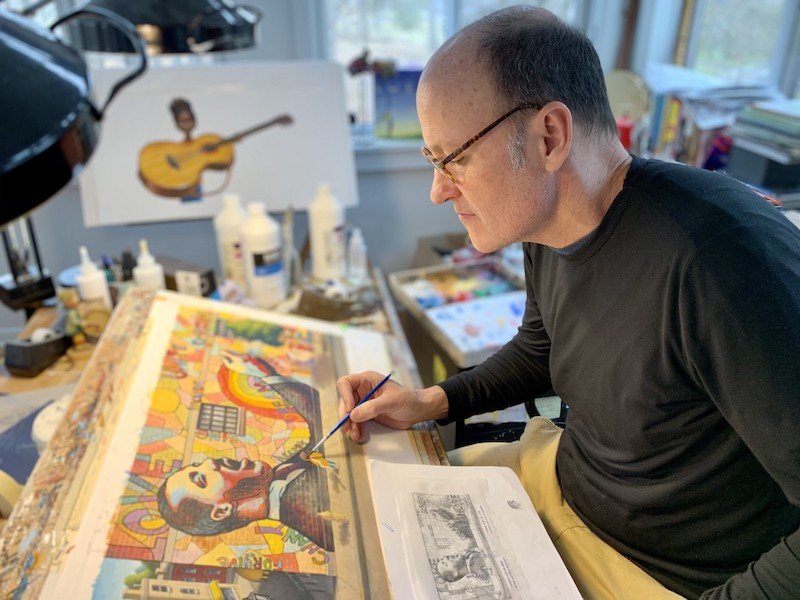 Or, put up the pictures and take away the words. Ask students to come up with a verse to describe what they're seeing.
For an art lesson, write a verse from the book on a whiteboard. Ask them to visualize and then draw a picture to go along with it. Here are two of my favorite verses:
I can hear change
humming in its loudest proudest song.
I sing with all the planet
And its hills of histories.
The results will be fascinating. If you have 25 students, you'll have 25 different visuals.
Teachers are so creative. It's inspiring when teachers write to me and share how they used one of my books in their classroom. They're brilliant! I have dedicated my professional life to children and children's literature, but I can work and put that away. When I do school visits and spend a block of time with all of the students, I come home exhausted. Teachers give so much, all day every day.
I know there are so many challenges, but educators must come home sometimes and say, that was a pretty good day, because I gave myself all day. That's what a teacher does, and that's such a noble thing.
Stay Informed We'll come to you
We're here to help you succeed in your career, advocate for public school students, and stay up to date on the latest education news. Sign up to stay informed