President Joe Biden and First Lady Jill Biden took the stage at the 2021 NEA Representative Assembly (RA) on July 2, saluting the extraordinary work of educators and promising to keep the funding of public education a top priority of the administration.
"Our children are the kite strings upon which our national ambitions are lifted, and your profession helps them believe they can do anything," President Biden said. 
When the COVID-19 pandemic shut down schools in March 2020, educators in every school district did everything in their power to help students and their families, First Lady Jill Biden told the delegates.
"You are professionals. All of you." —President Biden
"I saw it with my own eyes. The cafeteria worker who spent long hours making sandwiches for hungry families. The teacher who re-taught her lessons at night because her student's siblings used the family computer during the day. The bus driver who drove [buses as wi-fi hotspots] to neighborhoods with no connection."
President Biden assured the delegates that the American public saw and marveled at their efforts. "The entire country has witnessed the dedication and resolve of NEA members."
"The American people understand what you have been saying for years: You are professionals," he said. "All of you. And all of us have a responsibility to make sure you have what you need to educate our children equitably, safely and well." 
Shared Values
President Biden is only the fourth sitting U.S. president to visit the NEA RA and the first since Bill Clinton in 1993. (The other two presidents were Dwight Eisenhower in 1957 and Lyndon Johnson in 1965.)
Throughout the 2020 campaign, he and Dr. Biden, an educator and longtime NEA member, consistently reached out to educators across the country, building broad support among NEA members.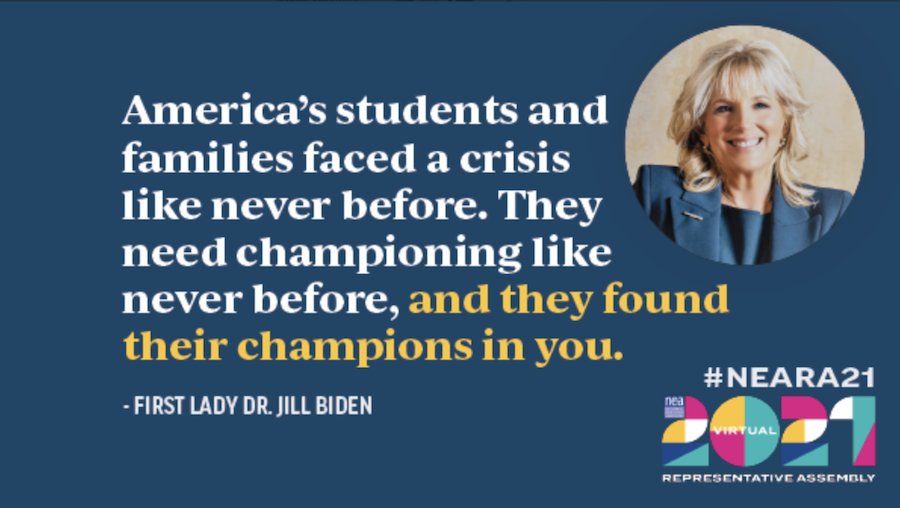 Last year, as the First Lady reminded delegates on Friday, she promised that if the nation elected Joe Biden president, "educators would have one of your own in the White House."
"Well, here we are," she said. "You helped make this real, so thank you NEA. I have never been more proud to call myself an educator." 
The First Lady then introduced NEA President Becky Pringle - "our union president"  - as someone who "makes us all proud."
Welcoming President Biden to the RA, Pringle praised him for an "unwavering commitment to our students, to educators, to unions. to racial and social justice... to the shared values we all hold dear: freedom and fairness, equity and equality."
'We're Just Getting Started'
Biden began his speech by recounting how far the country had come in only six months. The nation is reopening after a tremendously successful vaccination rollout and the economy is picking up momentum thanks in large part to the American Rescue Plan (ARP). Within 8 weeks of taking office, Biden pushed this historic economic relief package  through Congress, which includes nearly $170 billion in dedicated public education funding and  historic anti-poverty relief for children and working families.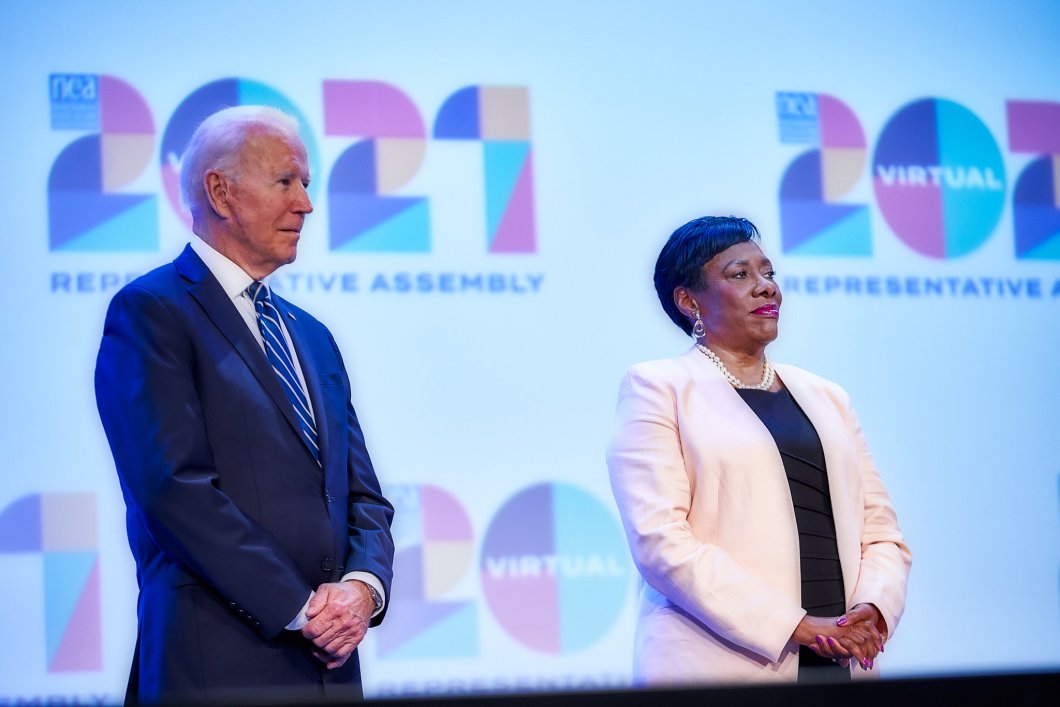 It'll take much more to "build back better," Biden said. "We're just getting started."
"We are doing things that will fundamentally change the trajectory of this county. It's about building America from the middle up and middle out, not trickling down. ...There is much we can and must do."
That includes making sure the nation's schools are as strong as they can be.
Quoting the First Lady, Biden said that "any country that out-educates us will us out-compete us. We have to build for the rest of the 21st century because the rest of the world isn't sitting around waiting."
To meet these historic goals, 3 million educators can help lead the way, said Biden. "The NEA is one of the nation's indispensable organizations."
'You Deserve A Raise, Not Just Praise'
Immediately after the passage of the ARP, President Biden unveiled the American Jobs Plan, a massive infrastructure plan that would help to rebuild our decaying and unsafe public school buildings.
Weeks later, Biden introduced the American Families Plan, another bold, far-reaching proposal aimed at funding critical programs and services for students, families and communities. It includes federal funding to make pre-K and community college free for all, funds for child care and family medical leave, and provides other critical investments for families. It also addresses the critical educator shortages across the county.
His federal budget proposal unveiled in April calls for a 40% increase in education funding, including an additional $20 billion that would be dedicated to students in under-resourced schools and communities.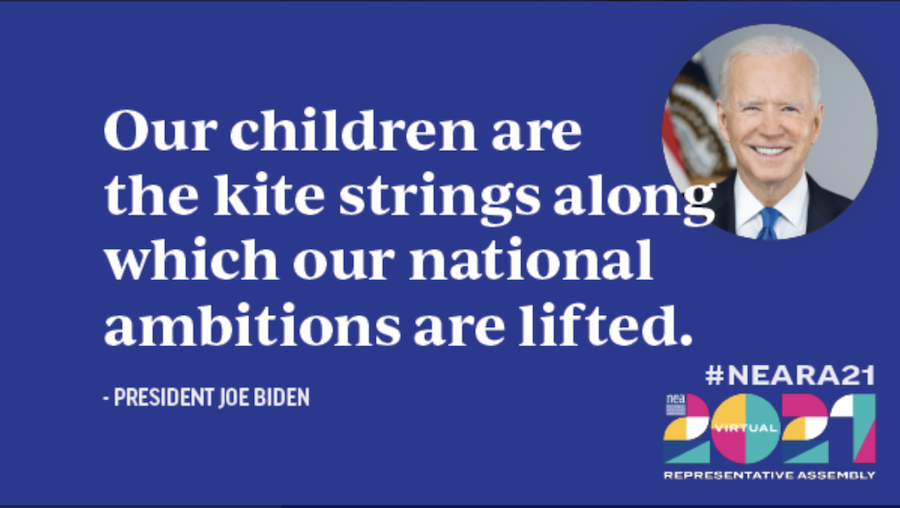 Taken together, Biden's proposals mark the largest investment in students and public education ever.
"This is an historic effort to decrease the funding gap between rich and poor school districts," Biden told the delegates on Friday. "No student's education should depend on their zip code."
One of the top priorities of the funding bill, he said, would be to pay for higher teacher salaries and give them the resources they need.
"This is absolutely necessary if we are going to compete in the 21st century. Unions and teacher protests across the country made it clear that you deserve a raise - not just praise!" 
Creating a stronger, fairer, more equitable education system, the president said, is a "campaign in and of itself. We can't do it alone. We need to get the word out. So let's make this happen together!"
Biden closed his address with a heartfelt plea to every educator, particularly those who, after the most challenging year of their careers, may be feeling deflated, discouraged and unsure what the upcoming year may bring.
Besides teaching reading and math, or giving the hungry student a little more food in the cafeteria, Biden said,  "you give kids something more important— you give them confidence. You give them dignity. You make them believe in themselves...You help determine what this country will look like in the future. So understand how important you are. Don't give up on yourselves."
---
Join a campaign.
We need to dismantle unjust systems. We need to fully fund public schools. We need to hold our elected leaders accountable to our communities. And we need your help to make it happen.
Stay Informed We'll come to you
We're here to help you succeed in your career, advocate for public school students, and stay up to date on the latest education news. Sign up to stay informed