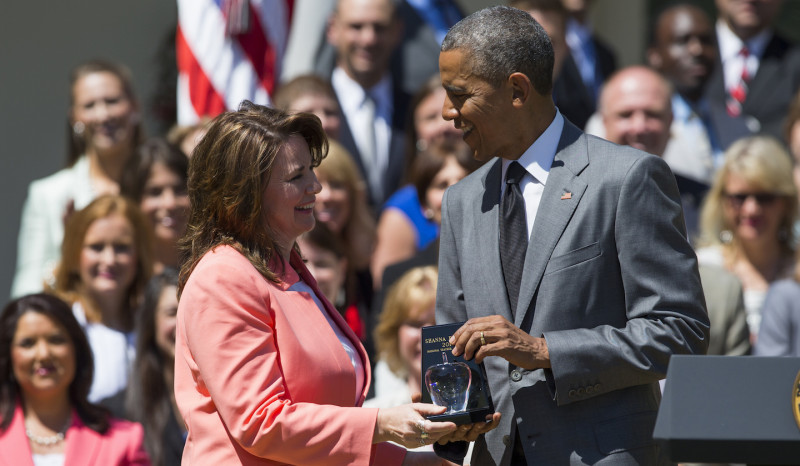 President Obama presents the 2015 National Teacher of the Year award to Shanna Peeples on April 29, 2015
President Barack Obama honored Shanna Peeples, the 2015 National Teacher of the Year—along with all of the State Teachers of the Year—at the White House on Wednesday in a ceremony to let educators know that "we see how hard they work, we know the difference they make in their students' lives, and…in the life of our country." Peeples, a high school English teacher from Amarillo, Tex., was awarded the prestigious title on Monday by the Council of Chief State School Officers (CCSSO).
The National Teacher of the Year Program, now in its 65th year, honors educators representing the teaching profession as their State Teacher of the Year. This program allows teachers from across the country to collaborate with policy makers at every level and advocate on behalf of the teaching profession.
"Everyday, the teachers behind me, they give their students their all—their knowledge, their creativity, their focused attention, their love. They empty the tanks for their kids and then they get up the next morning and they do it all over again," Obama said. "America is hungry for teachers like these, which is why we've got to acknowledge them  - because every school has teachers like these and we don't give them enough credit."
And Peeples is a prime example of an educator who empties her tank every day for her students.
At Palo Duro High School, where she serves as the English department chair and instructional coach for other teachers, she works with a student population that is 85 percent low-income and many of her students have experienced violence and trauma in their home countries, including Iraq and Somalia.
"But Shanna's classroom provides them a safe haven," explained Obama, "and in Shanna finds someone who protects them fiercely and believes in them deeply and sets high expectations and is confident they're going to do amazing things."
Peeples is no stranger to trauma herself. She grew up in a violent home, but overpowered her situation through the help of her teacher, Mrs. Belton, who taught her that it was "possible to read and write my way into another life."
Today, Peeples uses that same lesson for her students to give them a voice and an opportunity to tell their story, helping them to grow academically and emotionally. For example, many of her students have gone off to Ivy League schools or have been awarded prestigious scholarships. Additionally, the number of students taking the AP English 4 exam has gone from zero to 30 in the past five years. Her students reach into the community, too, working on local public health campaigns or conducting social science research on the health benefits of gratitude.
Peeples says that teachers are the beacon, stability, and the source of inspiration for many students.
"So many teachers, like those behind me, stay after school to listen to our students, go to their games or concerts, or just create a safe place where they can draw because we are stable, dependable adults," she says. "Schools and their teachers are a stabilizing force in society and a fierce promoter and protector of our democracy…[they] must always stay open because teachers doors stay open, saying come in, lets learn, let's hope, lets begin dreaming."
Video:President Obama Celebrates the 2015 National Teacher of the Year and Finalists
Photo: Associated Press