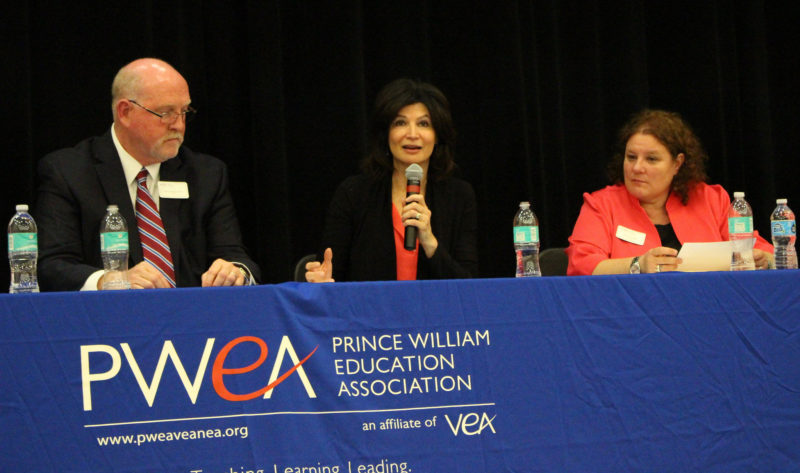 NEA President Lily Eskelsen García discussing the Every Student Succeeds Act at a townhall in Manassas, Virginia.
Morgan Dennis, a high school student at Forest Park High School in Prince William County, Virginia, said she gets migraines from the enormous amount of test stress she's under at school. Classmate Caili Downs agreed.
"It's actually affecting my eyesight, all the testing," Downs said. "It takes the fun out of school. The work and testing level in AP classes is just way too high."
The students were seated around a cafeteria table at Stonewall Jackson High School in Manassas, Virginia, with educators, parents and community leaders at a townhall meeting hosted by the Prince William County Education Association (PWEA). The goal of the meeting was to get input from everyone in the school community about how the new Every Student Succeeds Act (ESSA) could reduce testing and improve public education overall.
Community members now have the chance to weigh in on both the Virginia state plan, which will be rolled out in September, as well their district plans. The National Education Association (NEA), Virginia Education Association (VEA) and affiliates like PWEA are now asking that people fill out an "opportunity checklist" for schools that will improve learning conditions. Reducing testing, increasing enrichment programs, improving school climate, updating technology – anything and everything that makes a school great should be on the list.
NEA President Lily Eskelsen García calls for an "opportunity dashboard" composed of key indicators of school quality that is largely data already captured by the Department of Education's Office of Civil Rights. They include access to advanced coursework (AP/IB, dual enrollment, college gateway math and science) fully-qualified teachers, specialized instructional support personnel (school counselors, nurses and psychologists), high-quality early education, arts and athletic programs, and community health care and wellness programs.
We want to find what the best schools with the most successful students are providing and give that to all of our schools. Did you know that 80 percent of the richest families send their kids to their neighborhood public schools? Why? Because they are fabulous schools." - NEA President Lily Eskelsen García.
At the PWEA townhall, more than 150 people crowded around tables throughout the cafeteria to share what they thought schools needed to improve and how ESSA might help. The one issue that kept popping up at every table – testing and test stress.
One educator said she tries to find ways to give students brain breaks and creative outlets to break up the grueling testing sessions. A central office staff member said schools should offer instructional support with more mental health specialists like counselors, social workers and nurses to help boost positive school climate and reduce test stress. A parent said her daughter must take AP tests even if she doesn't want to and that parents should be informed about how to opt their kids out.
"A townhall like this is so critical because we have an opportunity for change and improvement and we need to listen to all voices," says Prince William County School Board vice chair Lillie Jessie. "We're hearing a lot about testing, and though we need ongoing assessments, there is a lot of standardized testing that doesn't guide instruction. Any test that doesn't guide instruction is the wrong kind of test. Right now, ESSA offers an opportunity to improve assessments, and as we continue with implementation we'll continue to get input from the community."
When Jim Livingston, a middle school math teacher and Virginia Education Association president, addressed the townhall he said that "nobody in this room has ever learned a thing by filling in a bubble on a standardized test. With ESSA we are talking now about how to improve performance assessments and reduce testing. For teachers, that's exciting because that's where the joy gets back into learning. It's coming!"
He said that the heart and soul of ESSA is about continuous improvement. "As union leaders, educators, parents, community members and students we should always be asking how could I have done that better?" he said. "And what ESSA recognizes and the No Child Left Behind Law failed to see is that improvement doesn't come from the top down but from the bottom up. ESSA requires policy makers to listen to us and that's the piece that's been left out for far too long."
ESSA allows for educator and community voices to be heard and Livingston encouraged everyone gathered to make their voices heard. "It's an opportunity we haven't had in two decades."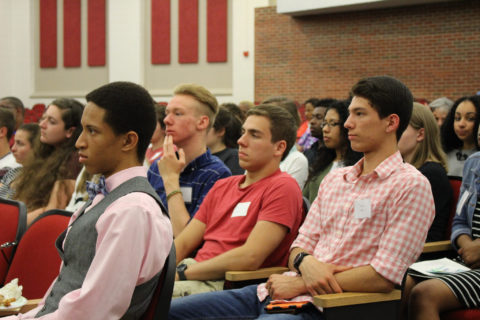 Northern Virginia high school students at the ESSA townhall on April 20.
NEA President Lily Eskelsen García, the keynote speaker at the townhall, said her proudest moment was sitting in the White House with President Obama when he signed ESSA into law and signed out of existence No Child Left Behind, or what she called "No Child Left Untested."
But she said that ESSA isn't only about getting rid of the era of toxic testing, it's about finding ways to improve all aspects of education and doing so with the expertise of those who know it best – our educators.
"On every state and school level they are asking us to provide a dashboard of indicators of what makes a school successful, things that measure student success beyond standardized tests like access to classes offer college credit in high school, access to rigorous classes, or gifted and talented programs in elementary schools," she said. "And a librarian! That's like a unicorn in some places, having a librarian in some areas is like a fable, but we know a staff librarian is a measure of school success."
For years, Eskelsen García said, the government tried to find the school failures by looking at test scores, and when they were low, they blamed the teachers and administrators. They fired people and shut schools down.
"We want to do the opposite. We want to find what the best schools with the most successful students are providing and give that to all of our schools," she said. "Did you know that 80 percent of the richest families send their kids to their neighborhood public schools? Why? Because they are fabulous schools."
She encouraged everyone to visit the best schools they can find and take inventory. Do they have an orchestra? A school nurse, librarian and counselors? How about updated technology? Are there AP classes, baccalaureates, after school programs, enrichment classes, and nutrition programs? She said that educators should make a list of all the things that make a school great and demand that they be offered at their own schools. ESSA offers that opportunity.
The focus on charters and vouchers are a deflection that evade the real questions, she said, like why some schools are allowed to have roofs that are leaking or why some schools have no counselors to reach out to kids at risk of dropping out.
"Every public school should look like our best public schools," she said.
While policymakers focus on the letter of the law, educators, parents and community members can focus on the spirit of the law, Eskelsen García said.
"It's all about voice, your voice," she said. "Talk to each other. Partner with each other. Together we can design the schools of our dreams. What would the school or your dreams look like? Kids would smile. Parents would show up. Well, who wants to work on why the parents aren't coming and how we can change that? Why aren't kids smiling and what can we do to change that? Once you're working on your dreams, you won't let anyone stop you."
Learn more about how to get involved at getessaright.org.
Learn More