Lamar Butler, left, and his wife Rosa settle in with their children at the Twin Lakes Elementary School's storm shelter in preparation for Hurricane Irma, Friday, Sept. 8, 2017 in Jacksonville, Florida. (Will Dickey/The Florida Times-Union via AP)
As Hurricane Harvey charged into Port Arthur, Texas, 90 miles east of Houston, Wren Lloyd was one of the brave volunteers driving school buses to take hundreds of people to safety in emergency shelters.
Lloyd, a bus route supervisor and driver for Port Arthur Independent School District, admits that hauling busloads of people through driving rain and strong winds was scary.
"We didn't show it, but we were very apprehensive," she said.
She was right to be afraid. Driving evacuees to safety is dangerous work and storm waters are unpredictable.
A Boat Rescue
After delivering a busload of people to the Bob Bowers Civic Center, brown, murky water began to seep in. Before long she and several other district bus drivers were marooned with their passengers by rising floodwaters. Eventually, on Wednesday they were rescued by boat.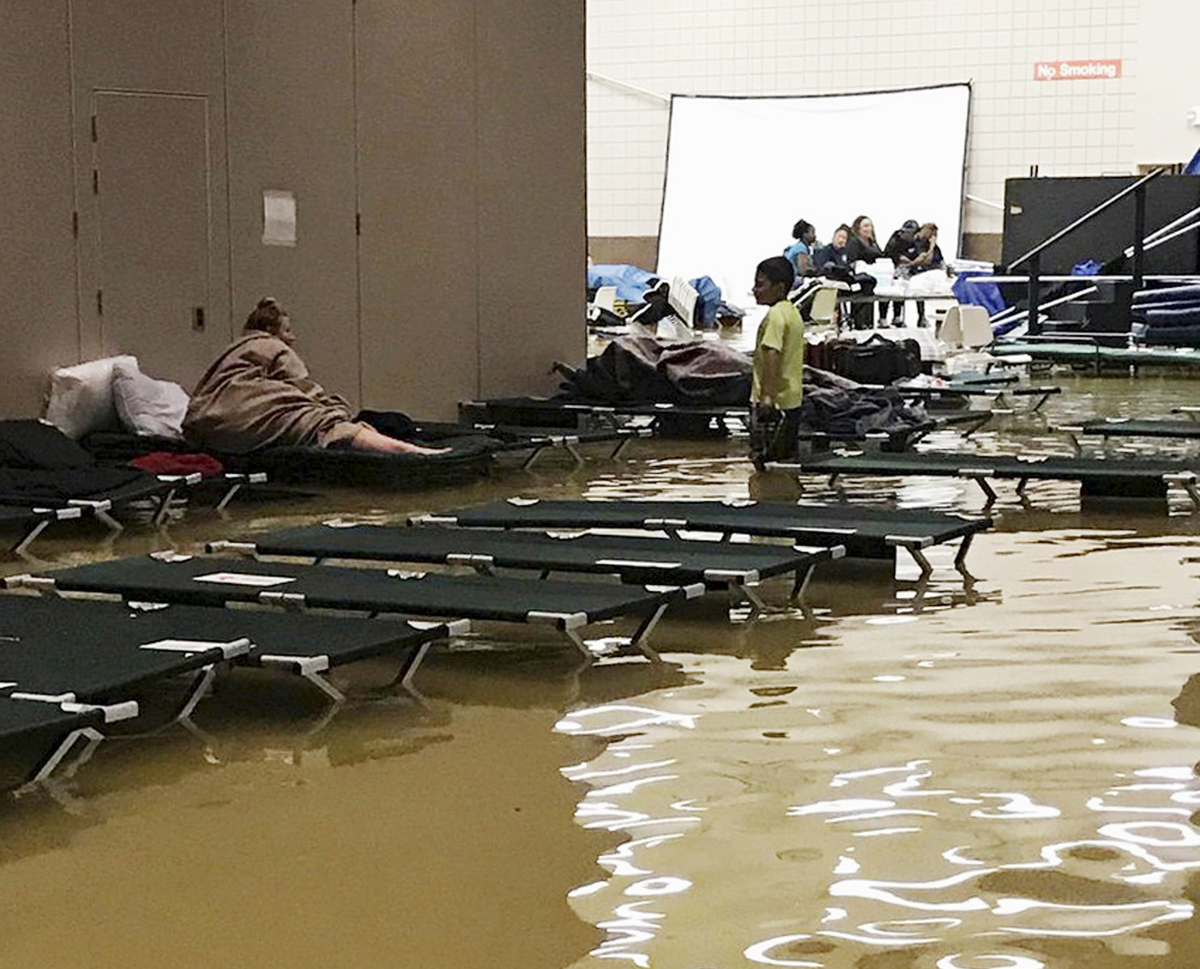 People in the Bob Bowers Civic Center, meant to be a shelter in Port Arthur, Texas, were surrounded by floodwaters caused by Tropical Storm Harvey, in this photo provided by Beulah Johnson.
Exhausted and shaken by the experience, Lloyd could have taken a much-needed rest. Instead, she got back on another bus and and shuttled hundreds more evacuees to safety until the wee hours Thursday morning.
Lloyd has spent most of her life in Port Arthur. It's her home and community, and when it was in crisis she was determined to find a way to help. After all, those were her students and their families in the path of the storm.
Public Schools Center of Community, Especially in a Storm
Public schools and public school staff are the hub of a community, and in hurricane-prone parts of the country, they can be relied upon to open and staff shelters and transport evacuees during the storm.
They did it in Texas, and a few weeks later, they did it in Florida, too.
On the heels of Harvey came Hurricane Irma, a monster storm that prompted the evacuation of 6 million people. Again, public schools and public school staff stepped up to respond.
"Our state's public schools serve a vital role in our communities as shelters for displaced residents and staging areas for hurricane recovery efforts," said Florida Governor Rick Scott.
Florida's Educators Offer Shelter and Comfort
Across Florida, counties have agreements with their school districts to use their school buildings as evacuation shelters during hurricanes. The reasons are clear – public schools are in every community; they are safe, public spaces that are solidly built, and officials know how many people they can hold. What's more, school staff are always at the ready to help their students, families and community members. It's at the heart of what they do every day.
At every #Irma shelter I visit, I am greeted by the smiling faces of @mdcps employees who are putting needs of others before their own. pic.twitter.com/1V5CUzXkaX

— Alberto M. Carvalho (@MiamiSup) September 9, 2017
As Hurricane Irma approached, Miami-Dade County opened 42 schools to shelter more than 20,000 evacuees, some of them with their pets. Palm Beach County schools sheltered 17,000 evacuees at the peak of the storm, according to Superintendent Robert Avossa. Throughout the state, schools opened shelters for their communities – some at the last minute as the track shifted west.
There were public schools that became shelters for the elderly and for disabled people. Johns Hopkins Middle School in St. Petersburg was full service (video) – its library housed the elderly and disabled with hospital beds, wheelchairs, and oxygen tanks; its locker room became a pet motel with animal crates lining the floor.
Custodians helped set up cots, cafeteria workers cooked and served hot meals, librarians read to children, nurses offered first aid – whatever was needed, educators delivered.
Now Schools Need Community Help
In Texas last Monday, about 80 percent of the Houston Independent School District's 287 schools opened after a two-week delay. The rest won't open until late September or even October. Flooding destroyed infrastructure and many schools will be uninhabitable for weeks.
About 270 Houston area teachers have been unable to go to work because of damage to their own homes or other disruptions after the storm, school officials said. In Port Arthur, where schools will open this Monday, Wren Lloyd estimates more than 200 district employees have damage to their homes.
She continues to pitch in, making calls and seeking donations for her friends, neighbors, and colleagues.
"It's all about trying to help somebody," she says.
Find out how what you can do. Visit nea.org/hurricanerelief to help and for additional information.