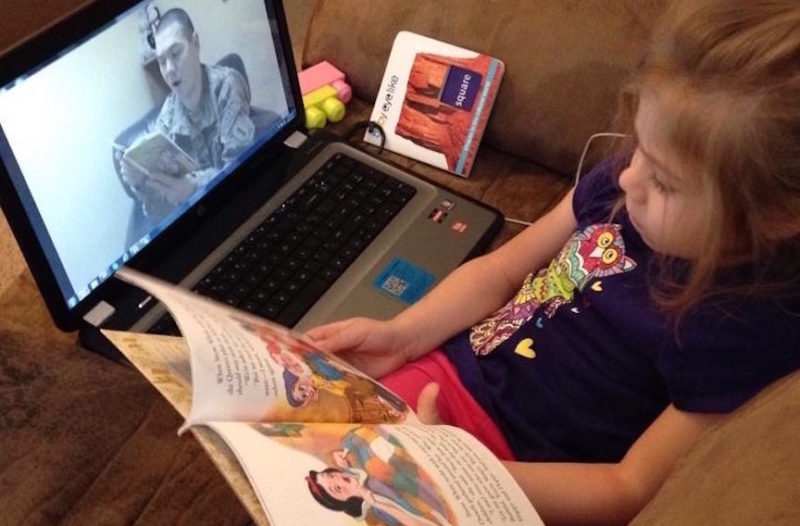 Even though he is active duty Navy and is deployed for weeks or months at a time, Rex Bobblet still reads to his four children every night before they go to bed. He might be thousands of miles away, but all that the children need to do is pop in a DVD and there he is, reading their favorite books to each of them in funny voices and asking them questions about the plot and characters.
The Boblett family participates in United Through Reading, a national nonprofit program that helps ease the stress of separation for military families by having deployed parents read children's books aloud via DVD for their kids to watch at home.
"When he's deployed, the kids race to the mailbox each day hoping to find a new package with the United Through Reading sticker on it," says Boblett's wife Veronica.
"Each time a new package arrives we immediately play the DVD and smiles instantly spread across the kids' faces as they see what stories Daddy picked out."
During deployments, the DVDs became part of the family routine. Each night at bed time, the kids got a Hershey kiss as a goodnight kiss from their father, and then they'd listen to him reading a story while they followed along with their own copy of the book. It not only gave the kids a much-needed connection to their dad, it provided that "extra set of hands" Veronica needed to throw in some laundry or clean up the kitchen.
"It was like he was right there helping me like he always does," she says.
Separation Anxiety
One of the most difficult things a child can experience is having a parent deployed to a militarized zone for an indeterminate period of time. And though it's a routine part of life for military families, it takes a toll on kids. Research shows that children from active-duty military families experience higher levels of emotional difficulties during family separations than children in the general population, which can impact their academic achievement. A RAND Corporation study found a strong association between children who have endured separations from a parent due to deployment and lower achievement in reading and math.
"United Through Reading makes the distance between service members and their families during deployment seem a little less far while encouraging literacy skills and language development," said UTR CEO Sally Zoll.
Through the program, the service members record themselves reading a book at one of the more than 200 UTR recording sites worldwide, where UTR-trained volunteers guide them in selecting age-appropriate, stimulating books to send home along with a video-recording of them reading the book.
Parents are encouraged to ask questions and engage the children with funny voices so that the children will play the UTR videos over and over again. Research shows that listening to one book read multiple times and engaging with that book by answering questions positively impacts language development and literacy skills and helps ignite a life-long love of reading.
Bolstering Family Bonds with Books
Kelly Rogan is a UTR volunteer and a Reading Specialist at Arcola Elementary School in Aldie, Virginia. As an educator, she knows firsthand how the UTR program benefits students.
"We know that students who feel safe and comfortable at home are more ready to learn than those who worry about outside concerns, and there is extensive research on how reading aloud is one of the most important activities we can do with kids to accelerate their academic growth," Rogan says. "UTR provides both comfort and literacy for children in military families. ...I can think of no greater gift than to offer them a strong emotional connection with their deployed parent while building the foundation essential for positive learning experiences."
Rogan has a deep respect for the sacrifices servicemen and women make. She says she volunteers with UTR not just for the benefits it brings students, but also because of how it enhances the lives of the mothers and fathers who serve.
"I'm a single mom and I am more than aware of how lucky I am to have my children at home with me and I'm beyond grateful that I get to read with them every night," she says. "The families who are beneficiaries of UTR don't have that luxury."
But for the Boblett family, the UTR recordings keeps the connection between Rex and his kids strong. Over the years, the family tried a lot of different ways to make connections. They used teddy bears with his voice recorded on them, they made "daddy blankets" with his picture on them, and they SKYPE when they can. But by far, says Veronica Bobblet, UTR has been the greatest tool in the family's deployment toolkit.
"Not only for the kids but for Rex as well because it helps him to feel like he is still a very strong presence in the family by taking part in our everyday routine, and he loves knowing that he is helping me by giving me a break when I need it by playing those videos," she says. "We have always read together as a family from the time they were born so they know it is important to us, so seeing that Dad is taking time out of his day to read to them even though he is so far away just drives that point home."
Learn More
Stay Informed We'll come to you
We're here to help you succeed in your career, advocate for public school students, and stay up to date on the latest education news. Sign up to stay informed