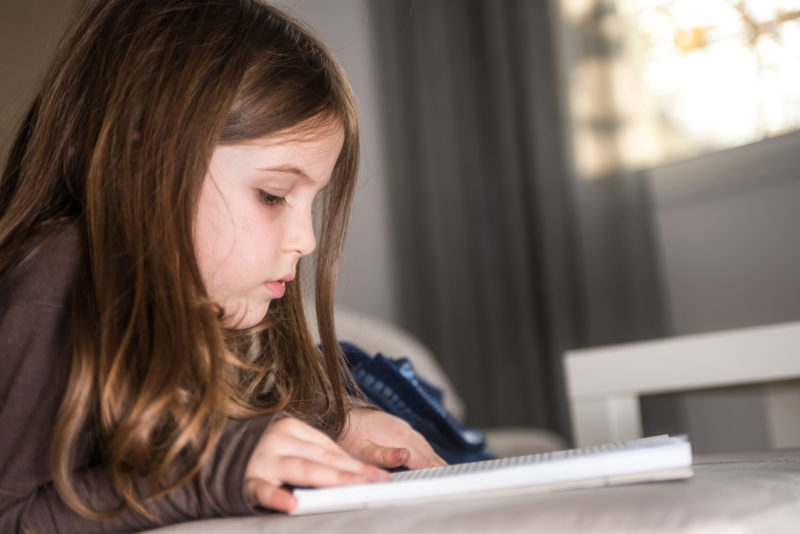 A student sits at the kitchen table of her Washington, D.C.-area home. She rubs her eyes as she cries. A book lay open in front of her. The six-year-old kindergartener shouts in desperation at her mother, "I can't do this! I don't know how to read!"
Many kindergarteners are experiencing similar outbursts with the national push to get them to read and write by year-end. For some students, this is a walk in the park. But the majority of educators who responded to an NEA Today Facebook post on reading-age appropriateness, say most kindergartners aren't ready.
"Parents think their children will learn letter recognition and sounds. They are shocked to learn what is expected in kindergarten," says Hilda Kendrick, a kindergarten teacher in Jeffersonville, Ind. "The reading requirements stress out teachers and students."
Kendrick explains that the Indiana Academic Standards and the College and Career Readiness Standards for reading expect kindergarteners to not only read, but write sentences, too. Under the Common Core State Standards, kindergarteners do more than just sing the ABCs. They are guided to develop a deep understanding of what the alphabet does and how each letter blends to make words.
Pennsylvania kindergarten teacher Holly Mariucci says, "There are a lot of kids who aren't ready for that. There's so much pressure on them to perform."
The root of this pressure could be traced as far back as 1983, with the Nation at Risk, which lambasted the state of U.S. schools and called for a host of much-needed reforms to right the alarming direction that public education was seen to be headed.
Since this scathing indictment, most schools have taken drastic steps to meet the report's challenge to adopt "more rigorous and measurable standards" for learning.
In 2002, No Child Left Behind scaled up expectations that trickled down to young learners. Subsequently, "the law placed pressure on students in kindergarten, first, and second grades to pass the third-grade standardized test," says Shyrelle Eubanks, a senior policy analyst for NEA and a former kindergarten teacher in Maryland.
But Eubanks says children can do more in kindergarten. "It is not developmentally inappropriate to learn to read in kindergarten. It's the approach that could be developmentally inappropriate."
Peggy Martin-Lockhart of the Greater St. Louis Area agrees, saying it's okay to expose early learners to print so they can begin to recognize sight words, "but you can't expect everyone to grasp it—their brains aren't ready."
Her career in education spans 31 years, from kindergarten teacher and elementary school principal to special education administrator. She's an advocate for developmentally appropriate early education, which means playtime must be an element of learning for kids this young.
Playtime
For Mariucci, playtime is over.
She explains that 13 years ago in Pennsylvania she taught half-day programs that focused on letters and the sounds they made. Kindergarteners moved to first grade where they learned how to decode words and learned ten to 12 sight words.
"As the years went on everything got pushed down to a younger age," she says.
Her district expects kindergarteners to finish the year reading at a D-Level. This means student should read fiction and non-fiction; follow text with the eyes (not point); read text with fewer lines of repeated words; read compound words; self-correct mistakes; and read high-frequency words: an, am, do, go, he, like, me, my, no, see, we.
"There's no research that show kids who master these skills in kindergarten have any better academic success than kids who do it in first grade," says Mariucci. "We're getting away from what they need—and that's play."
For Betsy Wycislak, a kindergarten teacher in Illinois, the standards are appropriate and her kids do get to play. The issue often stems from the standards being re-interpreted by the school community, which includes some administrators, legislators, school boards, and community leaders.
"People are pressured to show good test scores and the standards are being re-interpreted to fit this idea that if we want students at a certain lexile level at the end of high school then they have to be reading in kindergarten," says the 20-year veteran. "This doesn't align with how kindergarteners' brains are wired or how they learn—but some [people] are panicked."
This panic has created angst among educators, who have gone from a play-based learning environment to structured classwork with more academic preparation and less social development. And in the name of high achievement, kitchen sets have been put away, recess cut, and creative curriculum swapped for worksheets.
Mariucci, who prided herself on an annual school performance that included games, art, songs, word decoding, math, listening, and public speaking, was disheartened to learn she was to cease and desist the show.
"It wasn't just fluff. It was a thematic unit that aligned with Common Core," she sadly says.
The reason? She needed to stop wasting instructional time for practice on a show.
Recess has also fallen victim to instructional time, too. What once was a 30-minute block of time has decreased to 20 minutes. It's less time when you account for the lack of transition time: lunch ends at 12:10p.m. and recess begins at 12:10p.m.
"They don't get a moment to breathe," Mariucci says.
Mind the Gap
The school year starts with a significant disadvantage among kindergartners, too, because some don't know how to write their names to others reading a few sight words. Some students come from an academic preschool setting while others come from the arms of baby sitters who rarely exposed them to books.
"We try to close that gap," Mariucci says, "and have everyone reading at the same level by the end of 180 days, but you can't—there's just a big gap. I have a little boy who still can't write his name, and it's day number 163."
In Indiana, all but one of Kendrick's students can read at Level Six, which includes a variety of sentences with eight to 10 words; words with inflectional endings (-s, -ed, -ing); some compound words; and some irregular past tense verbs (ran, came). Some of her students are reading chapter books while others are on a third-grade reading level.
"Even though play is out, I try to make it fun and I can justify everything," she says, adding that her district has yet to tie evaluations to test scores, which makes a difference in a teacher's approach to learning.
What also helps? An administrator who gets it.
Martin-Lockhart says, "principals who have developmental knowledge of literacy are often more supportive of their kindergarten teachers, and will give them the freedom to make executive decisions—but not as many of those are like that now."
Wycislak, who teaches 50 miles outside of Chicago, says she has good administrators in her building, and district personnel who are willing to listen. "Those are key variables. A principal who's being evaluated on how well the kids are doing might stress and push that on to the teachers."
Whether educators agree with the standards or expectations, one thing is clear: kindergarten needs to be fun and engaging. "All children are gifted," says Kendrick. "Some just open their package sooner."
Stay Informed We'll come to you
We're here to help you succeed in your career, advocate for public school students, and stay up to date on the latest education news. Sign up to stay informed