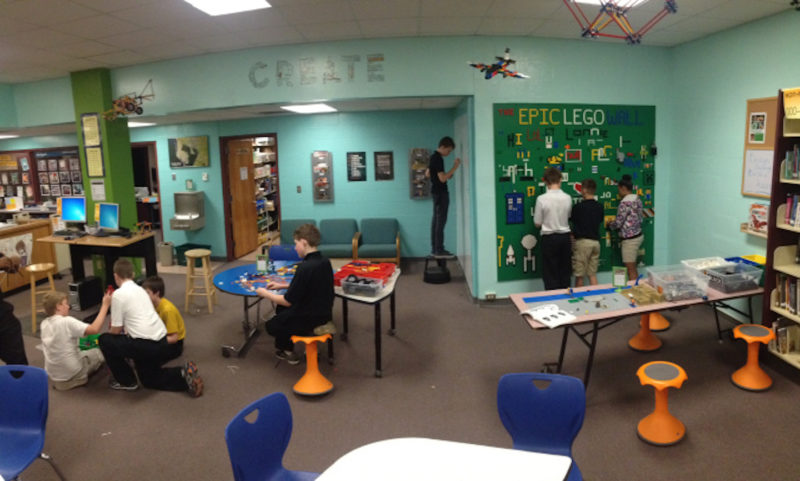 At Caine's Arcade, $2 will get you a Fun Pass worth 500 chances to play miniature basketball, soccer, and other games. Like most arcades, you get tokens and can win toy prizes. Unlike any other arcade, Caine's is constructed of cardboard and packing tape.
The proprietor, Caine Monroy, used empty auto parts boxes, coloring supplies, and his nine-years-old imagination to assemble an elaborate collection of games in the vacated office space adjacent to his father's auto body shop in Los Angeles.
The arcade inspired an 11-minute documentary, "Caine's Arcade," by filmmaker Nirvan Mullick that has garnered more than 10 million views on YouTube and inspired children around the world to innovate with everyday materials to open up arcade businesses.
The film also received the admiration of adults, including school librarians.
"I'd like to think our kids could learn a thing or two from Caine," writes blogger Gwyneth Jones, the "Daring Librarian." Jones is a teacher-librarian and technology specialist at Murray Hill Middle School in Laurel, Maryland.
"This is the kind of spirit of ingenuity and optimism we foster here at Murray Hill," she adds.
"The idea of the school library as this quiet place where school librarians are there to shush everyone and check out books is archaic," says Courtney Pentland, a teacher for library services for Omaha Public Schools in Nebraska.
Librarians across the country are working to create innovative spaces for their students, to enhance their learning process and nurture their imaginations.
"Back in the day, people were information seekers and consumers," exaplins Priscille Dando, coordinator of library information services in Fairfax County, Virginia. "Now, information is easier to come by so people want to create … something."
A Place for Every Student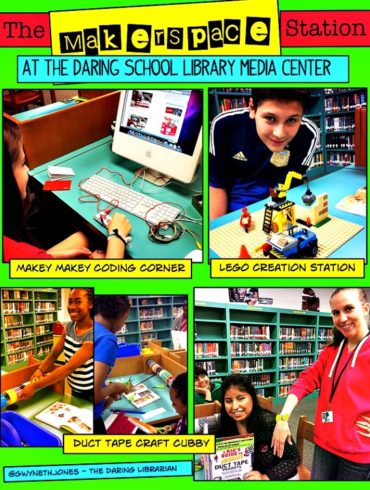 The Daring Librarian's Makerspace Starter Kit
At Randallstown High School in Baltimore County, Maryland, students flock to the library. It is usually full of students reading, collaborating on homework, creating art or using technology involving robotics and drones, according to Joquetta Johnson, a librarian media specialist at Randallstown.
"The library is the hub of the school," says Johnson, who is credited with many of the library's innovations. "The students see the library as their space, to create their authentic selves."
Johnson first embraced the new social trend at libraries by creating zones, separating floor space into different sections so every student could find a comfortable spot. There are reading areas, places to use technology, and creative spaces where students can talk and collaborate.
At Murray Hill, Gwyneth Jones is dedicated to making her library a place where every student can feel comfortable. "Not all kids feel safe to explore at school," she says.
Jones works hard to provide library access to all sorts of "creative types."
"Some kids don't enjoy your typical recess, so they need the library," says Jones. "I am a geek. I was one of those kids."
Unleashing Inventors
In 1997, Jones got the rare opportunity to help design the library from the ground up during the construction of Murray Hill. She was one of the first librarians in the district to create makerspaces, which are innovative, do-it-yourself areas for children who want to invent, explore, and create in a hands-on manner, reminiscent of Caine's Arcade.
"You have to unleash their inner inventor," says Jones. In her library, the makerspace includes robotics, Legos, coloring books, games, animation, and TV production materials. The makerspace model is constantly evolving. It is also employed in learning centers to develop vocational skills.
NEA: Save Our Libraries
At the Pearl City High School in Honolulu, Hawaii,  a senior led a session on 3-D printing with Autodesk Inventor during lunch one day.  "The student also offered to share cool and 'advanced' features of the software with engineering students," recalls librarian Audrey Okemura.
Makerspaces are not the only creative developments happening in school libraries. Sue Navarro, a teacher-librarian at Fresno High School in California, decided to embrace the creative spirit of computer games by hosting a Minecraft tournament during lunch. Minecraft is a computer game which allows players to build and create their own worlds using virtual blocks and mines.
"Many special education students participated and loved the competition," says Navarro, who provided them with custom T-shirts and trophies. "I was able to capture an audience that doesn't usually participate in activities on campus."
Becoming a Digital Citizen
Dando says "librarians teach students how to be good digital citizens and to communicate through technology." Students need to know how to talk peer to peer, peer to teacher, and with strangers over social media, according to Dando.
On her blog, Jones writes that instead of banning technology, schools should be reinforcing positive ways of using social media.
Students can reach out to experts and organizations through different social media sites and gain knowledge directly from the source, according to Johnson.
"Social media can be used to amplify student voices," she says.
"Librarians are a change agent," says Dando. "Certified librarians get the chance to work with everyone in the school and make a difference in the way people operate, teach, and learn."
Jones believes librarians should take this unique opportunity to shape and influence their school, staying up to date with changing times and innovative ways to teach.
"Being a teacher is about adapting," says Jones, "and education is a practice."
Stay Informed We'll come to you
We're here to help you succeed in your career, advocate for public school students, and stay up to date on the latest education news. Sign up to stay informed