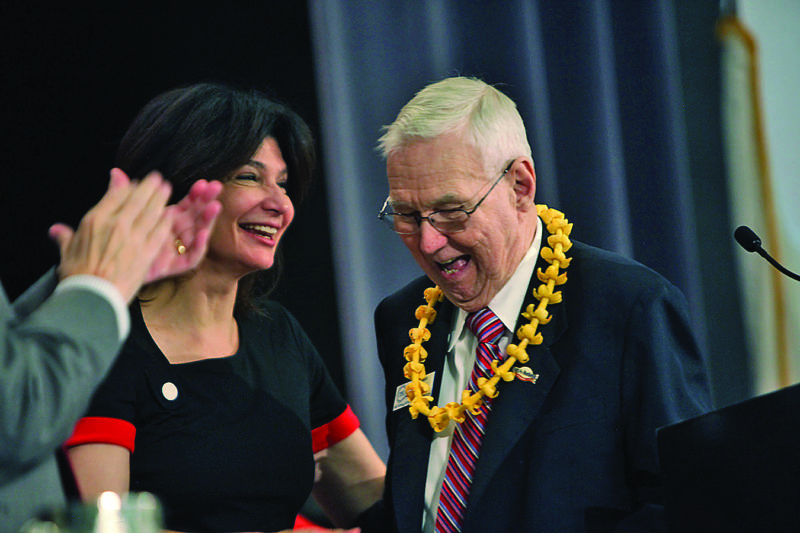 Former NEA Retired President Tom Curran with NEA President Lily Eskelsen García in 2017.
"Though there are surely many differences among us—in our backgrounds and our beliefs," wrote then-newly elected NEA-Retired President Tom Curran in 2011, in his first column for the NEA-Retired magazine, "we share a dedication to defending public education, one of the pillars of our great democracy."
Curran died in March at his home in St. Cloud, Fla., at the age of 85. He is being remembered as a dedicated leader who capitalized on the diversity that is NEA-Retired and used it to create an organizational strength and effectiveness that remains today.
Curran began his career teaching English and social studies at Westbrook Junior High School in Westbrook, Maine. After 12 years, he became a guidance counselor and, for a short time, also served as the school's assistant principal before returning to counseling.
In all of these roles, Curran reminded new teachers that their ability to show understanding, compassion, and love to children was as important as demonstrating subject knowledge. He also urged them to join the Maine Education Association (MEA), for which he served as chair of the MEA Benefits Trust.
A lifelong member of MEA and NEA, Curran retired after 35 years of service, and became a retiree activist. He held a variety of leadership positions, including roles on the MEA-Retired Executive Committee. Curran later became vice president during Phil Gonyar's presidency and served for two years as MEA-Retired president following Gonyar's term.
He always arranged for people to be together and enjoy each other, and that's how the work got done. … He had the ability to team build and include others, and care about people." - Martha Wood, NEA Retired Executive Council
"Tom was always interested in improving the situation of retirees," Gonyar says. Curran laid the groundwork for an MEA-Retired hearing program, and, "we [also] did long-term care and brought those programs to the membership," Gonyar adds.
Curran and Gonyar became friends and often traveled together—taking several trips to Thailand, where they enjoyed visiting a favorite tailor in Chiang Mai.
Curran was also a member of the NEA-Retired Executive Council, where he worked with Jim Sproul, who served as president from 1999 to 2005. Sproul calls Curran a loyal and trustworthy leader. "You could assign him a task, he would do it and ask others to be involved. He didn't care if he got the praise, as long as it was done well."
When Curran took the helm of NEA-Retired in 2011, public service workers were being attacked by anti-union, anti-worker governors intent upon dismantling collective bargaining laws across the nation. Under Curran's leadership, NEA-Retired remained vocal, strong, and growing.
Current NEA-Retired President Sarah Borgman says, "Tom was a great advocate for the retired and always for our students."
Along with his brothers Peter and David, Curran summered at their home on Little Sebago Lake, in Raymond, Maine, and wintered in St. Cloud. They regularly hosted gatherings of MEA-Retired and NEA-Retired members at each location.
Martha Wood, who served on the NEA-Retired Executive Council during Curran's tenure says, "He always arranged for people to be together and enjoy each other, and that's how the work got done. … He had the ability to team build and include others, and care about people."
Edward (Tom) Curran passed away after a lengthy illness and is survived by his brothers David and Peter.
NEA members can create a remembrance in Tom's honor by making an online donation to the Jack Kinnaman Scholarship Fund at https://www.neafoundation.org/donate/. To ensure that your donation is credited to this tribute to Tom, please click on the item that says, "I'd like to donate in honor or memory of someone" and then enter Tom Curran's name.
(The NEA Foundation acts as the collecting agent for Jack Kinnaman Scholarship Fund donations, but is not able to solicit contributions for this fund.)