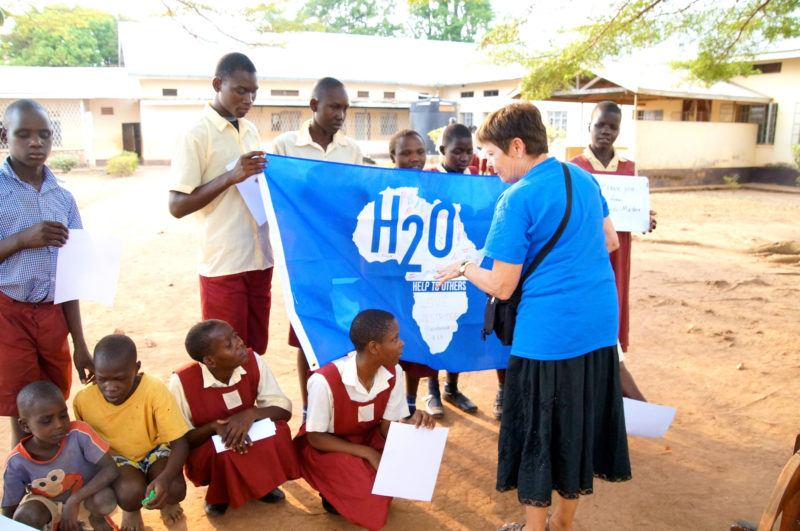 Since 2009, H2O for Life, founded by retired educator Patricia Hall, has provided more than 2.5 million dollars for water, sanitation and hygiene education projects for schools around the world.
There's no doubt millennials are making their mark on the world, but the baby boomers may be just as active, energized, and idealistic. After decades in the workforce, they aren't ready to head to the golf course or the front porch rocking chair just yet. In fact, they are determined to put their experience to work in new ways to make their mark on the world again.
Many have found their second calling with the help of Encore, a nonprofit organization that mobilizes Baby Boomers for social change. One of them is Patricia Hall, a retired teacher from Bear Lake, Minn. She found her second calling as president of H2O for Life, a service-learning organization with a mission to engage, educate and inspire young people to learn about the global water crisis through investigation and local and global actions.
"I volunteer my services to the organization, typically providing 40 hours or more a week doing the outreach to schools and donors for our work," she says.
Since 2009, the H2O for Life curriculum has reached more 300,000 students and has provided more than 2.5 million dollars for water, sanitation and hygiene education projects (WASH in Schools) for schools around the world.
"I spent 30 years in education, with a focus on special ed…" Hall says. "My passion for education led me to help create H2O for Life. My advice for pursuing your encore is to recognize that, as an older adult, you have many skills and time to contribute. Find your passion and have the time of your life."
Retirees Motivated by Giving Back
In November 2016, Encore launched the "Generation to Generation" campaign that has the goal of mobilizing a million adults over 50 to volunteer or work with organizations that are dedicated to helping kids around the country. The campaign was launched after an Encore survey that found that the Generation War is a myth and that generations not only recognize their interdependence, but embrace it.
Of the 1,510 adults surveyed, 80 percent of respondents said "making the world a better place for the next generation is important or very important." Most (65 percent) also believe that cooperation between young and old will be a source of national strength in an era characterized by rapid population aging, growing racial diversity and persistent partisan gridlock. And 77 percent of respondents 60 and older said life after age 60 is a time of mostly "freedom, growth and giving back."
"Now, more than ever, we need people who feel passionate about social change to be out in the world making that change," says Marci Alboher, vice president of Marketing for Encore and author of The Encore Career Handbook: How to Make a Living and a Difference in the Second Half of Life. "Retired educators are uniquely positioned to connect with young people, both as guides and mentors, but perhaps even more importantly, as listeners and comrades. These are exactly the types we want to mobilize—and hear from—in the Generation to Generation campaign."
Through a partnership with VolunteerMatch, would-be volunteers can search for opportunities on the campaign website, and find roles with youth-serving organizations that are interested in recruiting older adults.
Coming Together for Common Goals
The idea is that, despite the divisiveness and polarization our country has experienced, the campaign can serve as reminder that people from different ages, backgrounds and social classes can always come together around a common goal. It's a timely approach to the timeless idea that society works better when everyone is connected and valued.
Encore was founded in 1998 by Marc Freedman, who helped establish Experience Corps—now AARP Experience Corps—which mobilized thousands of individuals over 50 to improve the school performance and prospects of low-income elementary school students in 22 U.S. cities.
Rather than thinking of an aging population as a burden, Freedman wondered how baby boomers could continue contributing to society in new and meaningful ways.
"As we confront significant challenges in areas like education, the environment and health care, this windfall of talent could help carry us toward a new generation of solutions," he says.
A Second Calling Can Offer Firsts
Some, like Larry Jemison, have found their second calling in unexpected ways. When he retired from his job as a senior letter carrier in Cleveland, Ohio, he told his wife he was going to take a year off to do nothing. At the end of the year she told him his time was up and asked, "What are you going to do?"
Today he is a tutor with Cleveland Public Schools, the last place he'd have expected.
"I've always been the one talking about what the teachers aren't doing and what the schools aren't doing, and what they need to do," he says. "So this was my chance to actually do something."
He's learned a lot about the challenges students face—like class sizes topping 40 kids.
"The ones that are low in those areas of literacy kind of get lost. Teachers don't have time to work with the individual student and get them up to the level with the rest of the kids. So we are a big help to them. . . . I get real joy in seeing the impact of our work."
He's learned how important the attention of an adult is to a young person. He's learned that public schools are doing the best they can with the resources that they have. And he's learned how rewarding it is to give back.
"It had never occurred to me that I would like doing something like this!"
Learn More
Stay Informed We'll come to you
We're here to help you succeed in your career, advocate for public school students, and stay up to date on the latest education news. Sign up to stay informed