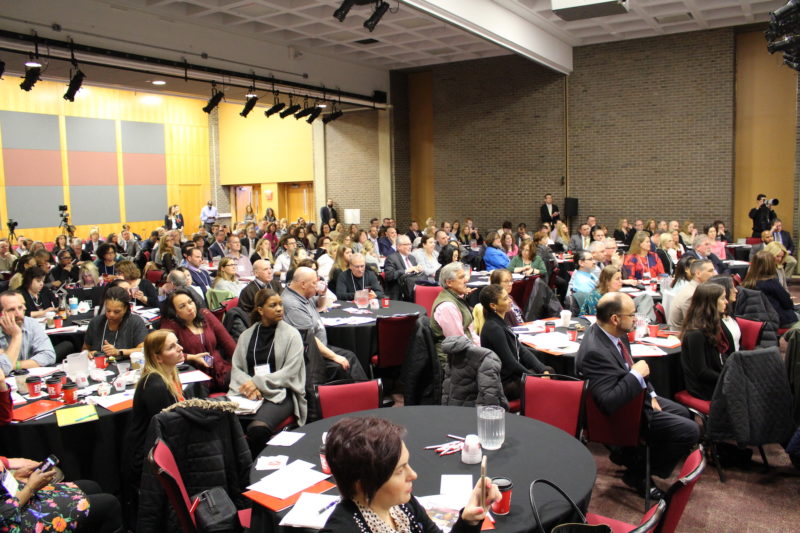 (Photo: Patrick Rumaker, NJEA)
When it comes to shared decision-making, the image of labor officials and school administrators in a huddle does not usually come to mind.
But according to a diverse group of educators, union officials, and school administration leaders participating in the New Jersey Public School Labor Management Collaborative Conference, a new generation of public school teachers and education support professionals (ESP), principals and superintendents are venturing beyond traditional labor-management lines.
"Teachers value principals who share decision-making and collaborate," said Rutgers Professor Saul Rubinstein, a speaker at the conference and co-author with Cornell University Assistant Professor John McCarthy of a national study on collaboration in public schools.
Rubinstein, who coordinates and facilitates the New Jersey Public School Labor Management Collaborative, has conducted research that shows greater collaboration between school leaders improves student achievement and decreases teacher turnover, particularly in high poverty school districts. And, a strong labor management partnership is the antecedent to educator collaboration in schools.
"Collaboration mitigates the negative impacts of poverty and teacher turnover," he said. "Problems are solved jointly, while student performance improves."
Rubinstein was one of two dozen panelists and speakers from organizations such as the New Jersey Education Association (NJEA), New Jersey Association of School Administrators (NJASA), New Jersey Principals and Supervisors Association (NJPSA), New Jersey Schools Boards Association (NJSBA), and the National Education Association (NEA) who came together to talk about the value of labor management partnerships and their role in school improvement.
"We are allowing this to grow from the ground up," said NJEA Assistant Executive Director Steve Swetsky, a panelist at the conference. "People want to stay in places that are collaborative."
Panelist Scott Mason, president of the Montgomery Township Education Association (MTEA), said the program establishes an operating system that guarantees educators not only a seat at the table but one that will survive the departure of any individual or group of educators or administrators.
"With this system, teachers and ESPs realize they have a voice," he said. "The collective bargaining process has improved because of the transparency we have throughout the year."
The conference was hosted by the Rutgers School of Management and Labor Relations in New Brunswick.
"Collaboration at all levels will sustain change with this system," said Amanda Adams, NJEA associate director, who joined Mason and others on a panel titled, "Union Leaders Reflections on the Union's Role Leading Collaborative Efforts for School Quality."
Nancy Coppola, president of the New Brunswick Education Association (NBEA), was part of a leadership team that recently adopted a labor management collaborative in her district.
"The superintendent does call me now to talk about things," Coppola said. "I think it's going to be a good thing for our members and students. We know our members want this."
A Joint Venture
In New Jersey, the groups are working together to encourage greater collaboration among administrators, educators, and union officials in 13 pilot school districts which comprise 59 schools serving more than 35,000 students.
"Unlike top-down change, collaboration encourages all parties to work together to develop and revise curriculum, instructional practice, mentoring, and policy," Rubinstein said. "More extensive communication (among labor-management officials) around these areas all predicted large and significant gains in student performance or performance improvement."
Becky Pringle, NEA vice president, also addressed the audience of more than 250 attendees from across New Jersey and other states. Pringle was introduced by NJEA President Marie Blistan.
"As we talk today, we must talk about all of our educators," said Pringle, in reference to teachers as well as food service and clerical workers, custodial and maintenance workers, paraeducators, librarians and school nurses, transportation and social service staff.
"It will look different in different places, but the model of a state coalition fostering shared decision-making structures in districts and schools is a winning strategy," Pringle said. "And, we must deepen our partnerships at the national level with education stakeholders to help provide support to you all as you embark on this work."
Nationally, NEA staff are working with Association members, state education coalitions, and other stakeholders to gather data and document case studies on the benefits of labor-management partnerships. Through its Educator Voice Strategic Objective, NEA plans over the next two years to develop effective structures, processes, and leaders to increase educator influence in decision-making at worksite, district, state, and national levels.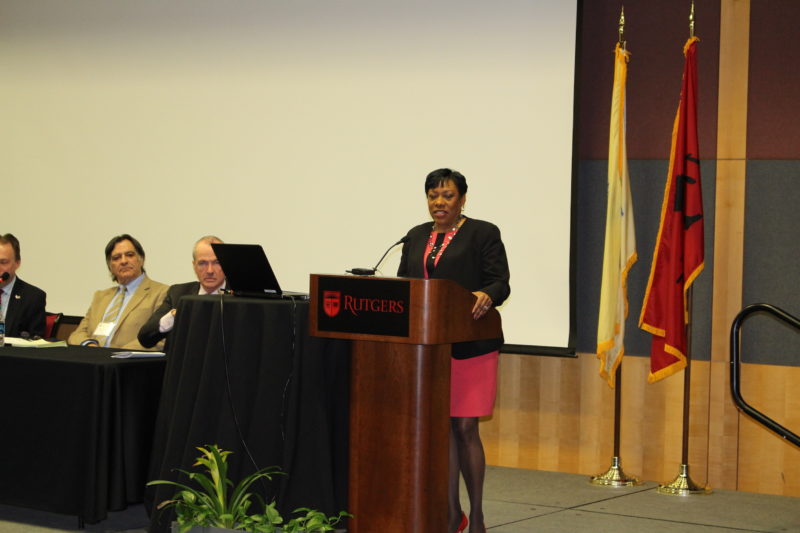 NEA Vice-President Becky Pringle addresses the New Jersey Public School Labor Management Collaborative Conference. (Photo: Patrick Rumaker, NJEA)
Student-Centered Collaboration
Already, there is evidence of collaboration resulting in positive student effects and teacher retention in California, Illinois, Maine, Massachusetts, Minnesota and New Jersey as evidenced by the research Rubinstein conducts with his research partner, Cornell professor John McCarthy.
"New Jersey school boards are 100 percent behind this initiative," said panelist Lawrence Feinsod, NJSBA executive director.
For their 2014 report titled, "Teachers Unions and Management Partnerships," Rubinstein and McCarthy studied labor-management partnerships in public schools for more than 10 years. They concluded that the highest level of collaboration corresponds to roughly 12 percent more students performing at or above standards, compared to the lowest level of collaboration among educators.
Instead of staring each other down from across the table, union officials and school administrators in New Jersey are teaming up with a renewed focus on shared decision-making at the school level, particularly with regard to goal alignment, teacher discretion, student performance, and educator retention.
Among the speakers at the event was New Jersey Gov. Phil Murphy.
"Schools work best when educators, administrators, and school boards all work together," Murphy said, "and when teachers have a seat at the table."
Teamwork and Trust
Superintendent Vincent Caputo of the Metuchen Public School District spoke of how he and other local educators became interested in creating a labor-management coalition in the district.
"Four years ago (2014), when he (Rubinstein) shared his data that union-management collaboration had a positive, statistically-significant impact on Math and English Language Arts achievement, we were more than intrigued," said Caputo, who shared the stage with Metuchen high school teacher Evan Robbins. Caputo and Robbins were one of several pairs of panelists from different New Jersey districts who shared success stories involving labor-management collaboration.
It will look different in different places, but the model of a state coalition fostering shared decision-making structures in districts and schools is a winning strategy" - NEA Vice-President Becky Pringle
In Metuchen, educators created district-wide committees, revamped its instructional council, and established School Leadership Teams (SLT) at most schools. Caputo said administrators learned more about what teachers require to be successful through input from SLTs and related committees. For example, the district embraced Google Classroom on the advice of the technology committee and shifted funding from white boards to Chromebook Carts on the recommendation of the budget committee. Also, parent conferences are scheduled at more convenient times based on advice from members of the Metuchen High School SLT.
"The board, administration, and the teachers remain steadfast in our commitment to collaborate with the common goal of improving student achievement," Caputo said.
Montgomery Township High School teacher Jennifer Jones is a member of the school's solutions committee, which collects information about training, technology, office supplies, and other concerns from educators. The information is then discussed with Principal Paul Popadiuk, who joined Jones as a panelist.
"It was important for staff to be heard," said Jones, MTEA vice president. "We (Popadiuk) work together, attend conferences together, and focus on resolving any issues. When you reduce stress for teachers, it reduces stress for students."
Principal Cory Delgado from New Jersey's Montgomery Township said educators and administrators in his district used to only meet for school business. It was a dramatic departure from the status quo to begin meeting socially and even travelling together to education conferences.
"It's really about the relationship," Delgado said. "You need the relationship to develop the partnership. When the relationship grew for us, the partnership grew."
Teacher Karen Kevorkian, an MTEA member, collaborates with Delgado and other administrators.
"It's a process … it takes a long time to (build the relationship)," she said. "Cory and I made a promise that we would not let each other fail. If we succeed, our students succeed."
The best school year calendar "we ever had came from the staff," said Montgomery Superintendent Nancy Gartenberg.
"You have to trust each other," she added. "In Montgomery, everyone has skin in the game."
"We learn from each other," said Vincent DeLucia, a panelist with NJSBA.
In New Jersey, Rubinstein, NJEA, and their partners hope that the state can play a leading role in a national movement for collaborative school reform: "We want to demonstrate that teachers, administrators, school boards, unions, parents, and communities can work together and continuously improve the quality of education."
In a time when the Supreme Court case of Janus v. AFSCME (American Federation of State, County and Municipal Employees) seeks to strip educators and all public employees of voice and decision-making power, labor management partnerships that foster shared-decision making structures for educators might just be the winning strategy that results in the outcomes we know are necessary for public education: thriving students, fulfilled educators, and education associations that help to provide meaningful avenues for professional voice.
"Unions being about the business of school improvement is particularly important in the wake of this Supreme Court case," said Pringle. "The threat of our (educators) collective voice being stripped away is real."