The U.S. hit the grim milestone of four million COVID-19 cases this week and educators around the country are anxiously waiting to hear what safety precautions will be in place when they return to school.
In Ahstabula, Ohio, they just received notice July 23 that they will be in-person two days a week, or perhaps entirely virtual at first, but haven't received guidance on how the district plans to ensure health and safety beyond the requirement that everyone wear masks. The school year begins in just a few weeks.
"We haven't even been able to join the conversation, let alone be part of decision making," says Tammy LaPlante, secretary of the Ashtabula Association of Classified School Employees and member of the Ohio Education Association board.
Preparing for a return to school in a pandemic is scary business and some educators are creating living wills to be ready for the worst case scenario. Classroom teachers are doubly worried that they won't have the necessary help from education support professionals to keep their schools safe.
New estimates show that without sufficient aid to state and local governments, the COVID-19 pandemic could lead to a revenue shortfall of nearly $1 trillion by 2021 for state and local governments, according to the Economic Policy Institute. This means job losses for school employees just as they need much more help.
Historically, July is the month when school district employment hits bottom – when all those not on twelve-month contracts have been laid off, and few if any have been taken on for the upcoming new school year. In the middle of May in Ashtabula, 125 education support professionals, including bus drivers, paraprofessionals, food service professionals, and custodians received notice they were being laid off and should file for unemployment. The members in this district have never received lay-off notices before. They have yet to hear if they will have jobs next academic year.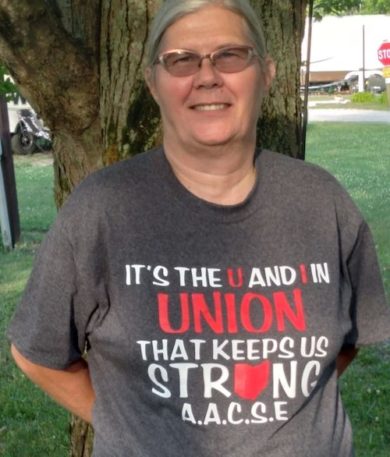 Tammy LaPlante
"ESPs are the first line of defense," says LaPlante. "We are there first thing in the morning and the last at night and even in the best of circumstances, we are essential to student safety. With COVID we're in unchartered waters. Now is not the time to cut back."
They do have a stock of masks, disinfectants wipes and hand sanitizer, but the staff power is the necessary tool in the fight against spread.
LaPlante is a custodian at a high school, where studies just showed that students are just as likely to spread the virus as adults. High schools are also very large buildings with dozens of high-touch surfaces.
"When I heard the news about kids older than 10 being just as able to spread the virus, it made me very nervous, it made all of us nervous," she says. "I just want us to be safe."
Whatever plan the district comes up with, LaPlante says there will need to be enough staff for continual cleaning throughout the day. Every door handle, every push bar, every high-touch surface, will need to be cleaned throughout the day, the bathrooms every couple of hours.
"We don't even know what lunch is going to look like yet."
LaPlante purchased face shields for herself for added precaution  but she wants assurances that not only will there be funding for all ESPs to return to work, but that they'll be provided enough equipment to do their jobs safely and properly.
"This is about the safety of our entire student community -- parents, staff, kids –its everybody," she says.
Her advice to ESPs in her district and throughout the country is to contact their senators and demand passage of the HEROES Act. She sends emails to her colleagues urging them t get involved, and once they have, to ask someone else to do the same.
The reason is urgent, yet simple, she says: "If precautions aren't in place, outbreaks are inevitable. We will shut down again, and be right back where we started."
Stay Informed We'll come to you
We're here to help you succeed in your career, advocate for public school students, and stay up to date on the latest education news. Sign up to stay informed